In early November, I wrote about Nike (NKE) ending its partnership with Amazon.com (AMZN) in a post titled "Nike Kicks Amazon.com Into Bearish Territory." I gave the bullish case for NKE, a bearish case for AMZN, and a wildcard case for the "innocent" bystander Footlocker (FL). Here is an update on what happened in the following 3 weeks.
Nike (NKE)
The path was not smooth, but Nike (NKE) confirmed the bullish case. NKE followed through on its breakout above its 50-day moving average (DMA). The subsequent lift was one of those validating moments demonstrating the importance of such breakouts, especially when the 50DMA is already above the 200DMA. Last week, NKE stumbled on more Trade War headlines. Like much of the rest of the market, NKE rebounded right away and emerged from the episode even stronger than before. With expiration just a week away, I took profits on my call options as NKE burst into new all-time highs. NKE is a buy on the dips.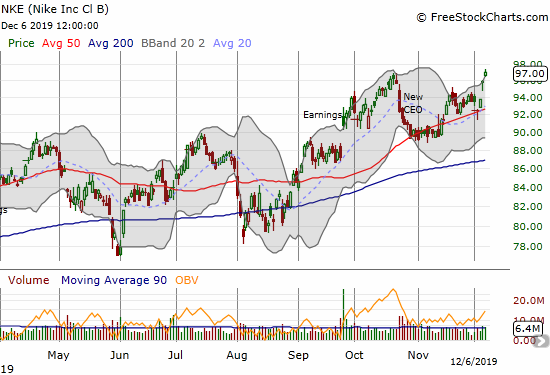 Amazon.com (AMZN)
Amazon.com (AMZN) confirmed the bearish case but from 200DMA resistance and not the follow-through selling I expected. I flipped a short as AMZN rallied the day after the Nike news only to get faded back toward its opening price. A subsequent calendar put spread failed. I left AMZN alone until it pushed into 200DMA resistance.
I opened a hedged play with a wary eye on a potential 200DMA breakout: I bought a calendar call spread and a regular vertical put spread. Sellers arrived right on schedule. It made my hedged play and especially the put spread far too conservative. AMZN's under-performance relative to the stock market is becoming more and more stark.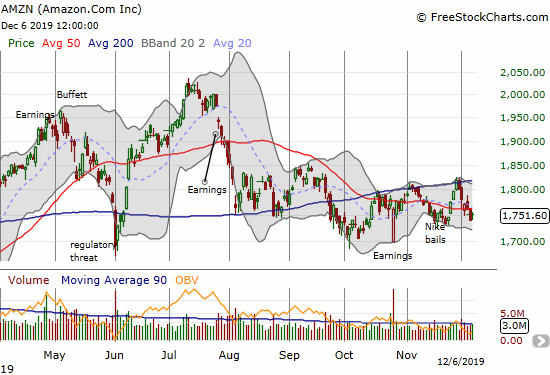 Foot Locker (FL)
Per plan, I left Foot Locker (FL) alone in favor of figuring out a trade after the company reported earnings. Sellers dominated the trading right after my post. The selling continued right into earnings. I am now bearish on FL, and I am looking to use the current post-earnings bounce as an entry point for a fade. The post-earnings high and 50DMA resistance are clear stop loss points.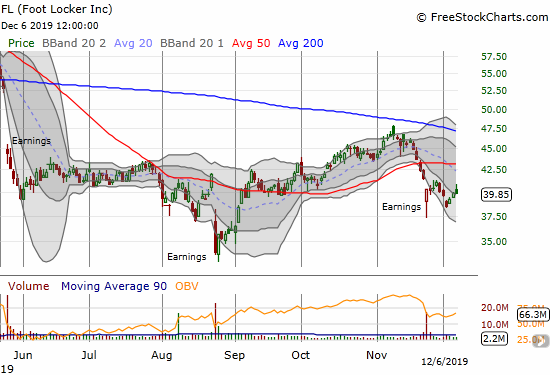 Conclusion
The on-going divergence between NKE and AMZN is something to watch. Going forward, NKE is a buy on the dips, and AMZN is a fade on rallies. FL is a fade on rallies as well. The invalidating conditions are clear for each trading call as 50 and 200DMAs provide guidance. With Christmas rapidly approaching and a retail tariff deadline coming before that, retail in general may offer some of the more dynamic trading opportunities in the market into the new year.
Be careful out there!
Full disclosure: long AMZN put spread, long AMZN call