While the market was going wild buying call options in Toll Brothers (TOL), insiders were selling large quantities of shares. SEC filings reveal almost $2.8M in share sales. Here is a summary with emphasis on the CEO and President (note I mainly care about the sales transactions of C-level executives and SVPs and not board members):
Some of these sales look like the result of cashing out of stock options that were acquired on the same day of the sale. Also, executives have recently sold shares once a quarter and sometimes in the same quantities. As a result, I assume much, if not all, of this selling was pre-planned. So even with the near $2.8M in sales, I normally would have considered this activity unremarkable. Except in THIS case it happened to coincide with a buying spree that quickly fizzled once the SEC filings were released. TOL tumbled 3.7% on the day and is now close to reversing all of Monday's surge. (Compare to the 0.6% GAIN in the iShares Dow Jones Home Construction ETF (ITB)).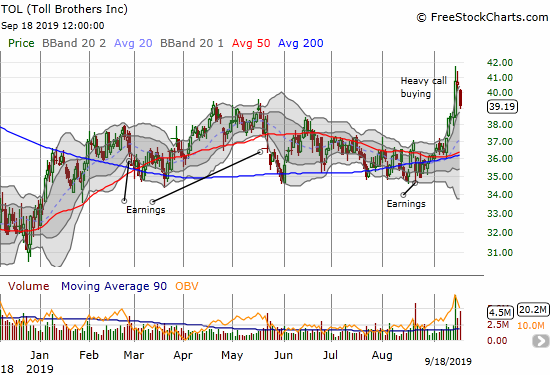 Monday's call option activity resulted in an increase of open interest in the October $40, $41, $42, and $43 strikes from 11,019 to 31,844, a tripling. The open interest in the Oct $41 call went from 11 to 15,203. So much of the trading in Monday resulted in new positions. However, the stock's cooling slashed the value of underlying October call options. For example, the October $41 call options lost almost half their value. I am inclined to treat this setback as a buying opportunity created by an over-reaction to the news of insider selling and that the original catalyst, whatever that might be, remains salient.
As I noted in my last Housing Market Review, the rally in the shares of home builders looks real. I am more inclined to treat dips as buying opportunities even though the seasonally strong period for home builders does not begin until October/November. Toll Brothers has moved from a lukewarm earnings report, to a bullish breakout from the May to August downtrend, to what was a 16-month high on the heels of heavy call buying. For now, the stock sits in a solid buying zone for me.
Be careful out there!
Full disclosure: long ITB call options