The U.S. Federal Reserve is set to cut interest rates by 25 basis points in the coming week (July 31). The odds for at least another 50 basis points by next January are around 61.9% according to the CME FedWatch Tool. Yet, the U.S. dollar index (DXY) has regained new life. After breaking critical support at its 200-day moving average (DMA) in late June, the U.S. dollar recovered on July 1st, tested the 200DMA as support numerous times, and last week confirmed that support by bouncing into a challenge of its 2+ year highs set from April to May.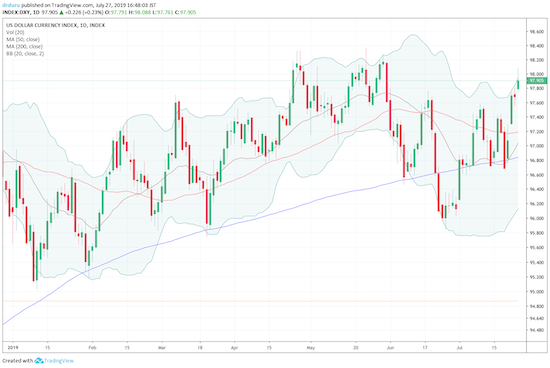 This resilience has thrown a wrench into some of my plans to bet against the dollar going into and past the Fed. For example, the Canadian dollar's momentum stopped soon after I wrote about the convergence of monetary policy between the U.S. and Canada. USD/CAD carved out a bottom and is in the process of challenging downtrending 50DMA resistance. Rather than stop out of the position, I decided to accumulate. I am now looking at the 200DMA as the ultimate stop-loss point.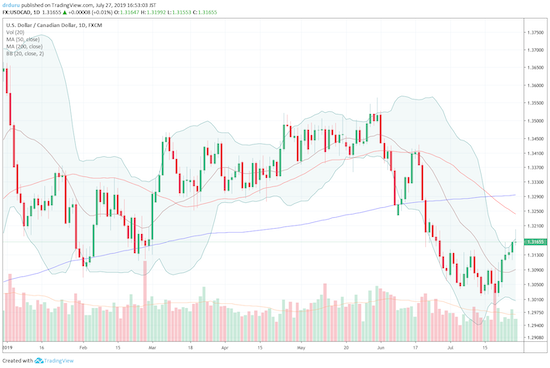 The dollar's rebound has come even with long-term yields stabilizing. Surprisingly, the price of gold and silver held steady last week rather than pull back sharply as I would have expected with the dollar's rebound. The U.S. stock market has also ignored the renewed dollar strength: the S&P 500 (SPY) and the NASDAQ (COMPQX) closed the week at a new all-time highs. Since the U.S. dollar index is about 51% the euro, perhaps the story is really about growing long-term weakness in the euro. Regardless, now the Fed trade setup features a resilient and defiant dollar with equally resilient rates, gold, and silver. Something should give after Wednesday.
While I am expecting the U.S. dollar to give way, the CNBC Options Action folks are bullish on the U.S. dollar. Carter Worth used multi-decade, 2-year, and short-term daily charts to make the case for a major breakout. I am not willing to go there until after the Fed makes a move and/or the U.S. dollar breaks out above its 2019 high.
Be careful out there!
Full disclosure: net short the U.S. dollar, long GLD, long SLV, long TLT puts