Two years ago, I wrote about the announcement from the International Cocoa Organization (ICCO) indicating that cocoa-growing countries would coordinate production of cocoa to better support their economies. That news was soon followed by a recommendation from the African Development Bank (AfDB) to cocoa producers to find ways to control the supply of cocoa. At the time, the AfDB recommended building large storage facilities to control the supply of cocoa in the market.
The following year, on March 28, 2018, Ghana and the Ivory Coast signed a cocoa cooperation agreement called the "Abidjan Declaration." The related press release from the Presidency of the Republic of Ghana included this firm determination:
"…  the Declaration is aimed at 'better defending the interests of cocoa producers, as well as the economies of both countries.'


To this end, President Akufo-Addo and President Alassane Ouattara have reaffirmed their commitment to define a better, common strategy and a sustainable solution for the improvement of prices for cocoa producers, in their respective countries.


They also committed themselves to harmonizing their cocoa marketing policies, and agreed to announce, every year, in a concomitant manner, and before the beginning of the campaign, the price to cocoa producers."
Another year later, on June 12, 2019, the plans of the two countries are finally coming to fruition. The price of cocoa jumped about 1.4% after they announced the establishment of a price floor of US$2,600 that buyers agreed to pay after a 2-day meeting. Until implementation details get settled, the two countries suspended the forward sales of the 2020/2021 cocoa season.
The price gains helped push the iPath Bloomberg Cocoa SubTR ETN (NIB) further into a breakout above a cap that held for the past 11 months.. In July, 2018, NIB broke down below support at its 200-day moving average (DMA).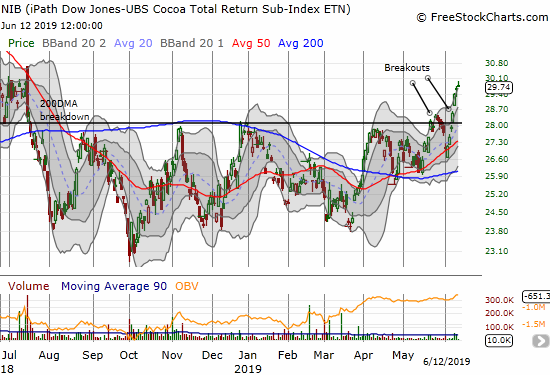 The chart above indicates that traders well anticipated the coordinated action on price. With the price action stretched so far, I expect some selling on the news. I am a buyer on the dips with the expectation that support at the ascending 50DMA should hold.
Joseph Boahen Aidoo, the chief executive of the Ghana Cocoa Board, called the coordination of cocoa producers "historic." This moment should indeed mark a significant turning point in the cocoa market that will strengthen my perma-bull stance on the price of cocoa and NIB by extension.
Be careful out there!
Full disclosure: no positions