"The federal funds rate is now in the broad range of estimates of neutral–the rate that tends neither to stimulate nor to restrain the economy. As I noted, my colleagues and I think that this setting is well-suited to the current outlook, and believe that we should be patient in assessing the need for any change in the stance of policy. Patient means that we see no need to rush to judgment. It may be some time before the outlook for jobs and inflation calls clearly for a change in policy…

Today, we announced that we intend to slow the runoff of our assets starting in May, and to cease runoff entirely in September of this year."

Federal Reserve Chair Jerome Powell, Opening Remarks for Monetary Policy Press Conference, March 20, 2019.
This statement from the middle of Powell's introductory statement summarized a deepening dovishness at the Federal Reserve. This declaration was enough to give gold prices a good heave upward. The SPDR Gold Trust (GLD) jumped off its intraday low, which was a breakdown below 50-day moving average (DMA) support, to close with a 0.7% gain. This gain looks small, but it looms large because it likely confirmed 50DMA support and closed GLD at a 3-week high.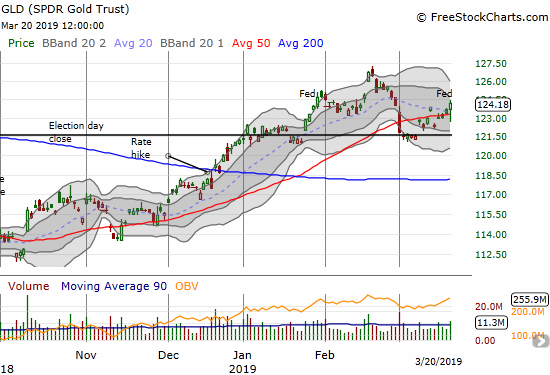 With GLD finding supports per the chart above, it is time to return to buying GLD call options (expiration May or later) to augment my core position in GLD shares. My initial upside price target will be $126.50, but I fully expect momentum to carry GLD much higher as the market adjusts to new depths of dovishness from the Fed.
Be careful out there!
Full disclosure: long GLD