Leading Signs of Housing Troubles
I now look forward to the earnings calls from Redfin (RDFN). The company's management provides direct and timely information on the health of the housing market. Recall that it was Redfin in mid-August 2018 that sounded an early alarm on the housing market at a time when many in the industry were still delivering reassurances.  The iShares US Home Construction ETF (ITB) sold off that day, but the index of home builders rebounded immediately afterward. Five weeks later ITB broke down to a new low on the way to a steep sell-off that turned out to be a warning for the entire stock market.
On October 16th, Redfin CEO Glenn Kelman provided a revealing interview on CNBC. He described a housing market that was too expensive in too many housing markets for the average home buyer. He admitted to the mistake of predicting in April that these buyers would not get phased by higher interest rates (this error had a LOT of company). Rapidly rising prices and a glut of rental properties in some markets changed the buying equation. Kelman also talked about the unequal impact of the changes in tax laws.
In the above video clip, CNBC posted a sidebar quoting Kelman as saying "we won't know if the housing market can find its footing until Feb. 2019." That moment is here. According to Kelman in RDFN's Q4 earnings report, things are better but he wanted "…to make sure that nobody is popping champagne corks or starting a party out there because we are not out of the woods yet." (quotes from Seeking Alpha transcript).
Redfin Breakout
RDFN reported Q4 2018 earnings last Thursday, February 14th. The news was enough to send the stock higher with a 9.1% gain that broke through resistance at the stock's 200-day moving average (DMA).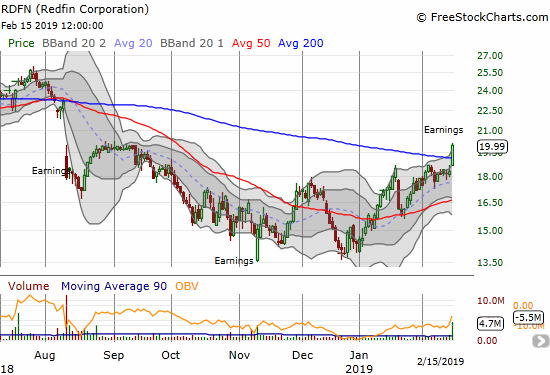 This chart is bullish not only from the 200DMA breakout but also from the perfect test of the all-time intraday low in November and the confirmed bounce from 50DMA support in January.
Housing Market Update
The most interesting part of the earnings conference call was the commentary on the housing market. I summarize below the key points from the transcript.
The housing market has taken a "modest turn for the better", "is getting stronger", and "homebuyers seem more confident now than they were in the second half of 2018." "…things are markedly better…it's a decent market. But I just don't want to assume that we are off to the races."
Demand is weaker year-over-year. "The market is not as sick as it was in the last half of 2018 but it isn't as strong as it was in the first half either."
The number of price drops has decreased on a percentage basis from the fourth quarter to the first quarter (to-date) – from 7% to 4%.
Housing inventory will increase enough to give buyers more attractive options but not so much to drive prices "broadly." (Note this is a common hope expressed by the National Association of Realtors (NAR)).
Forward-looking indicators of the market
RDFN provided some insight on a key tell of health of the market: the liquidation rate of their own inventory of homes for sale. RDFN performed well revenue-wise in Q4 because the company sold down its inventory to avoid holding assets in a "softening market." The following quote is quite telling of how bad things were: "We took the profits that we had and if we had to take losses on one or two houses we were willing to do that as well." RDFN also provided two key tells from the market that they use:
Percentage of listings that go off-market within two weeks (best)
Price drops: Sellers drop their prices because they can't find a buyer.
Redfin Financial Performance
RDFN has strong revenue growth but the rest of its financials are loaded up with costs and expenses that increased year-over-year. The company is in the middle of an aggressive sales and marketing campaign that requires significant investment.
Management noted that it spent much of the slower Winter period for investing. As a result, the company dedicated a majority of its prepared commentary to plans, promise, and potential. This year will be a pivotal year for the company to prove it has a profitable business model. It will not be easy given competitive pressures and a slower housing market. At least the ramp in spending seems to be working so far with a small year-over-year gain in market share from 0.7% to 0.8%. Analysts are scrambling to model out just how much market share RDFN can ultimately acquire and sustain.
I post below some key highlights that caught my attention…
Increased advertising drove marketing spend up 33% year-over-year.
Stock-based compensation increased 94% year-over-year, a notable 4.8% of revenue. This share was up from 3.2% of revenue in Q4 2017.
Net loss, including stock-based compensation and depreciation, was $12.2M versus a $1.8M net loss in Q42017.
Diluted net loss per common share was $0.14, versus $0.02 diluted net loss per common share in the fourth quarter of 2017.
Revenue for the full year was $487M, an increase of 32% year-over-year.
Gross profit for the full year was $119M, an increase of 7% year-over-year. Given total operating expenses growth of 28%, the net loss for the year jumped from $15M in 2017 to $42M in 2018. Adjusted net loss per share, basic and diluted was $0.49 in 2018 versus $0.20 in 2017.
Financial and business guidance for Q1
Revenue between $101.5M and $105.1M, for year-over-year growth between 27% and 32%.
Net loss between $69.2M and $67.8M, versus a $36.4M net loss in Q1 2018.
The continued ramp in expenses is necessary for RDFN given, in management's words, it will be harder to sell a home in 2019. RDFN expects advertising to accelerate revenue growth in 2019 and lead to profits by 2021. Ad spend should decline after 2019 as a share of budget. RDFN discussed again the multi-year impact of advertising to support these positive expectations.
RDFN noted that it could take "years" to fully benefit from combining software and service. The company described its investments as a "compressed spring" that is currently "straining our income statement and our people." The push is necessary: "…it's going to depend on both software and in the field operational expertise. And that's a combination where we have suffered and we have competitive advantage over many companies." The company of course expects to come out the other side in a better competitive position. On the positive side here and now, Redfin customers are now able to do a digital closing.
Zillow Group (Z) is one of Redfin's tough competitors…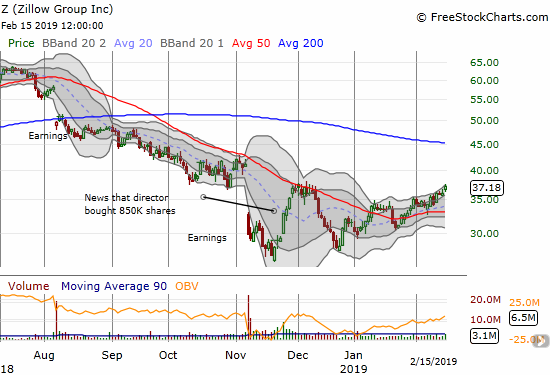 The company's recent venture into Canada is surely adding pressure to the compressed spring. RDFN claimed going into Canada is financially more like adding two new cities to the current portfolio of 87 than adding a whole new country. The move into Toronto and Vancouver added less than 5% to the company's addressable market, so it will be hard to assess the impact on results for quite some time.
Minneapolis 2040
Minneapolis 2040 came up in this earnings call, but it is news to me. The plan is a comprehensive review and overhaul of the Twin Cities area in Minnesota. The plan is ambitious and will change the face of the area for generations to come. Apparently, Minneapolis has an urban planner on its City Council who, in management's words, "has basically outlawed single-family homes. The zoning is really pro-density." The trade-off Minneapolis seems to be making is to trade in population growth for affordability. Here is how management describes it:
…as people have usually their second child, the condo just doesn't work anymore. The density dreams go out the window and they want a backyard because the kids would drive them crazy. So if I had to bet just on a local economy, Minneapolis or a place where there is more land to grow and more builder favorable laws, I would bet on the latter. If I had to bet on a place where people are going to able to afford a home, maybe not one with the yard, I would bet on Minneapolis. And it just depends on what you prioritize.
Minneapolis is making trade-offs that will likely become models for other metropolitan areas and impact housing choices in the coming future, so it is something that bears watching for home buyers and transactions-based companies alike.
Full disclosure: long RDFN, Z