At the beginning of February, I refreshed my idea to play a top in iron ore with a pairs trade going long Rio Tinto (RIO) and short BHP Billiton (BHP). The timing was fortuitous given it was right before a large sell-off in the stock market. I ended up profitably fading rallies in BHP two more times. I never executed the long side because RIO never made a new high. Now, with iron ore selling off from a double/triple top, RIO and BHP have confirmed breakdowns below their respective 50-day moving averages (DMAs). These stocks are also facing down tests of their uptrending 200DMAs.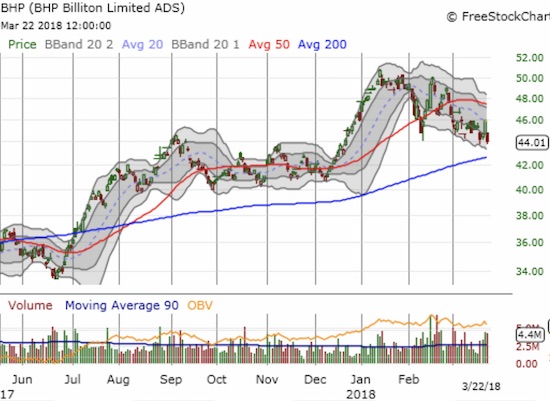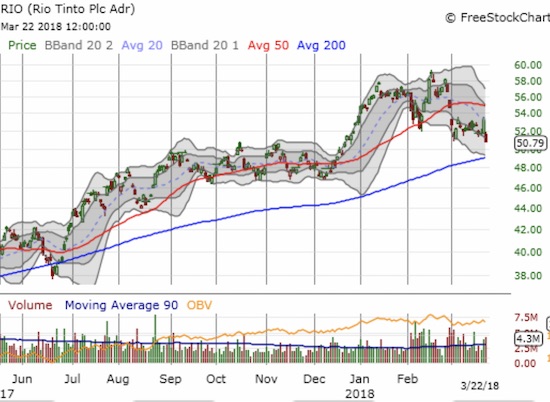 Source: FreeStockCharts.com

Tests of the 200DMA uptrends will represent a critical juncture given the lower levels for iron ore. According to Business Insider Australia, China has surging inventories in rebar steel and demand for steel is running behind typical seasonal patterns. Without improvements soon, iron ore could easily slip to the October lows especially if fears continue to grow over a global trade war.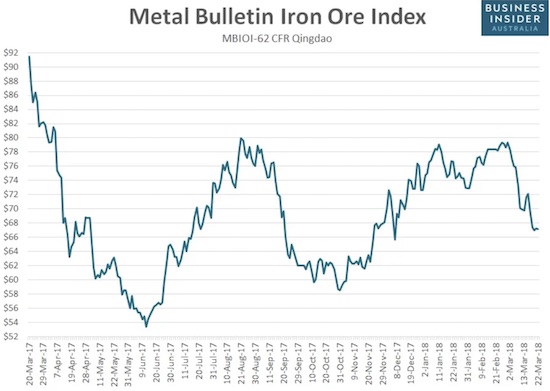 Source: Business Insider Australia
I will be watching the coming juncture closely. If 200DMA support gives way on BHP, I will go back to a bearish positioning in the stock. If 200DMA support holds on BOTH BHP and RIO, I will consider going long RIO as a play on a continuing uptrend.
Be careful out there!
Full disclosure: no positions