Traders have thoroughly beaten up on the U.S. dollar (USD) for the last six weeks. In the past week, the selling accelerated again in the wake of commentary from U.S. Treasury Secretary Steve Mnuchin that the U.S. welcomes a weak currency because of its positive impact on U.S. exports. The British pound (FXB) is one of currency pairs feeling a large impact of the dollar's relentless weakness.
In the wake of Mnuchin, GBP/USD went parabolic as it surged well above its upper-Bollinger Band (BB) and capped off two weeks of near relentless gains. The move was so strong that U.K. Treasury chief Philip Hammond felt compelled at Davos to "thank" Mnuchin for sending GBP/USD to a 19-month high.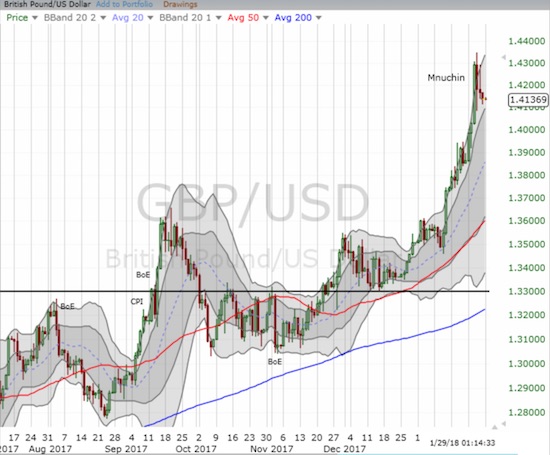 Source: FreeStockCharts.com
As the Trump administration scrambled to reverse the damage from Mnuchin's declaration, the U.S. dollar bounced back from its low on Thursday only to resume selling off on Friday.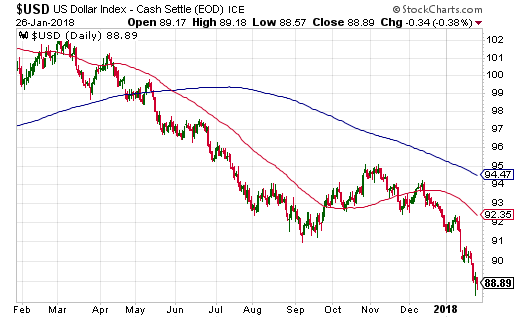 Source: StockCharts.com
As the first chart above shows, the GBP/USD did not benefit from the resumption in the dollar's weakness as it faded to close out the week. This behavior had me wondering whether GBP/USD finally hit a blow-off top. A blow-off top occurs after a panicked frenzy of buying stretches a stock or currency to new highs, well above some technical barrier, only to meet sellers immediately following the surge. The confirmation comes when the last move associated with the blow-off gets reversed. That confirmation has yet to happen. The blow-off top gets invalidated by a new high.
Another reason I am on alert is that speculators are getting ever more bullish on the British pound. As I have pointed out in the past, speculators have spent the vast majority of the post-crisis period bearish on the British pound. Now, speculators have accumulated more net long contracts than they have piled up since July, 2014. At that time, GBP/USD traded over 1.70 and generated a major peak in the wake of Mark Carney's warning to financial markets that the odds of an rate hike were much higher than implied by pricing at that time.
Source: Oanda's CFTC's Commitments of Traders
I have not paid enough attention to the pound in recent months. The current trading action has perked me right back up. I am even now listening to Brexit podcasts from the BBC, the Guardian, and the Financial Times. So far, from what I can tell, it is hard to believe that the UK will come out of Brexit with a net positive. Stay tuned of course….
Be careful out there!
Full disclosure: long FXB puts