As a data nerd, I have a large pet peeve about the many ways in which the press and media fail to help its audiences understand the nuances in data and analysis even as I understand the need for journalistic expediency and story-telling. However, that annoyance increases by several orders of magnitude when I see politicians over-simplify numbers and even mis-direct attention about the data. Throw twitter into the mix, and suddenly there is a never-ending stream of problematic observations to contend with. Such is the case with the hyped up "feud" between rapper and music executive Jay-Z (aka Sean Carter) and President Donald Trump.
In article tantalizingly titled, "Trump hits back at Jay-Z after rapper dismissed his claims about black unemployment", I read the recent tweets from President Donald Trump that expressed his annoyance with barbs from Jay-Z about Trump's record on improving the economic lot of African-Americans. In an interview with Van Jones, Jay-Z attempted to make the point that economic well-being goes beyond the numbers: how you treat people matters even more than the money you put in their pockets. Trump's tweets did not address Jay-Z's top-line concern and instead cut to the numbers alongside some grand claims:
"Somebody please inform Jay-Z that because of my policies, Black Unemployment has just been reported to be at the LOWEST RATE EVER RECORDED!"

"African American unemployment is the lowest ever recorded in our country. The Hispanic unemployment rate dropped a full point in the last year and is close to the lowest in recorded history. Dems did nothing for you but get your vote! #NeverForget @foxandfriends"
Jay-Z never disputed the numbers, and who knows whether he will attempt to respond to President Trump. However, I want to offer a better lens for examining the data on African-American unemployment and separate the analysis from selective political opportunism.
For context, I recall that the President glibly pronounced the accuracy of unemployment numbers only after taking office as President. Previously, he decried the unemployment data as masking the true misery of everyday Americans. From Business Insider on July 20, 2017:
"And when we got those great reports, I kept saying, you know, those numbers — whether it's 4.2, 4.3 — I said, for a long time they don't matter. But now I accept those numbers very proudly. I say they do matter. But we're doing very well with the jobs and the jobs reports, and we're doing very well with companies. We're really moving along."
The article also referenced 19 occasions when pre-President Trump denounced the unemployment data, even to the extent of calling the data a "hoax." In other words, I do not think Trump would accept a historical analysis of the data before his administration, but I am offering up one anyway for the rest of us.
Firstly, the trend in African-American unemployment has been sharply down, along with the rest of the country, since the peak of 2010. For reference, President Barack Obama took office in January, 2009. Trump took office in January, 2017. In the charts below, the vertical gray areas mark the official data ranges for recessions.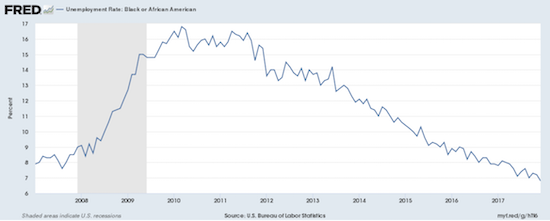 Without attributing causation or even correlation, here are the data…
African-American unemployment was at 12.7% when Obama took office. It peaked at 16.8% in March, 2010. The month before the 2016 Presidential election, African-American unemployment was down to 8.3%. Trump took office with this rate at 7.8%. In December, 2017, the last data point available, African-American unemployment was at 6.8%. Certainly, this "last mile" of improvement is more important, but it pales in comparison with the reduction in misery that came with the early years of the post-recession recovery.
For reference, White-American unemployment was at 7.6% when Obama took office. It peaked quickly at 9.2% in October, 2009. The month before the 2016 Presidential election, White-American unemployment was down to 4.3%. Trump took office with this rate still at 4.3%. In December, 2017, the last data point available, White-American unemployment was down to 3.7%.
If the unemployment rate of an ethnic group is an important policy initiative for a politician, then comparative data are even more important than the absolute numbers. It turns out that the ratio of African-American employment to White American unemployment has a well-established pattern of INCREASING in the first years after a recession. By the time of the next recession, the ratio is typically no better than when the recovery started. Moreover, recessions tend to sharply REDUCE the ratio. Think of this initially surprising pattern in this way: given African-Americans persistently run a higher unemployment rate, there is a higher share of employed White people who are able to lose jobs when the economy turns sour. The dynamics do not have to work out in this way, but in recent history they do.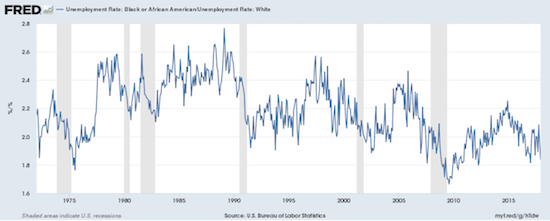 These patterns suggest to me that there are structural economic forces in play that have nothing to do with the particular President in office. A President who genuinely is attacking the unemployment rate of a specific group should look to identify and address specific structural impediments.
The post-crisis period has differed little from previous recovery periods. The ratio of African-American to White-American unemployment soared in the early recovery years and did not peak until 2015. In fact, the most notable feature of the current recovery period is that the ratio hit a historic LOW right after the recession officially ended.
The ratio's on-going decline stopped on a dime in January, 2017 when Trump was inaugurated. The December data show that this ratio finally RETURNED to the level Trump inherited.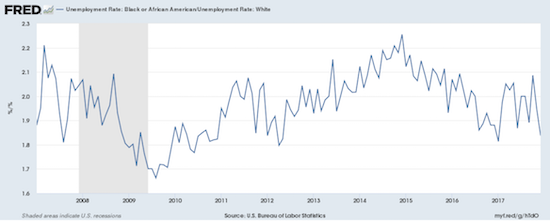 Source for charts: U.S. Bureau of Labor Statistics, Unemployment Rate: Black or African American [LNS14000006], retrieved from FRED, Federal Reserve Bank of St. Louis;
U.S. Bureau of Labor Statistics, Unemployment Rate: White [LNS14000003], retrieved from FRED, Federal Reserve Bank of St. Louis; January 28, 2018.
It might seem strange that the President would bother commenting on the economic analysis of a celebrity, but it is useful to remember that the President himself came from the world of celebrity (think the Apprentice). Moreover, he proved himself to be a follower when in 2014 he tweeted about potential marital problems between Jay-Z and music pop-star Beyonce.
Regardless, the unemployment rate now sits at incredibly low levels for everyone. One day, sooner than later, these rates will bottom and will have nowhere to go but up. Simple cycle economics will overwhelm the efforts of many to forestall the process. At that time, it will also likely be a lot harder to revert to claiming the data are a big hoax…then again, stranger things have happened in the world of data in recent years.
Finally, for those of us who care about economics, data, analysis, and the general welfare of Americans, we need to remember to look beyond the soundbites of celebrities and the headlines of the press. Digging into the actual numbers remains a valuable and insightful exercise.
For further reference, here is the snippet of Jay-Z's interview that addressed the economic well-being of African-Americans…
Someone needs to inform @realdonaldtrump that I ALREADY asked Jay Z whether black employment figures redeem Trump's presidency. And Jay's answer last night on the #VanJonesShow was POWERFUL !!! … Watch the VIDEO for yourself: https://t.co/7Sv3rHKkmW https://t.co/jbHpkKOM5o

— Van Jones (@VanJones68) January 28, 2018