The raging bull market has helped facilitate instant excitement any time a company announces a cryptocurrency-related project or product. Xunlei Limited (XNET) is one of several companies that have enjoyed such a boost. XNET soared from just over $4 to $25 in less than two months on the heels of crypto-news.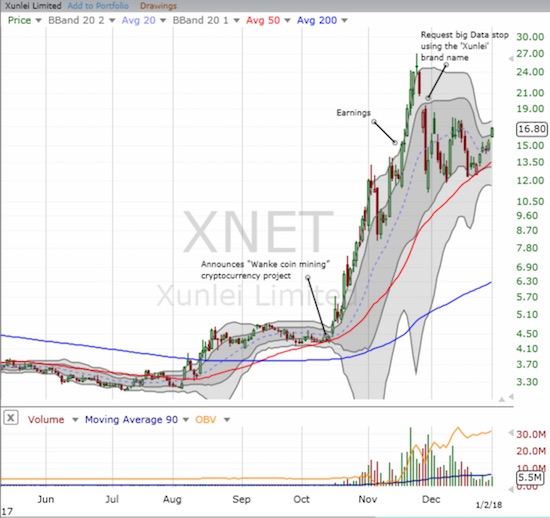 Source for charts: FreeStockCharts.com
I think of such stocks as the playthings of speculators, so I was very surprised to see news on December 29th that Morgan Stanley (MS) took a 5.1% passive stake in XNET. I shared the news with a trader friend because I concluded the Morgan Stanley endorsement ended the opportunity to short the stock. He agreed and informed me that MS has recently disclosed stakes in other very speculative stocks. Wondering whether there is more to this story, I decided to check out the SEC 13G filings myself. Sure enough, since November, MS has disclosed several speculative stakes.
I only looked back to late November, but I found a sufficient number of filings of interest. I list them below by the date of the disclosed ownership. The SEC filing typically gets released about a week after the date of the ownership stake. I put an asterisk by the names I consider particularly speculative. The percentage stake is listed along with the name of the company. A link to the SEC filing is provided on the date. I include charts of particular interest.
November 20: Pennymac Financial (PFSI), 5.3%.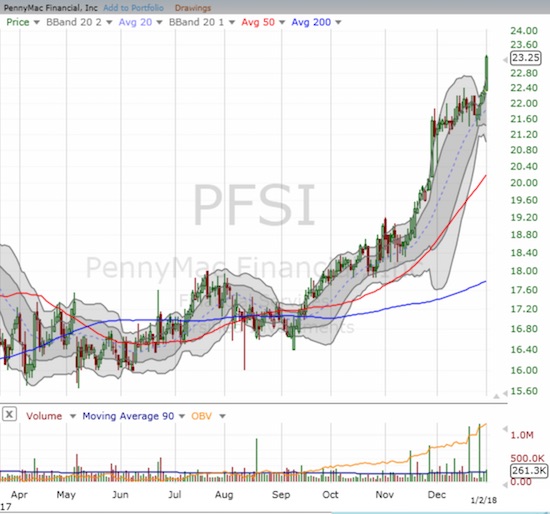 *November 27: Atara Biotherapeutics, Inc. (ATRA), 5.0%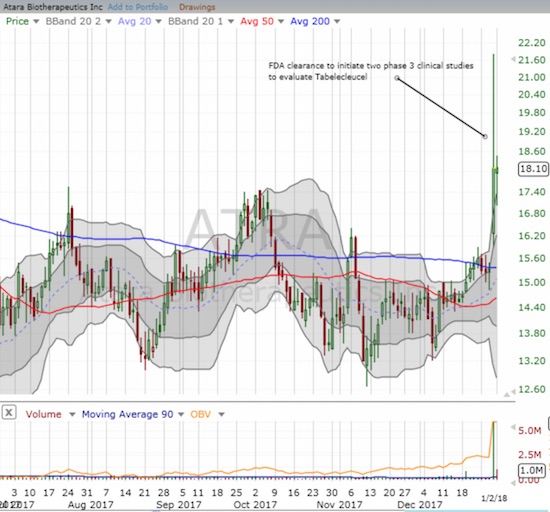 *November 30: SharpSpring, Inc. (SHSP), 1.1%
SHSP is the one of two single-digit stocks on the list. It is also a micro-cap stock, so I am very curious to uncover what Morgan finds so special about this small Florida-based internet services provider.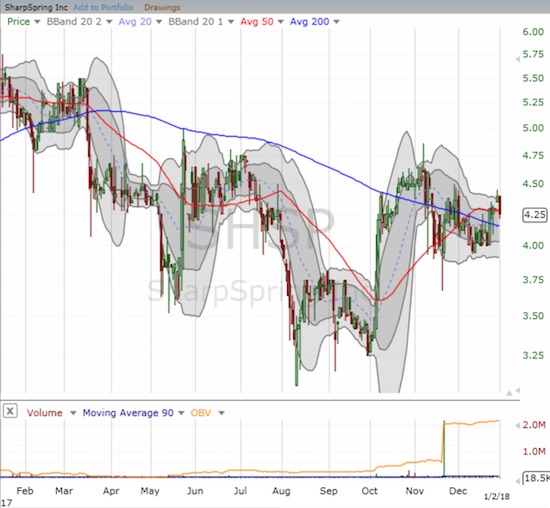 November 30: BlackRock 2022 Global Income Opportunity Trust (BGIO), 10.2%
*November 30: Overstock.com (OSTK), 11.4%
This position caught my interest most of all. First of all, this stake is Morgan's largest of the ones I found. Secondly, OSTK has become a crypto/blockchain play which means, combined with the XNET position, Morgan is clearly trying to make big moves in the space.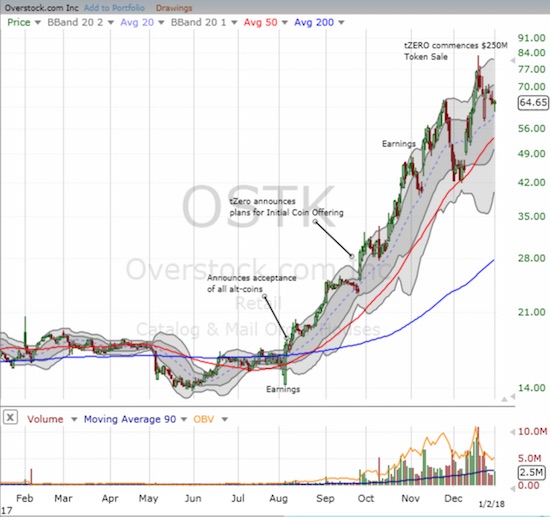 November 30: Highland Floating Rate Opportunity Fund (HFRO), 14.6%
*December 4: Diana containerships (DCIX), 5.3%
Of all the speculations in this list, DCIX baffled me the most. I think the chart stands by itself for generating bewilderment; DCIX traded over $700,000/share in 2011. I do not even want to count the number of reverse splits that DCIX has implemented since then.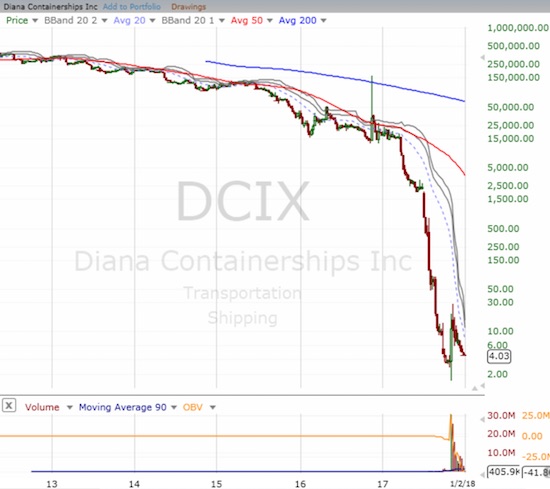 *December 7: Apptio (APTI), 5.2%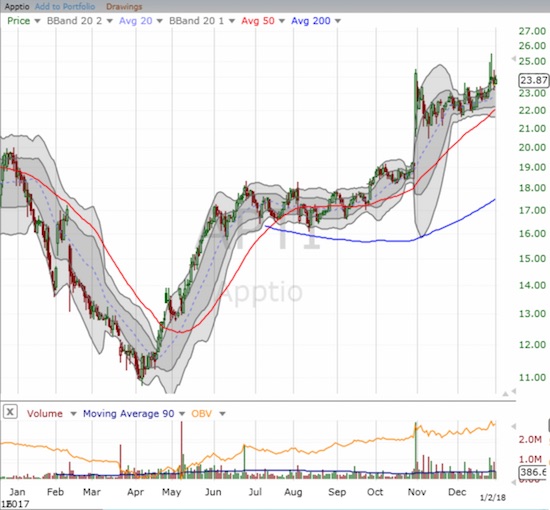 *December 7: Roku (ROKU), 5.1%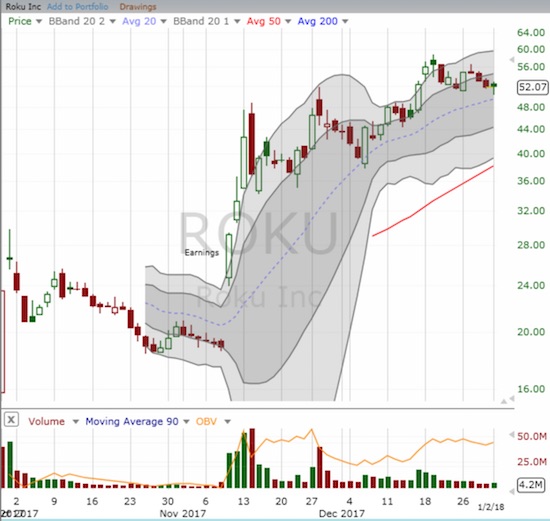 December 12: Asbury Automotive (ABG), 5.3%
*December 22: PHH Corp (PHH), 5.5%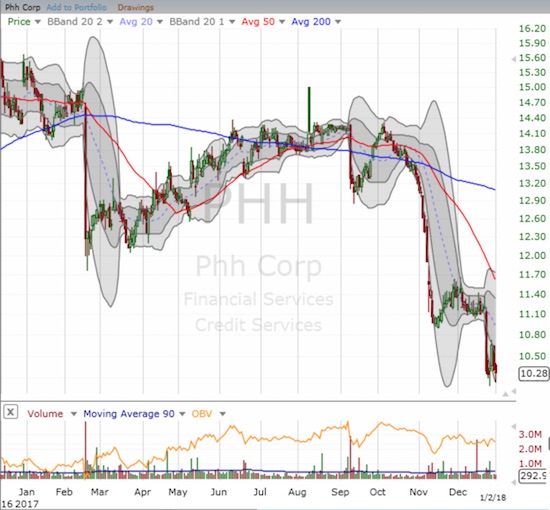 Source for charts: FreeStockCharts.com
I cannot say whether Morgan Stanley has been any more speculative than usual. This exercise just opened my eyes to the range of speculation that the big boy financial institutions may dare to enjoy. I will check back on these names from time-to-time and perhaps add to the list as Morgan adds to its docket. Since some of these passive stakes have already paid off handsomely for Morgan, I suspect the gold is not done here.
Be careful out there!
Full disclosure: short OSTK shares, short OSTK call spread (note – I will not be holding these positions much longer now that I know about Morgan's extra large stake!)