In early 2014 I laid out a basic trading premise for the cocoa market: trade the range by buying sell-offs and selling into buying sprees. This strategy has worked extremely well since then except I only pulled the trigger once this year. The chart below for the iPath Bloomberg Cocoa SubTR ETN (NIB) shows how 2016 has provided the perfect environment for my cocoa strategy.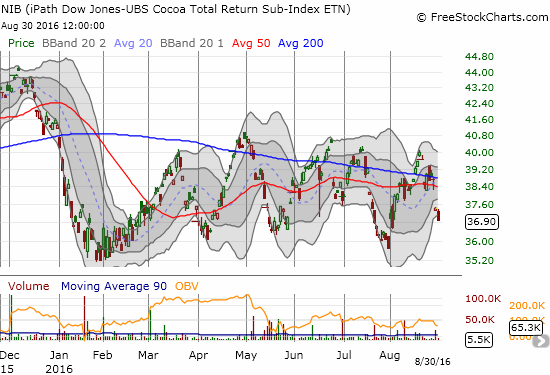 Source: FreeStockCharts.com
I now plan to get more committed and diligent with this trade. For the current cycle I plan to buy and accumulate between $35.50 to $36.50. I will target a sell between $39 and $40.
The overall long-term supply and demand equation that I described in earlier pieces for cocoa remains intact, so I am only interested in buying opportunities for NIB, not shorting ones. At some point, cocoa prices should break out of this range. Currently, extremely dry weather in Ghana is putting pressure on cocoa production. Ghana's presidential election has surfaced the issue of poor cocoa production: challenger Nana Akufo-Addo recently proclaimed that his administration will restore Ghana to earlier years of cocoa glory. I am surprised that NIB still sits in the current range, and I have yet to find news specifically explaining the current pullback in cocoa prices (perhaps it is currency related).
The International Cocoa Organization (ICCO) will hold its annual conference next month. While it is extremely hard to get real-time news out of that conference, the ICCO did recently release materials and video from last year's conference. I will be studying those sessions for more insights and understanding of the cocoa market.
Be careful out there!
Full disclosure: no positions