Solar stocks have had a rough 2016. Solar City (SCTY) seems doomed to join the long line of troubled companies that fell from grace. The stock is down 64% year-to-date and has traded with a downward bias since its all-time high in February, 2014.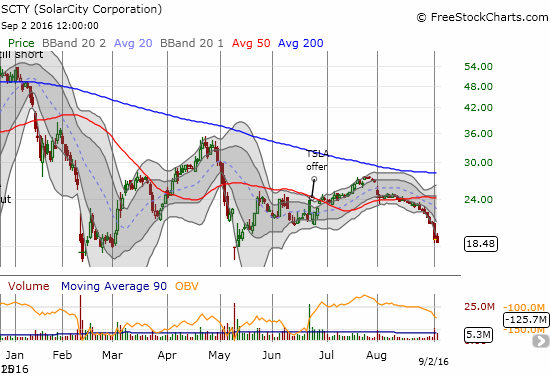 Source: FreeStockCharts.com
Tesla Motors (TSLA) is trying to come to the rescue. The stock initially gapped down on the acquisition offer. Yet, TSLA's fan base remained strong and loyal enough to buy the stock back up. Unfortunately for them, two and a half months later, TSLA is right back where it started. After closing below its 50-day moving average (DMA) on Friday, August 26, TSLA lost 10% of its value in the following week. TSLA has sold off 4 of the last 5 days with those 4 down days ending below the lower-Bollinger Band (BB). That is some serious selling pressure.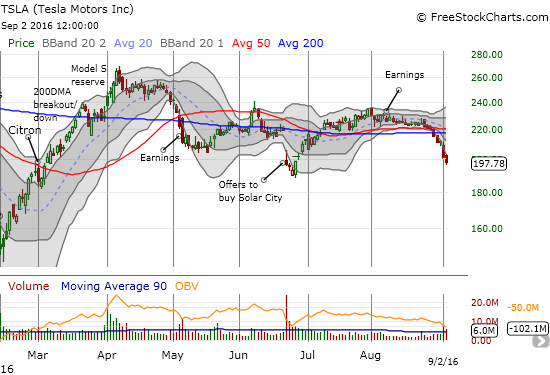 Source: FreeStockCharts.com
The tinder box is probably not finished throwing off fireworks. On top of the intense selling pressure sits massive short interest: 40% of float for SCTY and 30% of float for SCTY (according to Yahoo Finance). In such a situation of extremes, a hedged play like a pairs trade can be particularly effective.
On Friday, I executed a first test of my thinking by going long September $210 call options on TSLA and going long September $19 put options on SCTY. I configured TSLA on the long side because the company is in much better shape and better positioned than SCTY. Moreover, TSLA has a much stronger fan base that could look at this extreme selling as overdone and a tremendous buying opportunity. Note that the sentiment indicators at StockTwits contradicts my assumption…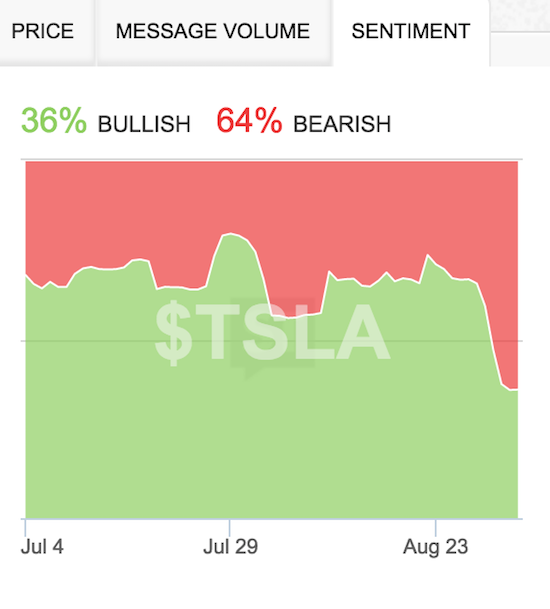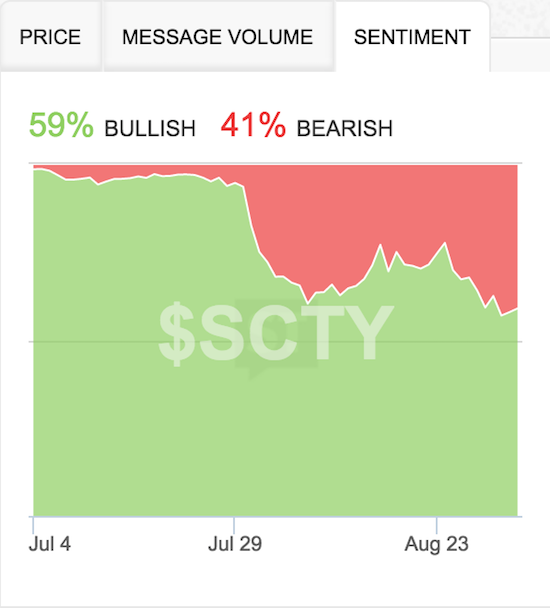 Source: StockTwits for TSLA and SCTY

Additionally, at any time, TSLA could decide to "save itself" and drop its bid to save SCTY from imploding. Under normal circumstances, I think a potential acquirer would be more patient and wait for SCTY to drop to extreme bargain basement levels, or even go into bankruptcy, before swooping in. Yet, these conditions are far from normal given the overlapping ownership, friendship, and family ties across TSLA and SCTY. If TSLA abandons ship (or the SEC rejects the merger or voters reject the merger), TSLA would likely rocket higher while SCTY would hurtle downward. I cannot conceive of a scenario where SCTY rockets higher while leaving TSLA in the dust. Finally, if nothing else, just a continuation or sharp reversal of momentum favors an options pairs trade.
A financial squeeze is the latest headline issue for the two companies. The issue has clearly become critical. Musk reportedly urged employees through an email letter to deliver every car possible and cut every cost in Q3 in order to show the best face possible ahead of an effort to raise money in Q4. TSLA has lost a lot of money and burned a lot of cash so a profitable Q3 would truly be amazing.
"Tesla burned through $611 million in cash in the first half of this year and $2.2 billion last year, according to Bloomberg data. The company also lost $568 million on an adjusted bases in the first half of this year and lost $889 million last year."
In the meantime, TSLA will owe money at the end of Q3 on $422M in convertible bonds. Moreover, TSLA has already stated it would seek to raise $2.89B through a sale of stock to fund the SCTY merger.
SCTY apparently faces a potential liquidity squeeze as investors are reportedly refusing to pour money down the chute into the company. LearnBonds.com has a great article summarizing the TSLA/SCTY drama with references to SEC filings.
I have put TSLA and SCTY both on watch for on-going trading opportunities. (Note my tune on SCTY has dramatically change since I was last trying to play the stock's periodic bursts higher)!
Be careful out there!
Full disclosure: long TSLA call options, long SCTY put options