November 16, 2015 was a strange trading day as U.S. stock markets rallied in the wake of the horrific terrorist attacks in Paris. There were really big moves in even some big cap stocks. The S&P 500 (SPY) reversed all of its losses on Friday and then some.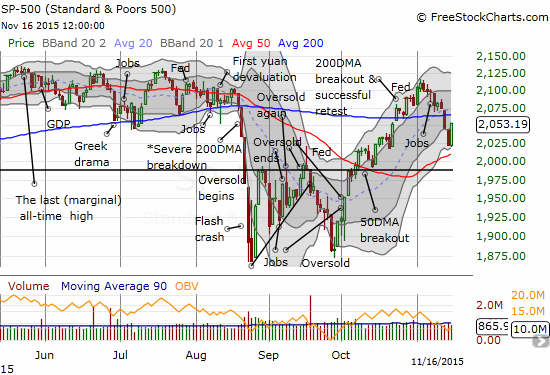 This is the strong and supportive context in which I am noting some particularly interesting setups for solar stocks: First Solar (FSLR), SunPower Corporation (SPWR), Canadian Solar (CSIQ), and Hanwha Q CELLS Co. (HQCL).
FSLR looks like it has successfully retested support at its 200-day moving average (DMA). Conveniently, this test also happens to coincide with a near complete reversal of a post-earnings gap up. FSLR is my favorite setup given its 200DMA is starting to trend upward.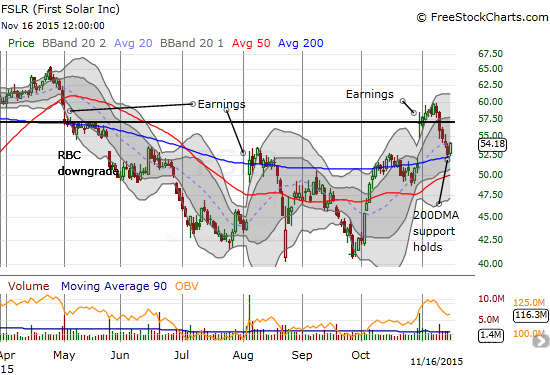 SunPower (SPWR) gained 2.6% on the day but closed just below its 50DMA. Given this trendline has started to turn upward, I will get bullish on SPWR if it manages to close above the 50DMA. A break below today's intraday low will be very bearish and suggest that resistance at the 50DMA is confirmed. Moreover, such a break will confirm the invalidation of the bullish post-earnings gap up from last month. Finally, the confirmed resistance at the 200DMA is a note of caution on a rally.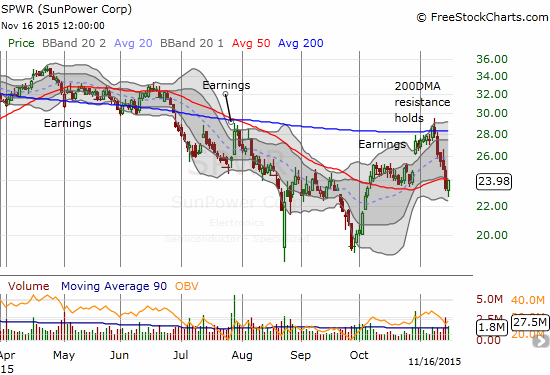 Like its solar cousins, Canadian Solar (CSIQ) completely reversed gains from its last earnings report. Unlike its cousins, CSIQ held its gains for only a brief period after the post-earnings open. The subsequent selling has been more shallow, perhaps because buyers had not over-committed from post-earnings giddiness. I like today's bounce off the lows because it seems to validate the 50DMA as support. I like CSIQ for a potential extended rally after it first closes higher.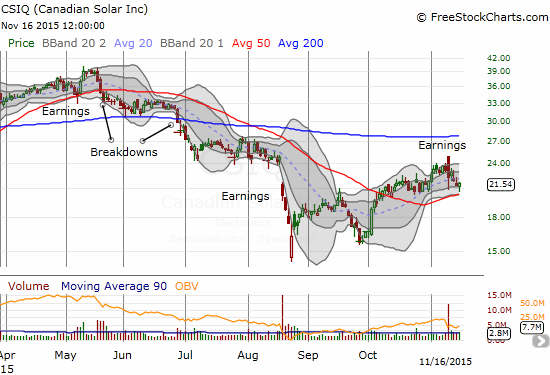 I earlier wrote about Solar City has a play off a pivot point. The road to earnings eventually killed that nice pattern. The post-earnings sell-off confirmed the end of that pivot trade. Two straight days of high-volume SEEM to have finally delivered a tradeable bottom. The obvious caveat on SCTY is that famous short-seller Jim Chanos has publicly recommended shorting the stock. I am also VERY wary of stocks that can fail so dramatically after an insider makes a major purchase of shares. A new low is a clear point for creating a stop loss.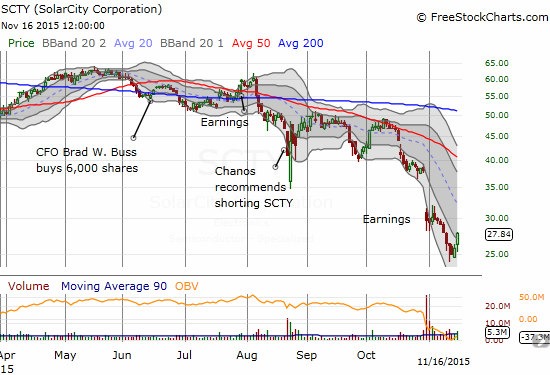 Hanwha Q CELLS Co. (HQCL) is a bonus stock. The stock is thinly traded, but I like the chart as an example of the potential power of chart setups. HQCL has converging 50 and 200DMAs. On Friday, the stock bounced perfectly off 50DMA support on particularly low trading volume. Technicians know this pattern as a doji that represents a stalemate between buyers and sellers. Today's 15.2% surge resolved the stalemate in favor of buyers. The now rising 50DMA now looks like solid support. HQCL reports earnings on November 19th, so I strongly suspect this surge is related to some pre-earnings speculation. I could not find any other explanatory news. With only 47,527 shares traded on the day, it is clearly easy for a few big traders to generate a massive move.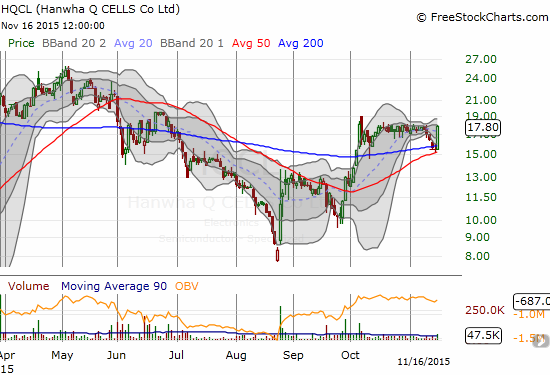 There is one huge caveat looming over all these setups. The solar ETF, Guggenheim Solar ETF (TAN), still looks awful. While TAN has not violated the double bottom from August and Ooctber, it is still well below resistance at its 50DMA. Its 20DMA has started to turn downward again. In other words, my select list of solar stocks are mostly part of a special breed. The good news is a retest of TAN's 50DMA resistance will surely provide some fuel for rallies for the strongest solar stocks of the bunch.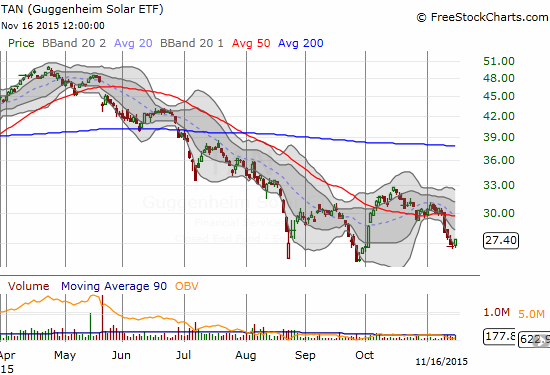 Source for charts: FreeStockCharts.com
Be careful out there!
Full disclosure: no positions (yet)