On October 28, 2015 (Australian time), the Australian dollar (FXA) was slammed by Australia's September, 2015 inflation data.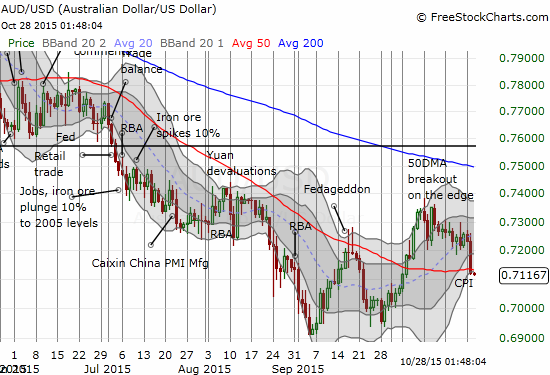 Source: FreeStockCharts.com
The Australian Bureau of Statistics reported a 1.5% year-over-year increase in its Consumer Price Index (CPI) for September. While inflation is still hovering above the lows for the post-crisis period, this is the longest stretch of inflation at 1.5% or lower over at least the last 10 years.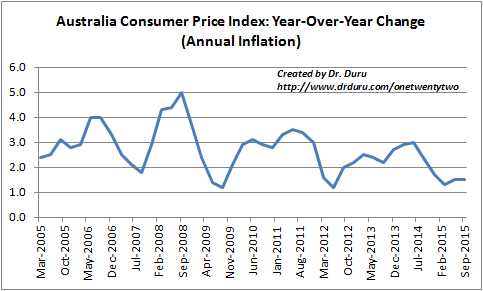 Source: The Australian Bureau of Statistics
The persistence of low inflation helps me understand why the odds for a rate cut at the next monetary policy decision by the Reserve Bank of Australia (RBA) are the highest I have observed in many months. The RBA surely has scope for reducing rates further with such persistently low inflation.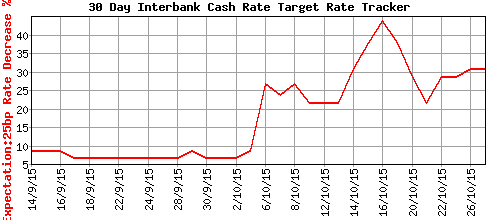 Source: The ASX RBA Rate Indicator

Combine on-going weakness in Chinese economic data with continued rate cuts by the People's Bank of China, and the market can readily believe that the RBA might finally take a pre-emptive strike with its own rate cut in the near future. Australia's hot housing market may yet provide the only brake to action.
Interestingly, speculators have spent time dialing back on net short positions against the Australian dollar. No doubt this has helped the currency remain resilient in recent weeks. This retreat implies there is now plenty of room for freshly shorting the Australian dollar and riding a weakening trend.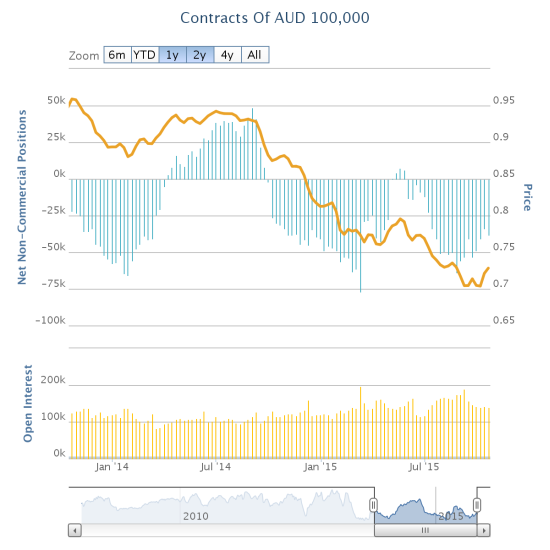 Source: Oanda's CFTC's Commitments of Traders
Be careful out there!
Full disclosure: net short the Australian dollar