The U.S. dollar index (UUP) failed this week (so far) to break out of its short-term downtrend. However, it is picking up momentum against select currencies. One case in point is the Turkish lira (USD/TRY).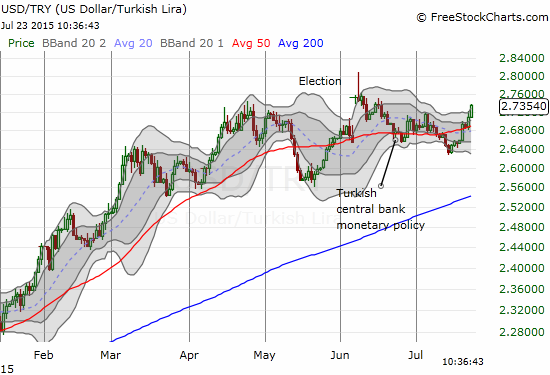 Source: FreeStockCharts.com
Note that the 50-day moving average (DMA) flattened out a bit after the TUrkish elections but it never began a descent. So, I have stuck to my current long position despite the carry piling up against me!). I am looking for a relatively rapid ascent from here based on the accelerating declines in commodity trades (which are effectively carry trades within their own right).
I am assuming that the core nature of the currency move is a resumption of the uptrend after a period of (sloppy) consolidation. The economic (and political) fundamentals working against the Turkish lira remain firmly in place.
For additional context, regional tensions look set to escalate. Here is a relevant quote from Yahoo!News via AP for some geo-political background:
"Turkey has agreed to let the U.S. military launch airstrikes against the Islamic State from a key air base near the Syrian border, senior U.S. officials said Thursday, giving a boost to the U.S.-led coalition while drawing Turkey deeper into the conflict.

President Barack Obama and Turkish President Recep Tayyip Erdogan finalized the deal in a phone call Wednesday, officials said, following months of U.S. appeals and delicate negotiations over the use of Incirlik and other bases in Turkey. Frustrated by Obama's focus on fighting IS instead of Syrian President Bashar Assad, Turkey's government had resisted the move, but in recent days a surge in Islamic State activity in Turkey has brought concerns about the militant group to the forefront."
Be careful out there!
Full disclosure: long USD/TRY