To start this week, I pointed out that the U.S. dollar index (UUP) and the British pound (FXB) had tagged important milestones for this year. The U.S. dollar index finally rallied back to the downtrend line established from its multi-year high set in March. The British pound finally cracked the 0.70 support level against the euro (FXE). Both milestones have failed to deliver breakout moves.
The U.S. dollar index has danced around the downtrend line in what looks like a growing failure at resistance. The main driver of this failure is a sharp relief rally in the euro. It would be convenient to attach the rally to any number of Greek-related headlines, but I will avoid the shorthand. The euro probably rallied simply because sellers were finally exhausted!
Interestingly, even as the U.S. dollar has failed to gain more headway this week, it has not stopped commodities from continuing their plunges. In some cases, sell-offs are accelerating in what is starting to look like a capitulation type of move. I will have more to write about this unfolding drama soon. The fact that the dollar cannot receive direct blame for the latest selling likely reveals that something more pernicious is going on (like cratering demand?!).
The euro's relief rally also created a false breakdown for EUR/GBP. I thought the second (intraday) test of 0.70 as resistance would hold and so finally placed my bet at that point. No dice. The trend is still in favor of shorting EUR/GBP, but it looks like I will need to wait a while longer for follow-through on the latest lower low. In the meantime, I am looking to add to my short position if (when?) EUR/GBP rallies all the way back to or (slightly) through its 50-day moving average (DMA).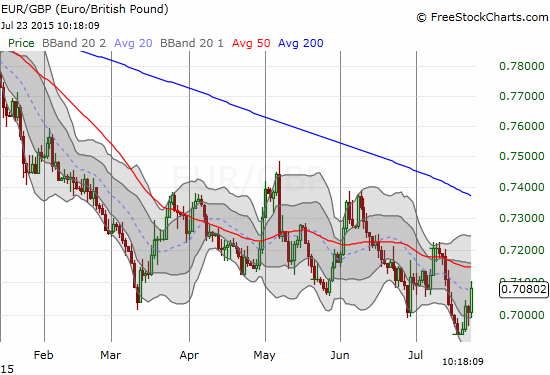 Source for charts: FreeStockCharts.com
Poor retail sales data hurt the overnight on Wednesday (Thursday morning in the UK). Retail sales including auto fuel increased "only" 4.0% year-over-year versus expectations of a 4.8% increase. This print created a 0.2% month-over-month drop. A miss of expectations that produces a change in direction is an easy recipe to spook traders. Per the strategy I laid out in a previous post, I used this moment as another buy-the-dip opportunity on the British pound. to buy the dip on the British pound. In this case, I loaded up against the U.S. dollar given the index's failure to break through the downtrend. At the time of writing, GBP/USD is breaking down below its 50DMA. I am willing to hold out for a test of the 200DMA around 1.53.
Be careful out there!
Full disclosure: short EUR/GBP, long and short various currencies against the U.S. dollar including long GBP/USD