(T2108 measures the percentage of stocks trading above their respective 40-day moving averages [DMAs]. It helps to identify extremes in market sentiment that are likely to reverse. To learn more about it, see my T2108 Resource Page. You can follow real-time T2108 commentary on twitter using the #T2108 hashtag. T2108-related trades and other trades are posted on twitter using the #120trade hashtag)
T2108 Status: 41.9%
VIX Status: 13.1%
General (Short-term) Trading Call: Hold on further buys until/unless S&P 500 confirms a 50DMA breakout. Otherwise, aggressive traders can attempt a fade at 50DMA resistance. See below for more.
Active T2108 periods: Day #288 over 20% (includes day #280 at 20.01%), Day #2 over 40% (overperiod), Day #16 under 50%, Day #27 under 60%, Day #28 under 70%
Reference Charts (click for view of last 6 months from Stockcharts.com):
S&P 500 or SPY
SDS (ProShares UltraShort S&P500)
U.S. Dollar Index (volatility index)
EEM (iShares MSCI Emerging Markets)
VIX (volatility index)
VXX (iPath S&P 500 VIX Short-Term Futures ETN)
EWG (iShares MSCI Germany Index Fund)
CAT (Caterpillar).
Commentary
It looked like the perfect confirmation of the bullish bounce from T2108 oversold conditions. The S&P 500 (SPY) gapped up over its 50DMA, sellers could only barely push the index back to the 50DMA for a minutes, and then the buyers began applying fresh upward pressure. But news headlines from Ukraine caused a quick change in the game. And yet, sellers could only take advantage for less than two hours. By the close, the S&P 500 was exactly even with the prior close.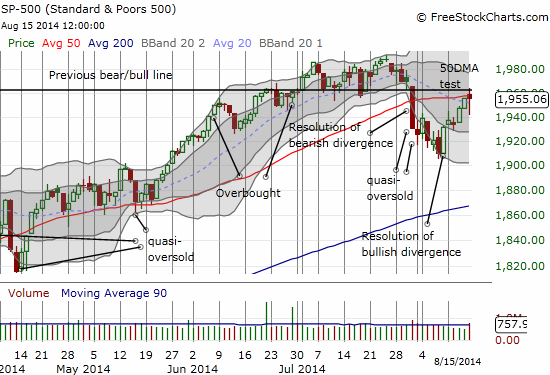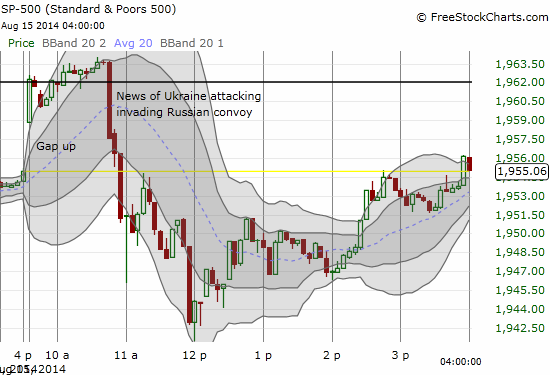 While the S&P 500 closed flat (slightly in the red), T2108 held onto a small gain. A positive sign for buyers heading into Monday.
I think Doug Kass summed up the buyer advantage pretty well here… (even though I believe he is holding onto his accumulation of shorts on the S&P 500 and the NASDAQ – he seems to be a staunch contrarian).
Regarding the pain trade. I like to always ask who is more scared – longs or shorts? The answer right now is…. still the Shorts, imho.

— Douglas Kass (@DougKass) August 15, 2014
On the other side of the ledger, the VIX first bounced perfectly off the lower edge of its channel and rallied right to the 15.35 pivot line. The VIX faded in the wake of the S&P 500's comeback, but it managed to close firmly in the green – likely a reflection of a small increase in nervousness with the Ukrainian headlines not completely resolved by market close.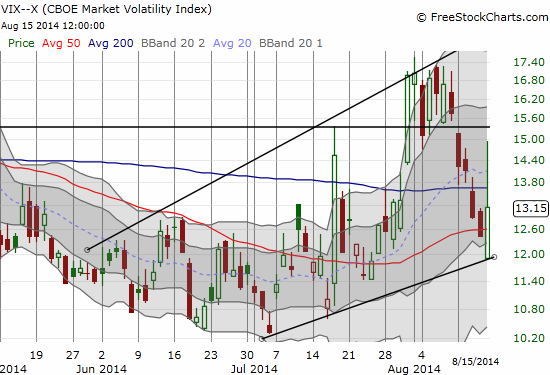 My reaction to the opening action was to get aggressively bullish as planned; I did not want to wait for a Monday confirmation. Even as the S&P 500 was retesting the previous bear/bull line, I jumped into a fresh tranche of ProShares Ultra S&P500 (SSO) call options. Admittedly, I was not paying attention to that important line of resistance. When the news headlines hit, I put an immediate stop to trading. This twitter exchange explains my approach to these scenarios: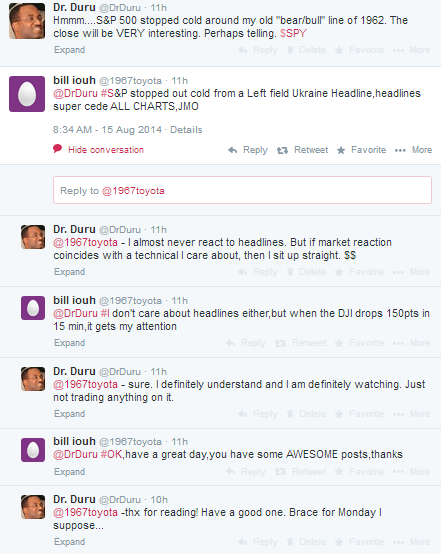 Mind you, I did have other trades execute. Right before the SSO trade, I pulled the trigger on a fresh tranche of iShares MSCI Spain Capped (EWP) put options as EWP seemed to struggle with its 200DMA. Not to mention I remain skeptical of European shares in light of their severe under–performance relative to the S&P 500 recently. No matter what unfolds with T2108, I plan to double down if EWP manages to reach its declining 50DMA…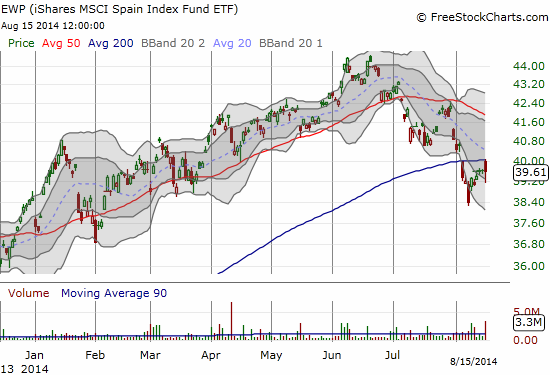 As I watched my shares in ProShares Ultra VIX Short-Term Futures (UVXY) pop post-headlines, it suddenly occurred to me to grab a put option. I am now trading UVXY on its own "merits." I am not complicating things by trying to pay for the SSO call options. What I like about UVXY is that its ultimate destiny is clear (somewhere just north of zero before the next reverse split), yet it has explosive upside potential at any time. UVXY is a perfect hedge against sudden negative surprises while the put options can limit the penalty for waiting around for those surprises.
I placed an aggressive limit order on Apple (AAPL) call options in preparation for another strong Monday. That order filled later in the day. I was very tempted to grab the profits near the close (given recent experiences of letting profits slip through my fingers). However, I grit my teeth and stayed focus on the potential for further upside. AAPL's chart remains very bullish, and it closed strongly all things considered with a 0.5% gain.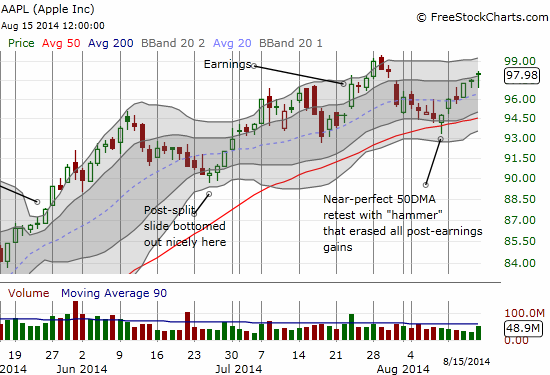 Finally, Zillow (Z) remains an intriguing trade. It barely sneezed as the Ukraine headlines hit as a 50DMA retest looks ready to resolve to the upside. See "Zillow Tells The Market Not To Go Crazy Thinking About Valuations On Trulia Deal" for more on recent catalysts and why I went short Z right after the deal was announced. I quickly sold a small amount of shares I bought on the 50DMA retest and swapped into a fresh put spread. I plan to buy the dips going forward until/unless the 50DMA finally fails.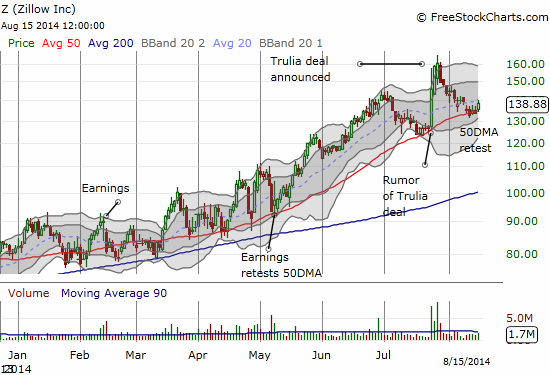 Daily T2108 vs the S&P 500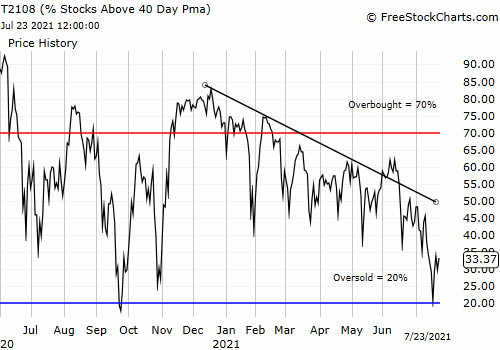 Black line: T2108 (measured on the right); Green line: S&P 500 (for comparative purposes)
Red line: T2108 Overbought (70%); Blue line: T2108 Oversold (20%)
Weekly T2108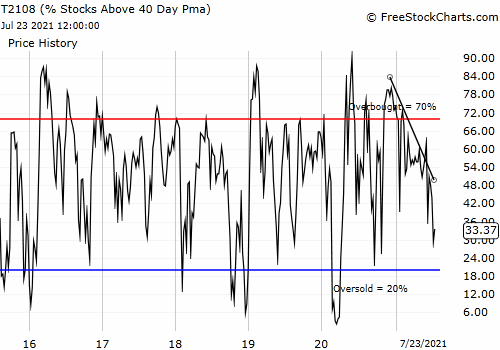 *All charts created using freestockcharts.com unless otherwise stated
Related links:
The T2108 Resource Page
Expanded daily chart of T2108 versus the S&P 500
Expanded weekly chart of T2108
Be careful out there!
Full disclosure: long UVXY shares and puts, long SSO call options, long EWP puts