Here is my latest review of a few charts that have my attention: Apple (AAPL), BlackBerry (BBRY), Facebook (FB), and Autozone (AZO), Fossil (FOSL).
Apple (AAPL)
Fourteen (14) trading days have passed since Apple (AAPL) made a new low in its standing downtrend from last September's all-time highs. The stock has closed above the downtrending 20-day moving average (DMA) for six (6) trading days. Most importantly, on Friday, AAPL closed above its 50DMA for the first time since the downtrend began.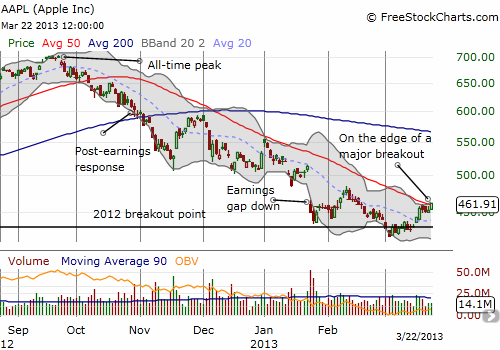 I recently wrote that a lack of negative sentiment on AAPL makes it hard to call a bottom on the stock. So while AAPL's latest bottom is conveniently placed right at the bottom of the major gap up from January, 2012, I am not ready to call a final bottom. However, changes in trend happen one step at a time. AAPL has finally taken a first major step toward breaking the grip of this six-month downtrend. The next close over the 50DMA will confirm the downtrend of the 20DMA has been broken for now. Next up for resistance will be the February high, the January post-earnings gap down, and then the formidable resistance of a downtrending 200DMA.
BlackBerry (BBRY)
What is a chart review of AAPL without a parallel review of BBRY? Until recently, AAPL and BBRY were trading as near inverses of each other. Now, both are drifting along. BBRY is swinging wildly but still pushing on with its 50DMA trending ever upward.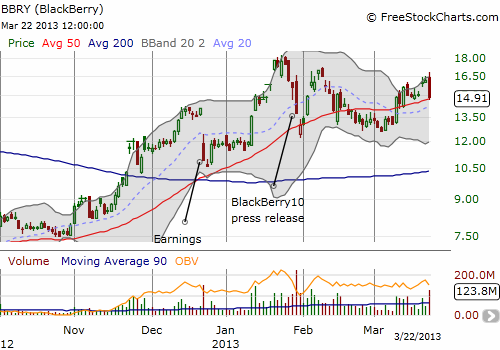 Facebook (FB)
Facebook is a stock that is in a sure but steady distribution mode. Distribution occurs when sellers take advantage of liquidity to unload a stock without severely damaging price levels in the process. The price action only worsens once buyers finally catch on that the stock is in decline and stop providing strong liquidity. I do not know where that point will be with FB, but last week the stock reached a critical juncture testing support at its newly formed 200DMA.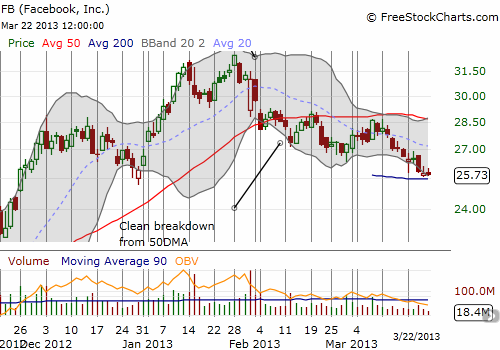 The waning enthusiasm shows in the fade from highs the past two days where FB has tested its 200DMA. Other bearish signs include a 20DMA that is now declining, a clean break of the 50DMA February 4th, a retest of 50DMA resistance that failed two weeks later, and, finally, trading at new lows for 2013 which means the stock is going in the exact opposite direction of the general stock market.
Autozone (AZO)
It took exactly a month from the last time I wrote about AZO for the stock to finally break out of its downtrend from all-time highs. In between, AZO reported earnings that caused two weeks of churn before the stock made a move to break out. The chart below pans out so the overall breakout is clear. See the earlier post for the longer-term VERY bullish perspective on AZO.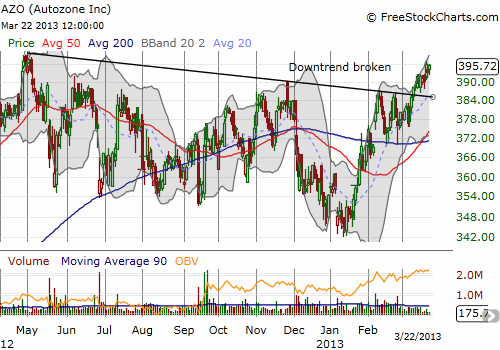 Fossil (FOSL)
Last month I pointed out how FOSL printed the rare but always dreaded abandoned baby pattern. Sure enough, that bearish setup has held, even more powerful given it represents a strong fade from initial post-earnings enthusiasm. Now, the stock has broken down a second time below its 50DMA. FOSL has now dropped 12% in just 6 trading days. A rendezvous with support at the 200DMA around $88 seems right around the corner now.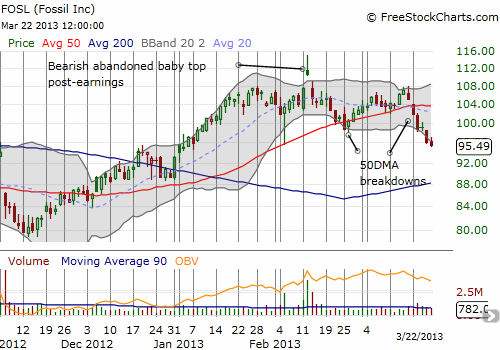 Source: Charts from FreeStockCharts.com
Be careful out there!
Full disclosure: long AAPL shares, call and put spreads; long BBRY calls and puts, short FB and long calls