The current extended overbought period has produced many amazing chart patterns. In this chart review, I am highlighting some charts I find particularly interesting and compelling. There are impressive recoveries, stocks dancing with critical resistance, and emerging breakouts. Some charts are quite telling in that they completely contradict the presumed economic disaster from an imminent U.S./global recession and/or collapse in Europe and China. While I hold positions in most of these stocks, note well that I am NOT using these charts to recommend any particular trades at this time. I single out these charts as illustrative of important technical signals.
Each chart is a daily chart except where otherwise noted. I chose timeframes that best described the most important story for each individual stock.
Caterpillar, Inc. (CAT)
I designated CAT as a stock for hedging against a collapse in commodities. It paid well in 2011 when it fell from all-time highs losing over 40%. However, now, CAT continues to bounce through an impressive recovery and is now inches away from cracking all-time highs again. CAT's behavior tells us that the stock market does not fear a recession, a collapse in commodity prices, nor a slowdown in China.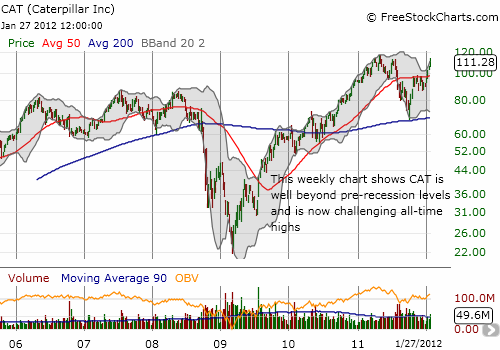 First Solar (FSLR)
The rally in solar stocks continues in impressive form. EEnergy Conversion Services (ENER) was up as much as 775% in 2011! The rally was not supposed to happen this early given a recovery in the solar industry may remain a year or more away. Yet, this stark reality has not stopped the many bottom-scrapers out there taking advantage of last year's beaten up stocks. After printing an ominous bearish engulfing pattern while breaking down below the 50DMA, FSLR has surged again to new highs for this nascent year. Buying volume has even picked up the last two days. I will have a lot more to say about solar in the coming week or two. For now, I offer up FSLR's telling chart. Notice the steadily developing uptrend from the bottom.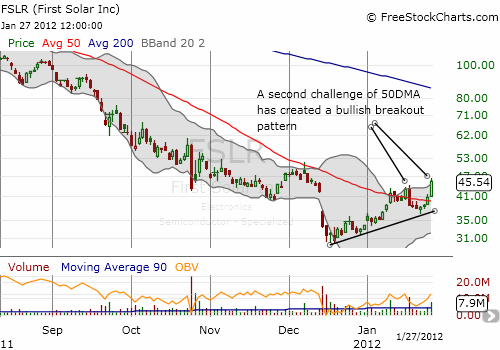 Goldman Sachs (GS)
Next to Intel, GS delivers one of the more surprising charts of the bunch. GS has somehow managed to pull off a rare triple bottom. This third breakout above the 50DMA decisively breaks a downtrend that has been in place since the beginning of 2011. Overhead resistance at the 200DMA should be tough to break, but I believe that GS has finally punched out a bottom. Perhaps just in time too: the support that held marks price levels last seen in March, 2009 (GS made a bottom in the financial panic in the Fall of 2008 and was a leading indicator of a decisive bottom in the stock market as a whole).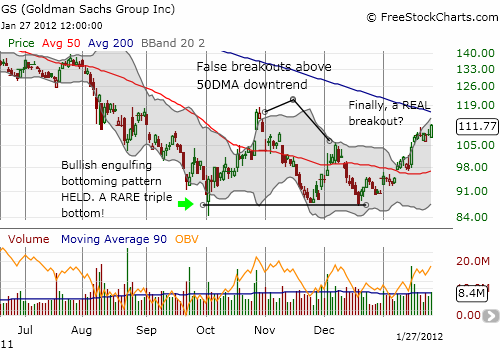 Google (GOOG)
After a strong 2009, GOOG has greatly under-performed for two years. 2012 was looking like its breakout year after a 3% one-day rally to begin the new year. However, a big one-day plunge ahead of and immediately after earnings have thrown up the proverbial brick wall. I earlier noted that if the market were not overbought, I would have recommended buying GOOG as a play off the 50DMA. That would have worked until earnings. Now, GOOG looks like a play off the 200DMA. Yet, the market remains overbought!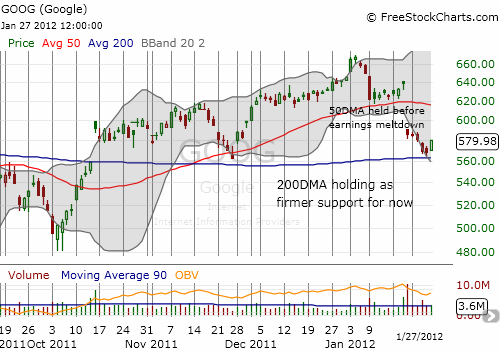 Intel (INTC)
Intel's rise is not supposed to be happening, especially not ahead of what is supposed to be a double-dip recession. Nevertheless, INTC is doing something it could not do in the last bull market…erase all its recessionary losses or even achieve multi-year highs. In the last bull market, INTC topped out in less than a year. Now, it is poised for a major breakout. This is a stock that is on my buy list whenever the next market sell-off arrives. (My last piece on Intel: "Trading Implications of Intel's Recent Outperformance").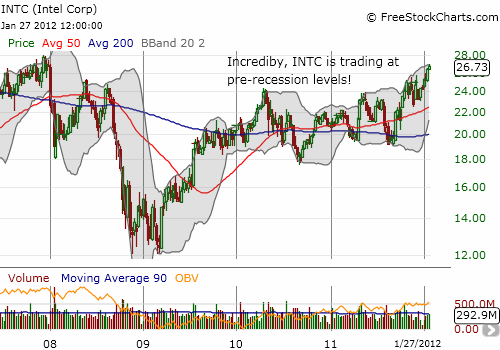 J.C. Penney (JCP)
I keep an eye on JCP because it is a retail store that offers so many discounts so often, I can never understand how the company makes money. Yet, this store has been beating the odds in this moribund economic recovery. On Friday, analysts hiked price targets to the mid-40s in the wake of guidance that obviously impressed the market the previous day. On Thursday, January 26, JCP soared an historic 18% (and I just could not resist trying out a fade – so far, no luck). JCP was clearly onto something big when the company hired Apple's senior vice president of retail as its CEO in mid-June of 2011.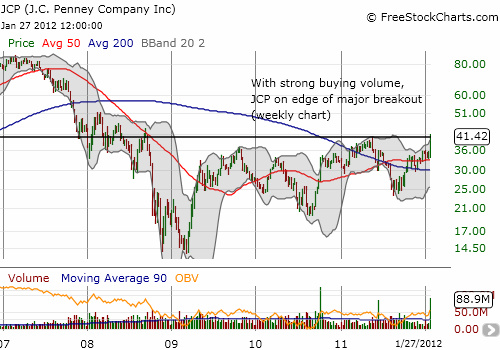 Research In Motion (RIMM)
I am long overdue for some commentary on RIMM, especially given the recent shake-up at the top. I am still waiting for the company to begin execution of the latest authorized share buyback. Perhaps this buyback is effectively on hold because even bigger plans and opportunities have come along. Who knows. In my last piece on RIMM, I speculated that RIMM was headed for single digits without a buyback. Now, the stock seems ready to finally print some kind of bottom. A telling signal would be a fresh high after breaking above the 50DMA for only the third time in a one-year downtrend…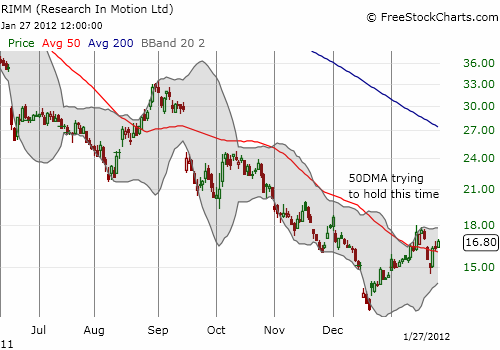 Sears Holding Corportation (SHLD)
Just when everyone was singing SHLD's swan song, the stock has made a roaring comeback. It turns out that CIT is willing to make loans to suppliers after all. The results have been astounding. Only the 50DMA has been able to stop the latest surge. This is a critical juncture. Given sellers have lacked convincing follow-through, the stock is potentially biding time for another attack on the overhead resistance at the 50DMA. Stay tuned on this one!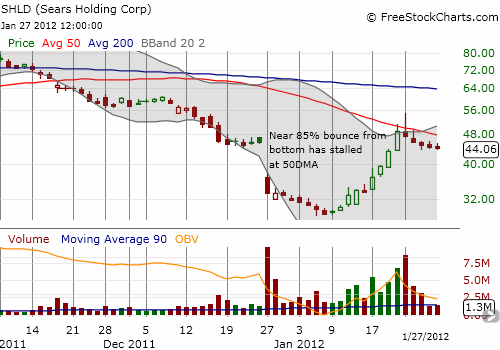 Tesla Motors Inc. (TSLA)
TSLA experiences its own mini "flash crash" on Friday the 13th when the company announced the departure of some key engineers. Stocks sometimes react this violently to the departure of CEOs and CFOs, but top engineers! Wow. Hopefully, this gives our craft some much deserved respect! The stock lost 21% in one day only to gap up on the following Monday. The stock regained 18%. It is now trading ABOVE where the stock rested right before the bad news. Talk about a recovery!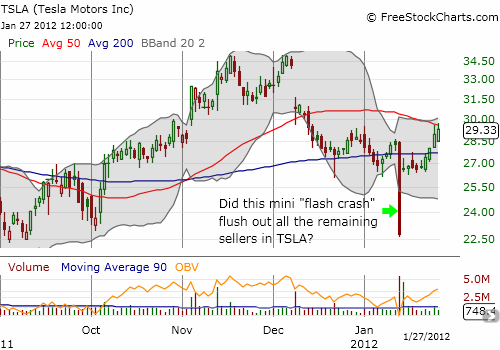 Source for all charts: FreeStockCharts.com
Be careful out there!
Full disclosure: long put spreads in CAT, GOOG, and SHLD. Long shares, puts, and calls in RIMM and FSLR. Long GS and GOOG shares. Long puts in TSLA and JCP.