This chart review pairs an ugly chart with a blooming one.
Japan's Nikkei stock market index made very little additional progress after the sharp and rapid bounce from the March lows marked a crescendo of panic over the Fukushima Daiichi nuclear catastrophe. On five separate days, the Nikkei survived tests of the closing lows from March. That luck finally ran out on Monday, September 12, as the Nikkei cracked that fragile line of support. A retest of the intraday low is likely around the corner.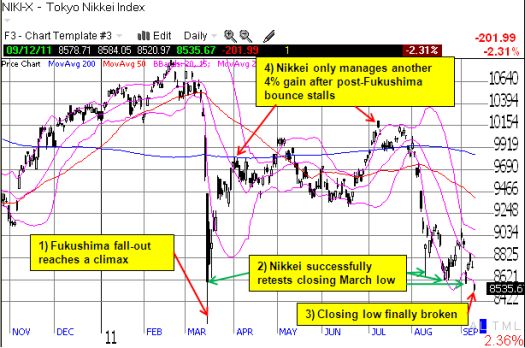 This roundtrip takes on additional significance relative to other major stock markets in Europe and the U.S. which retested the March lows in June, broke them in early August, and have yet to retest those levels as resistance. In this sense, the Nikkei is a final containment wall, so to speak, for growing negativity in market sentiment. Recall the absolute dread and near-panic that something akin to nuclear Armageddon was unfolding in Japan in mid-March. Breaking those lows implies that now the market fears something, somehow even worse.
Flipping to an encouraging chart, CBOE Holdings (CBOE) is finally picking up steam again. Its bounce from the August lows has driven the stock back above its 200DMA. The first visit in late August was short-lived. The current pop is on much heavier buying volume and thus looks more sustainable especially relative to the general stock market's poor performance on Monday.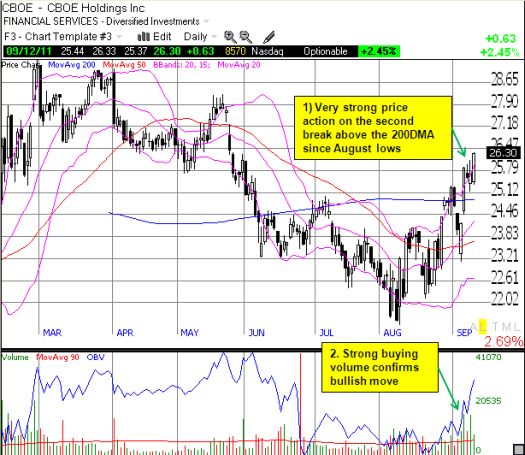 *All charts created using TeleChart

A while ago, I made a bet on CBOE because I expected continued increases in options and futures trading would translate into higher prices for CBOE stock. For example, on September 1, 2011, CBOE announced that August was a record month for options trading volume – up 88% year-over-year and up 44% from the previous month. August was also a record month for CBOE futures. A record 1.8 million futures contracts on the volatility index, the VIX, traded on the CBOE exchange. So much for traders taking the summer off while they retreated to the Hamptons to bask in the cash taken out of the market in May.
With volatility remaining stubbornly high in the market, I fully expect this kind of performance to continue.
Be careful out there!
Full disclosure: long CBOE