(T2108 measures the percentage of stocks trading above their respective 40-day moving averages [DMAs]. To learn more about it, see my T2108 Resource Page. You can follow real-time T2108 commentary on twitter using the #T2108 hashtag.)
T2108 Status: 22%
VIX Status: 39
General (Short-term) Trading Call: Hold.
Commentary
The stats above are the exact same as Friday's T2108 Update…but this statement is a bit deceptive. The S&P 500 closed up 0.7% after trading as low as 1.5% DOWN and breaking the tenuous uptrend from the August lows. At the intraday low, T2108 brushed alongside oversold territory again, printing at least as low as 20.5%.
In other words, the stock market broke down as I expected, but it bounced back much faster than I anticipated. Unlike the last time T2108 briefly dipped to oversold territory, I decided NOT to make a T2108 buy of shares in SSO, the ProShares Ultra S&P 500. The bounce that quickly took the market from deep losses to marginal gains was not convincing to me. Not only did the VIX manage to avoid losses, but also T2108's flat performance prints a bearish divergence.
Accordingly, I did something a little unorthodox given T2108 is so low: I scrambled to add to my small amount of bearish positions as a hedge. I bought September puts in Peabody Energy (BTU), U.S. Steel (X), and I even bought calls in VXX, the iPath S&P 500 VIX Short-Term Futures. BTU and X are economically sensitive names that could plunge to new lows if the market chooses to convulse again this week on the running themes of fear and dread of the future. The play on VXX is simply following this index's stubborn refusal to obey gravity as it does 95% of the time.
Finally, note well that the U.S. dollar index rose for the third straight day as part of a relief rally that is well underway. This behavior does not bode well for the stock market as it appears investors and traders continue to try cramming into the diminishing number of "safe" financial assets.

Charts below are the latest snapshots of T2108 (and the S&P 500)
Refresh browser if the charts are the same as the last T2108 update.


Daily T2108 vs the S&P 500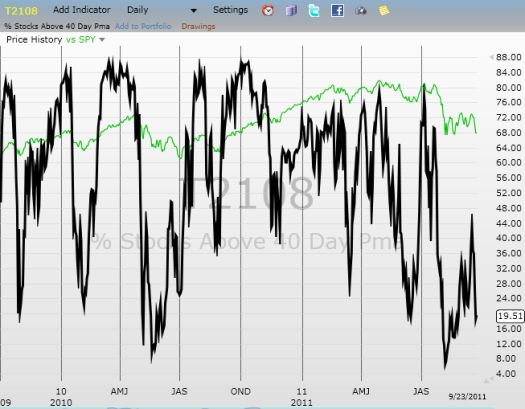 Black line: T2108 (measured on the right); Red line: S&P 500 (for comparative purposes)

Weekly T2108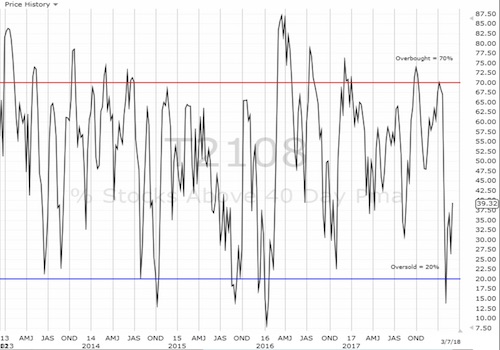 *All charts created using TeleChart:

Related links:
The T2108 Resource Page
Expanded daily chart of T2108 versus the S&P 500
Expanded weekly chart of T2108
Be careful out there!
Full disclosure: long shares and calls on SSO, long VXX puts and calls, long BTU puts, long X shares and puts, net long U.S. dollar