Late August has become a benchmark for the success of the Federal Reserve's last money-printing campaign given at that time Chairman Ben Bernanke first floated the suggestion that another round of quantitative easing (QE2) was on its way (see speech at Jackson Hole, WY, August 27, 2010). I am also using this date as a guidepost for timing purchases from my list of commodity stocks as listed in "Profiting from Physical Assets in a Resource-Constrained World – Rules and Picks." However, I am also finding it useful in evaluating trades and investments in high quality stocks that have been squashed in this sell-off. Flowserve (FLS) is one of those stocks.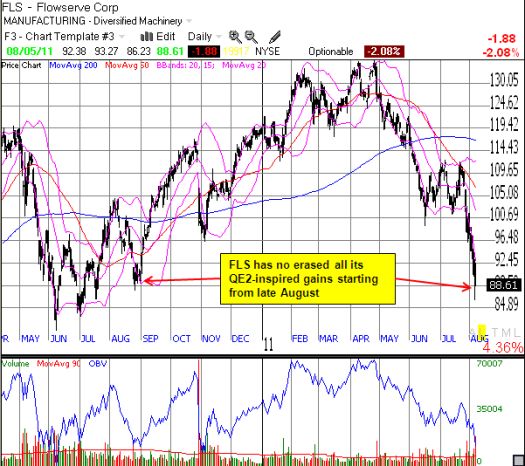 *Chart created using TeleChart

Such a sell-off in an industrial name suggests that the market is anticipating a fresh economic slowdown or recession. To the extent such fears prove unfounded, or the Federal Reserve decides to try, try again to prop up the market, stocks like FLS could rebound sharply. On Friday, I bought FLS for a quick daytrade and then used the profits to get into a call on a subsequent dip. Going forward, I will be looking to make more lasting investments.
FLS reaffirmed full-year 2011 guidance in its last earnings conference call July 27, 2011 for an EPS target range of between $7.10 and $8.00.
Here is the CEO's commentary regarding existing challenges (emphasis mine):
"Earnings and margins were adversely impacted this quarter by less favorable pricing in existing long cycle backlog and by incremental charges from a small number of delayed projects," said Guiltinan. "Also contributing to this impact were increased realignment charges, a Spanish regulatory penalty and limited customer-driven delays.

"The new realignment action this quarter was taken to optimize the Industrial Product Division's (IPD) European manufacturing footprint as part of IPD's ongoing recovery plan, though this action was not anticipated at the beginning of the year. The ongoing unrest in North Africa resulted in some customer-driven delays, and it is possible that delayed bookings and shipments could continue through the remainder of the year. We also believe that there has been an overall delay in nuclear project opportunities relating to the current condition of the global nuclear power market, which could continue throughout the year as well."
The commentary on nuclear power validates earlier opinions that Japan's nuclear disaster would have a lingering impact on the nuclear power market.
Alan Brochstein provides a short review of the damage industrial stocks have suffered after offering up the smallest whiffs of bad news: "Near-Term Slowing Is Scaring Industrial Sector Investors."
Be careful out there!
Full disclosure: long FLS calls