The massive and historic floods in Australia have driven coal prices up. This is particularly important for steel since Australia exports 2/3 of the world's coal used for making steel (coking coal). Steelmakers have already been struggling with increasing input costs, so the Australian floods are sure to pinch profits further.
At the close of the first week of trading for 2011, the rally in steel stocks came to an abrupt end with AK Steel (AKS) and U.S. Steel (X) getting hit particularly hard. AKS fell 7% after a Goldman Sachs downgrade to sell highlighting "the persistently weak electrical steel market and increasing pressures from electrical steel imports." X fell 5%. Both stocks have continued sliding (AKS got hit with another sell rating on Wednesday by UBS) despite the general market's continued upward momentum. The steel index has also remained generally flat.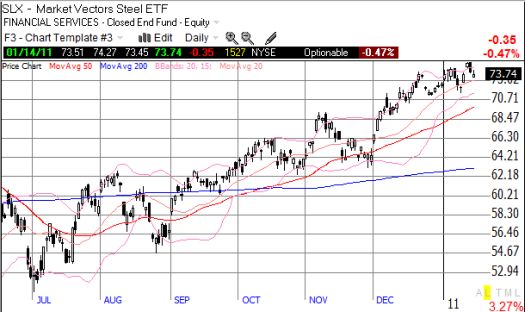 Since writing last month about the increasing momentum in steel stocks, I have adjusted my positions (I continue to post these trades on twitter under the hashtag "#120trade"). I first sold Steel Dynamics (STLD) just to reduce my overall exposure to steel and take profits. I sold all my holdings in U.S. Steel but held my puts that I used to hedge that position. I am still holding a call on Commercial Metals Company (CMC). Finally, I have no plans to unload AKS although I might sell calls against it.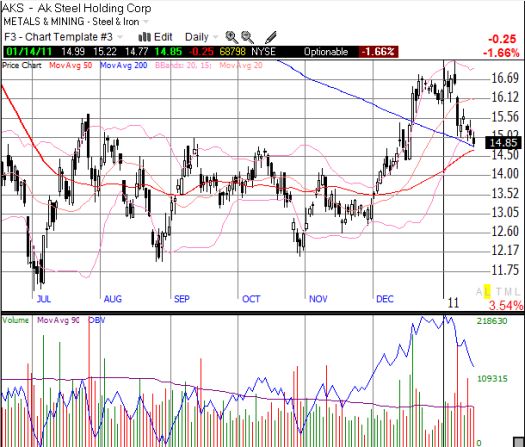 On the flip side, Cliffs Natural Resources Inc. (CLF) recovered quickly from the brief stumble a week ago, and the stock is back to setting fresh 27-month highs. CLF has completely erased its post-recession losses.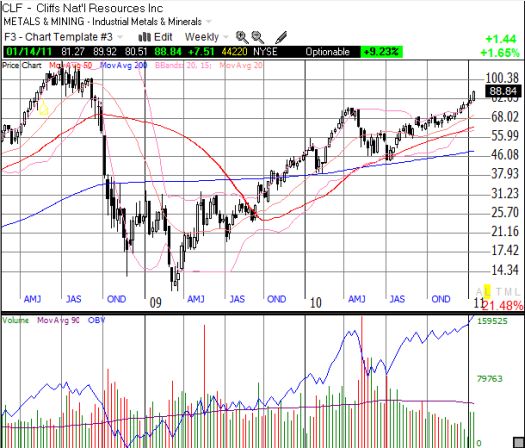 *All charts created using TeleChart:

This is a stock to continue to watch (I wish I was watching it in my portfolio) since CLF has assets in Queensland in addition to other coking and metallurgical coal properties. From the company's business profile:
"Cliffs Natural Resources Inc. is an international mining and natural resources company. A member of the S&P 500 Index, we are the largest producer of iron ore pellets in North America, a major supplier of direct-shipping lump and fines iron ore out of Australia and a significant producer of high and low volatile metallurgical coal…Our Company is organized through three geographic business units:

The North American business unit is comprised of six iron ore mines owned or managed in Michigan, Minnesota and Canada and six coal mines located in West Virginia and Alabama. The Asia Pacific business unit is comprised of two iron ore mining complexes in Western Australia and a 45% economic interest in a coking and thermal coal mine in Queensland, Australia. The Latin American business unit includes a 30% interest in the Amapá Project, an iron ore project in the state of Amapá in Brazil.

Other projects under development include a biomass production plant in Michigan and Ring of Fire chromite properties in Ontario, Canada. Over recent years, Cliffs has been executing a strategy designed to achieve scale in the mining industry and focused on serving the world's largest and fastest growing steel markets."
Another company to watch is Alpha Natural Resources (ANR). ANR produces steam and metallurgical coal. The company first got my attention in 2008 when CLF attempted to acquire ANR. I have traded in and out of ANR ever since expecting another M&A event to materialize at some point. I missed the latest rally. However, another buying opportunity may be materializing on the heels of an 8% drop in reaction to ANR's guidance on Friday. I was particularly intrigued by commentary on the metallurgical coal market (emphasis mine):
"Our operating results in the East were impacted by several factors, including poor rail service, severe weather and delayed export shipments at the ports during the fourth quarter, as well as reduced shipments and resultant higher per ton costs from our Pittsburgh #8 mines primarily due to periodic sandstone intrusions encountered at our Emerald Mine," said Kevin Crutchfield, Alpha's chief executive officer. "Looking forward to 2011, the recent flooding in Queensland, Australia has significantly strengthened the market for metallurgical coal. In this environment, we anticipate that Alpha will be able to increase its 2011 metallurgical coal shipments to a range of 13.0 million tons to 14.5 million tons, compared to our previous guidance of 11.5 million tons to 13.5 million tons. As a leading supplier and exporter of metallurgical coal in the United States, Alpha expects to benefit from the combination of a strong seaborne metallurgical coal market and increased metallurgical shipments. Consequently, Alpha expects to deliver record financial results in 2011, following a record year in 2010."
Be careful out there!
Full disclosure: long AKS and CMC, long X puts