Intercept Pharmaceuticals, Inc. (ICPT) may indeed have the $5B blockbluster liver drug that RBC Capital Markets claimed in hiking its price target on the stock from $425 to $500. Gilead (GILD) may indeed buy out the company. Other analysts like Leerink Partners who raised its price target from $270 to $445, and Deutsche Bank who raised its price target from $395 to $500 may end up being correct. But on the day after ICPT reported earnings and announced the results of its FLINT trial of obeticholic acid in nonalcoholic steatohepatitis, the stock experienced a massive fade from the initial euphoria. Moreover, the the initial pop still placed the stock well below the highs of January's amazing euphoria. That euphoria took the stock to and past current price targets. It is like the adrenaline shots are losing their impact…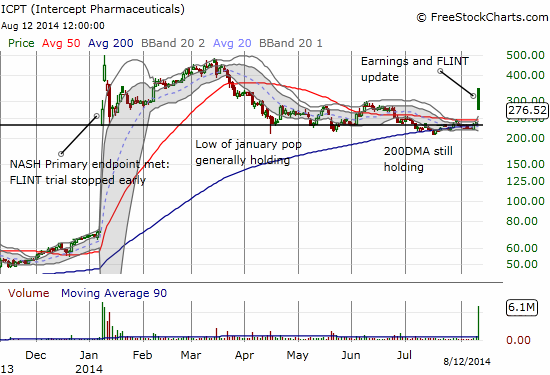 Source: FreeStockCharts.com
Today, August 12, 2014, ICPT gapped up 46% but faded to end the day with "only" a 16.6% gain. If the ICPT story is still golden, there is certainly an amazing upside potential still left here. But the caution of a wary technician has me skeptical.
It is almost never a good sign when a stock sells off and/or fades despite unbridled (headline) enthusiasm. Moreover, if the risk of failure has now decreased in ICPT as RBC claims (from 40 to 30% chance of failure), then it seems odd that the stock is trading so far off the initial enthusiasm in January, much less unable to hold today's highs. Contrast today's behavior with January's ability to hold most of the gains from the open AND plow even more buying power into the stock the very next day, both times well above the upper-Bollinger Band (overbought territory).
The failure in March to make new highs, followed by a 1-month loss of 50%, followed by churn with a bias lower, finally followed by a "gap and crap" all makes for a high likelihood of buyer exhaustion. The first test comes right away. Buyers must be able to keep the gap from closing and re-establish momentum. Otherwise, a resumption of the previous drift lower is in play.
Short interest also caught my eye. The ICPT bears clearly called the stock disastrously wrong as they ramped up positions going into January's announcement. In subsequent months, shares short gradually got cut in half as bears licked their wounds. But oddly enough – as if they could not get enough – bears went right back to work and ramped up positions to fresh highs before pulling back a bit ahead of today's news.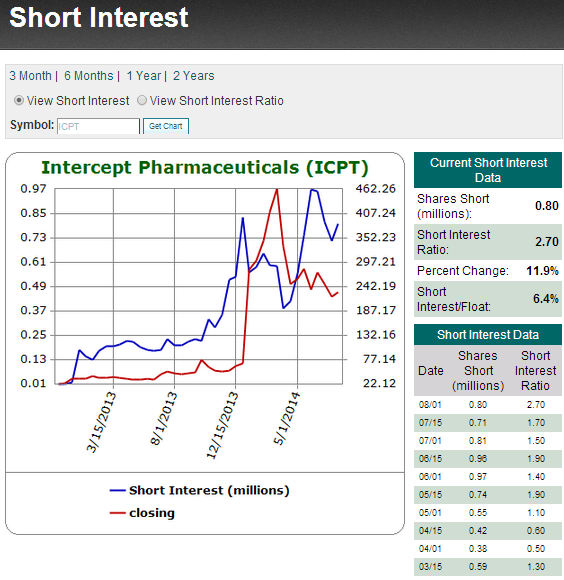 Source: Schaeffer's Investment Research
The large swings in ICPT are a trader's dream, whether bullish or bearish. The well-behaved technical patterns also provide strong trading potential. For example, note how the break below the 50-day moving average (DMA) confirmed the large swoon the week prior that created a failed retest of all-time highs. A classic bearish 1-2 combo. I wish I had been paying attention at the time. The bulls got some relief after ICPT retested the lows from January's pop multiple times and each time bounced until July. After THAT failure, the 200DMA held up support. So while I think bears now hold the upper-hand again, they still have a lot to prove when (if?) ICPT eventually retests these support levels.
I am definitely not one to short this stock: I do not have that kind of capital to put at risk. I prefer options. The bid/ask spread on options are understandably wide, so it may not even be possible to trade this stock "safely" and at a reasonable price. If I could play options, I would go for a spread in order to eliminate a lot of the premium paid for the stock's extremely high (implied) volatility. I would go for something like a $210/200 or $220/200. $200 appears to be a reasonable first target if buyer exhaustion eventually leads to a break of current support levels. Bulls looking for new entry points should at least wait to see whether they can get a better deal on a 50DMA retest around $245.
(Note, I would have included a review of insider transactions, but Yahoo! Finance does not have them available at this time).
Be careful out there!
Full disclosure: no positions