The Bitcoin bottom from a month ago continues to hold. However, the latest bounce off the Bitcoin (BTC/USD) bottom is dangerously different than the last one and the bottoms prior. Once again, Google search trends for "Bitcoin" is the key signal. Unlike the bottom in May where the Google Trends Momentum Check (GTMC) provided another successful signal, cryptocurrency followers have greeted subsequent Bitcoin bottoms with less and less interest. In fact, the index of Google search interest for Bitcoin just hit its lowest point of the year on June 19th.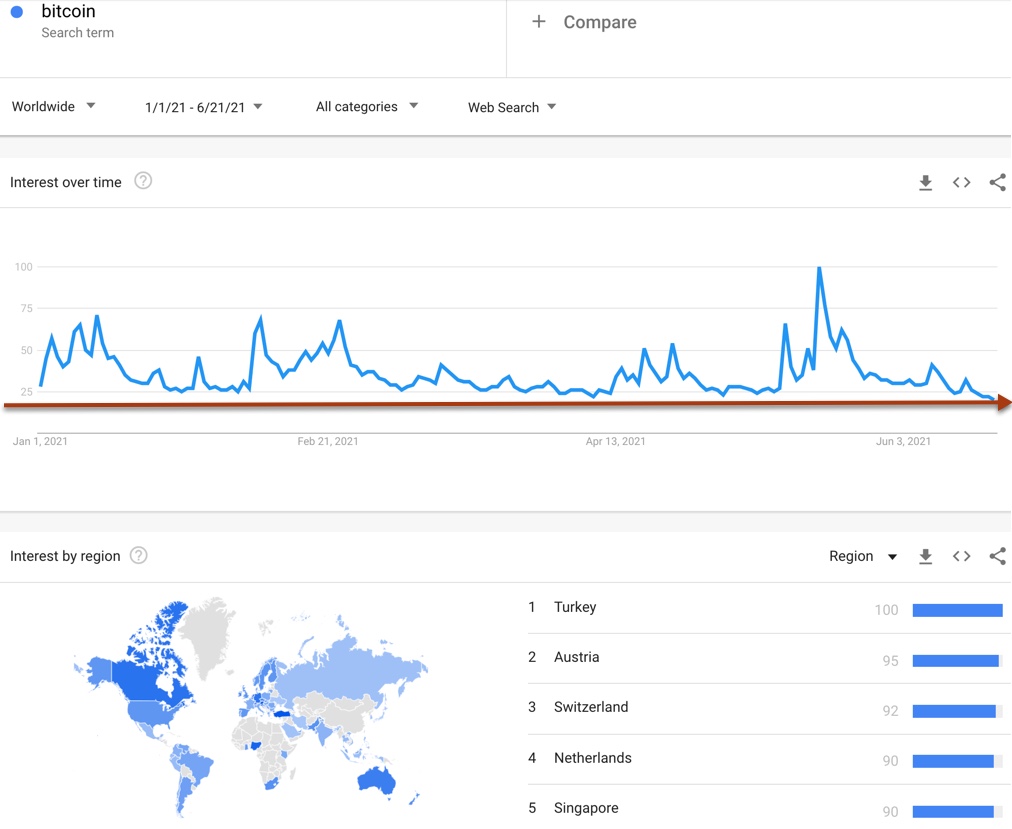 The deteriorating technicals for BTC/USD as well as poorer news flow underline the significance of this declining interest. While swinging widely in a month-long trading range, BTC/USD only once reversed its entire loss from the big down day on May 19th. That reversal happened the very next day. Moreover, overhead resistance from the 200-day moving average (DMA) (the blue line below) continues to serve as a tight lid of resistance to the price action. The 50DMA (the red line below) is quickly declining to try to force the issue of downward pressure. In other words, BTC/USD is precariously approaching the looks of a broken chart.
The news out of China continues to pressure the Bitcoin market and other cryptocurrencies. Although China's latest crackdown on Bitcoin miners should be no surprise, the worsening news gives motivate sellers excuse to exit along with the Chinese miners forced to exit the business. Meanwhile, a great migration is already underway that includes the prospect of Texas becoming a new hub of Bitcoin mining. The state's anti-regulation politics makes Texas an ideal refuge.
The Trade
I already plowed half of my crypto profits into buying the Bitcoin dip. Ethereum (ETH/USD) occupies the other half. This is my second round after taking profits on the previous round near the top of the trading range. Accordingly, I own all the crypto I need or want right now. However, if the waning Google search interest presages a fresh Bitcoin breakdown, I will prepare to dig into my "principal". As always, the GTMC will guide my bottom-fishing expeditions.
Be careful out there!
Full disclosure: long BTC/USD, long ETH/USD