I gave up on Teucrium Corn Fund (CORN) a long time ago. I grew weary of holding against a consistent downtrend waiting for bullish catalysts to materialize. Suddenly, for the first time in 14 months, CORN generated a breakout above its 200-day moving average (DMA). As a result, it is time to buy CORN.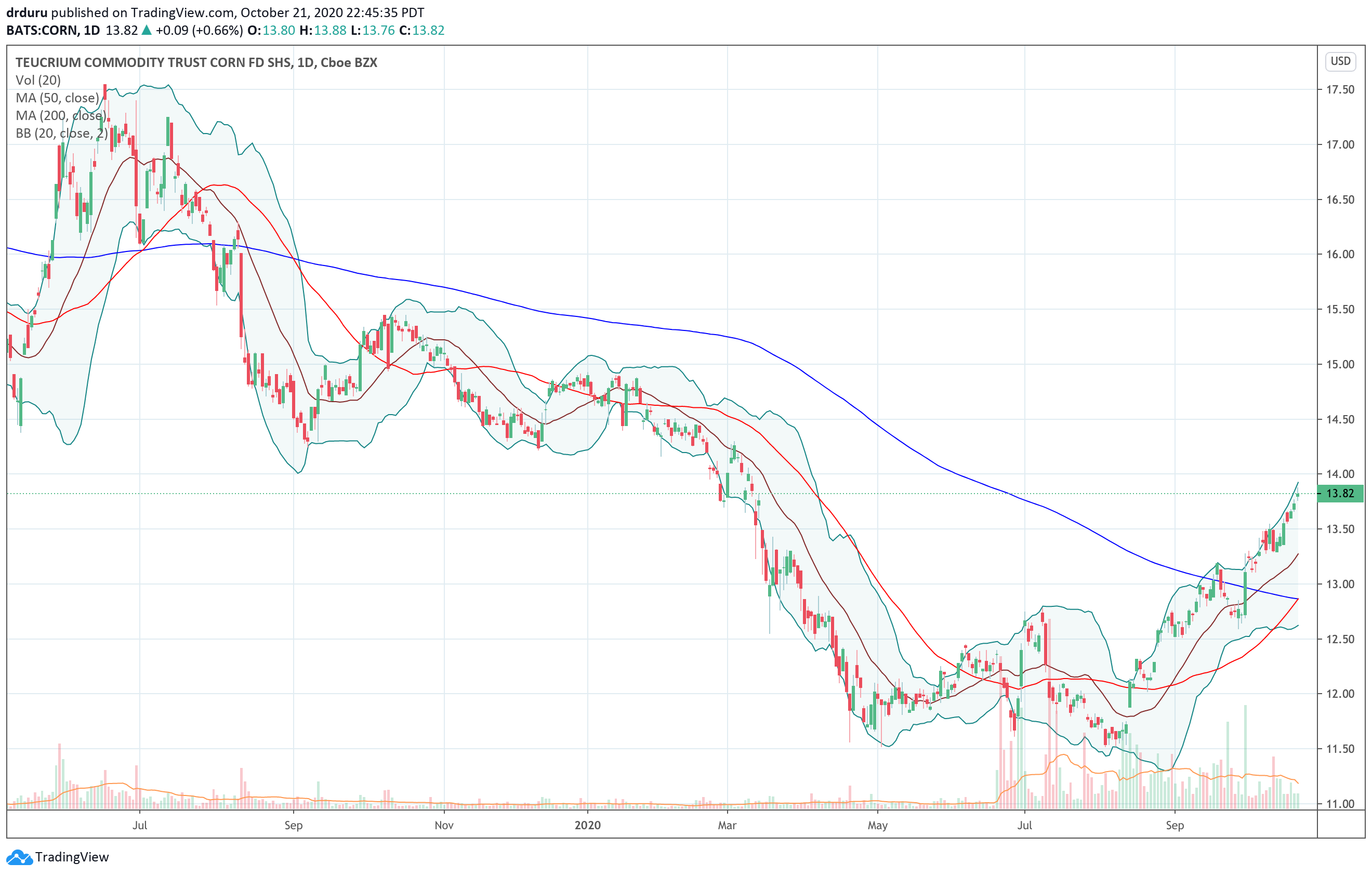 In early August, 2020, CORN hit an all-time low and looked ready for yet lower prices. Volume for the ETN was surging and seemed to reinforce the selling pressure. On August 13th, according to the Grains Council, the U.S. Department of Agriculture (USDA) reported record corn yields. The UDSA also lowered its price forecast for corn in 2020/21 to $3.10/bushel. These data look bearish for CORN, yet it jumped 3.3% on the day and never looked back. The on-going high trading volume now looks like eager accumulation.
At least three points stand out from the Grains Council reporting that help explain the bottoming for CORN:
Widespread fund buying.
A key technical level held despite the bearish corn report.
Prospects for international demand looked very bullish: "USDA's daily export sale for Thursday, August 13, 2020 noted that 110,000 MT of corn was sold to unknown destinations for 2020/21."
Fast forward to today; now it seems international demand continues to grow stronger. Marketplace recently reported that some countries are stockpiling food, presumably in an effort to protect themselves from fresh pandemic-related disruptions in food supply chains. Countries included in the list of buyers were China, Egypt, Taiwan, and Jordan. Moreover, the Food and Agriculture Organization (FAO) of the United Nations reported September as the fourth consecutive month of increases in its food price index. Corn (maize) is one of 23 food items included in the index.
Stockpiling and rising prices can create quite a self-reinforced feedback loop.
The Trade – A Time to Buy CORN
I have a heightened interest in buying commodities given global coronavirus relief efforts that include money creation and massive government spending. With food prices on the rise, I think this is a good time to buy corn on a bullish breakout. As a result, I will aggressively accumulate CORN above the 200DMA. If CORN pulls back, I am looking for support at a converging 50 and 200DMA…and hoping it holds up better than it did back in July, 2019.
Be careful out there!
Full disclosure: no positions