Soliton Stock
While the general stock market sold off in September, medical device company Soliton (SOLY) finally came alive. So far, the momentum continues into this month with Soliton's stock closing at a 2 1/2 month high. SOLY is forming a potential bottom with a higher low and two higher highs including a breakout above resistance at its 50-day moving average (DMA).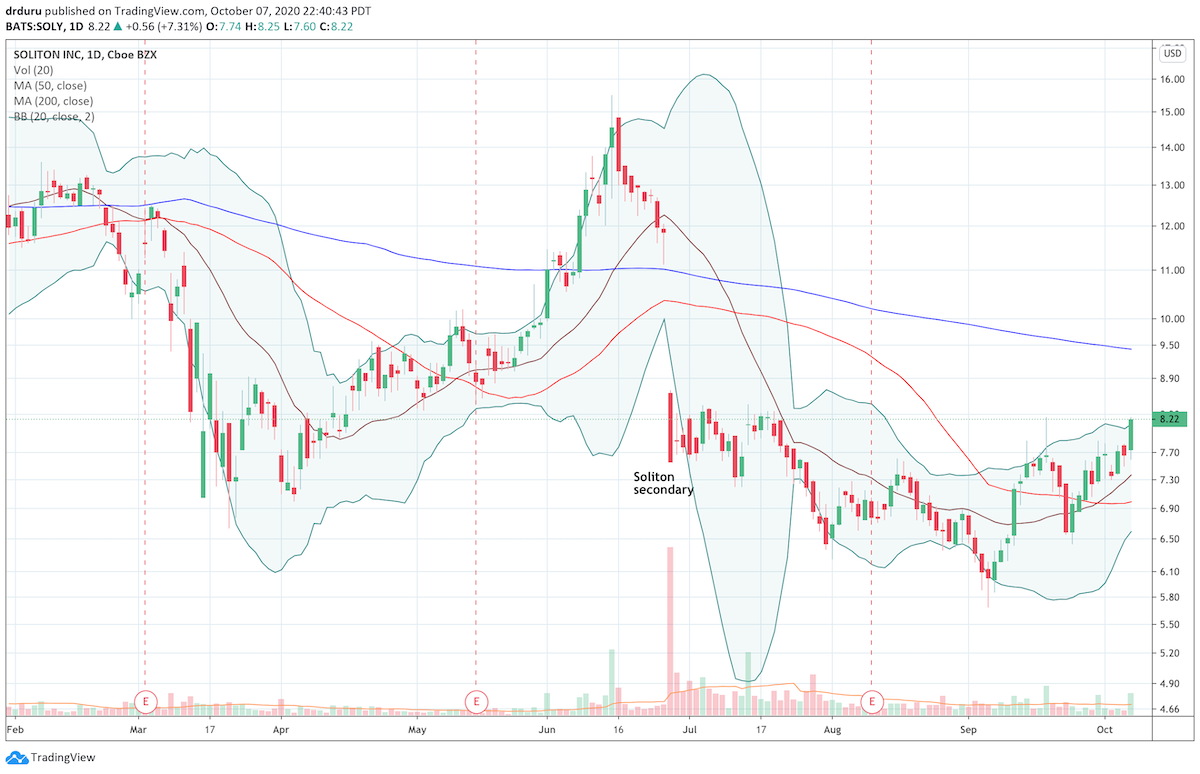 This current price level is extremely important as it matches the highest closes for SOLY since plunging 36.2% in June. The sell-off followed a much needed secondary stock offering. The stock still faces a major challenge overhead at the downtrending 200DMA (blue line) and next a major fill of the June gap down.
Soliton News
With positive pricing action taking shape, I went back to ticker tape to review the latest Soliton news. The company has an important poster session coming at the Virtual American Society for Dermatologic Surgery (ASDS) 2020 Annual Meeting. Soliton titled its poster as "Improvement in the Appearance of Cellulite Depressions and Skin Laxity Resulting from a Single Treatment with Acoustic Subcision: Findings from a Multi-Center Pivotal Trial." The stock market may be waking up to the potential for increased buzz for Soliton and critical enthusiasm ahead of the planned 2021 launch of its tattoo and cellulite removal technologies.
Soliton Earnings
I went back to August 11th to review Soliton's last earnings report. Soliton is a pre-revenue, research and development company getting ready for its first market launch. Accordingly, reviewing the earnings report has little to do with the financials. June's secondary secured enough cash to fund Soliton's 2021 product launch and keep the lights on through the fourth quarter of 2022. Hopefully by that time Soliton will be generating self-sustaining revenues.
Here are the highlights that most caught my attention from the earnings conference call per the Seeking Alpha transcript.
From management: "Dermatologists and plastic surgeons are understandably focused on scheduling procedures that generate immediate cash flow for their practices and without capital outlay, so this means an emphasis on meeting the pent-up demand for fillers and neurotoxins injections." As a result, Soliton does not want to launch until 2021 when these specialists should be more ready to invest in new equipment and procedures in a, presumably, post-COVID-19 world. The company is being deliberate and strategic. The company is ensuring it launches into the best market conditions possible with funding constraints in mind.
Soliton also stated that it will not launch solely with the tattoo indication and will not launch early if regulatory approvals come earlier than expected.
Manufacturing partner Sanmina (SANM) is warming up for next year's production including building prototypes.
The selling machine is warming up with the hiring of a Consultant Head of Sales and Vice President of Marketing. Soliton is also preparing to build a practice development team which will be in the field supporting customers.
In other words, a fully functional business is finally within sight.
From management: "…we still believe that keloid and hypertrophic scar indication, which is a fibrotic condition is a significant potential expanded indication longer term for Soliton, we are equally enthusiastic for RAP devices impact on other fibrotic disorders."
Soliton spoke about important advances in its cartridge technology that the company announced in a press release two days later. The cartridge has an auto-loading feature which makes the equipment much easier to use. From the press release: "Upgrades to the device include modifications to five circuit boards in the consoles, automatically inserting and ejecting cartridges, a system to detect counterfeit cartridges, a method of automatic adjustment of the electrode resulting in longer cartridge life, and RFID chip detection."
Soliton Scale
One of the most telling and most important nuggets of information revealed the initial scale of operations for a post-launch Soliton. Co-Founder and Executive Chairman, Wally Klemp, estimated the company will have 20 to 30 salespeople supporting the first year of the launch. With each salesperson supporting about 60 offices the math works out to 1200 to 1800 offices. In other words, Soliton may be planning for a maximum of 1800 units sold in the first year (assuming in the first year offices will not buy more than one unit). Now we just need some approximate pricing. Each practice development manager will support 30 offices.
The Trade
As I indicated in a previous post, I broke my rule on trading secondaries and bought into the massive sell-off on SOLY. The selling looked overdone. The shock of Soliton pricing itself at a 30% discount likely exacerbated the rush for the exits. SOLY was already down 19% from its previous high.
I added more Soliton stock as the sell-off deepened. The negative price action represented quite a turn of events from the previous sharp two-month run-up. So, for now, I have a sufficient stockpile of shares for speculating on the potential opportunity ahead. Once SOLY meets my official post-secondary buy criteria (a close above the secondary price of $8.30), I will consider adding more shares.
Be careful out there!
Full disclosure: long SOLY