I just finished writing about how I misread Match Group (MTCH) early in the pandemic. Now I understand Match.com as a major enabler of dating in a space and time where physical meeting is fraught with more than the usual worries. A Yahoo Finance interview with Justin McLeod, the founder and CEO of dating app Hinge, further solidified my understanding. Match Group (MTCH) completed an acquisition of Hinge in February, 2019. Joining a portfolio of dating platforms, Hinge focuses on the "relationship market" for singles looking for more than casual encounters.
McLeod made several points that caught my attention:
Hinge beat its expectations by turning profitable in Q2 of this year.
Meditation and wellness app Headspace recently partnered with Hinge to provide pre-date meditation. This service should increase the quality of dating experiences.
The launch of Hinge Labs promises to provide insights to users about how to find success on the dating platform.
McLeod's commentary on video dating was of greatest interest to me. This year, millions of people suddenly "discovered" the power of video communications. People like me, my friends, and family now naturally reach for a video connection for extended communications. We often substitute video for phone calls and to replace physical meetings whether prevented by geographical distance or social distancing. At this point, I cannot even explain why we did not adopt regular video communications long before the pandemic.
The same "revelations" may be happening for online daters. McLeod indicated that almost none of Hinge's users chose video dating before the pandemic. I imagine users automatically assumed the experience would feel awkward or even cheesy (I think back to the old school video dating services where people submitted video tapes for interested singles to review!). When the pandemic prevented many from physical dates, suddenly video dating became an acceptable substitute. To date, 90% of Hinge's users enjoy their video experience and half of them want to continue using video dating after the pandemic. Just as Zoom Technologies (ZM) used rich video experiences to propel mass adoption, platforms like Hinge may realize accelerated growth from figuring out enriched video dating experiences.
Earnings Notes
Match Group made just a few specific references to Hinge in the company's last earnings conference call (from Seeking Alpha transcripts):
"Traction at Hinge is accelerating, with strong top of the funnel growth, solid progress on monetization and a robust product roadmap ahead."
"In the first half of 2020 their downloads are doubled year-over-year." (which includes a temporary slowdown during the immediate aftermath of lockdowns).
"Last quarter we talked about how the Non-Tinder businesses have grown by 2% in aggregate on a year-over-year basis for the first time since 2016. In Q2 that trend continued and in aggregate these businesses grew 9%, driven by solid product and marketing efforts."
The other non-Tinder platforms are Pairs, OKCupid, PlentyOfFish, Meetic, and of course Match (formerly Match.com).
The Trade on Video Dating
I was hoping that the latest 1-day pullback in the market would create a small buying opportunity in MTCH. Instead, MTCH gained 0.1% in a show of relative strength. I am looking at least for a retest of 50DMA support before starting to accumulate the stock.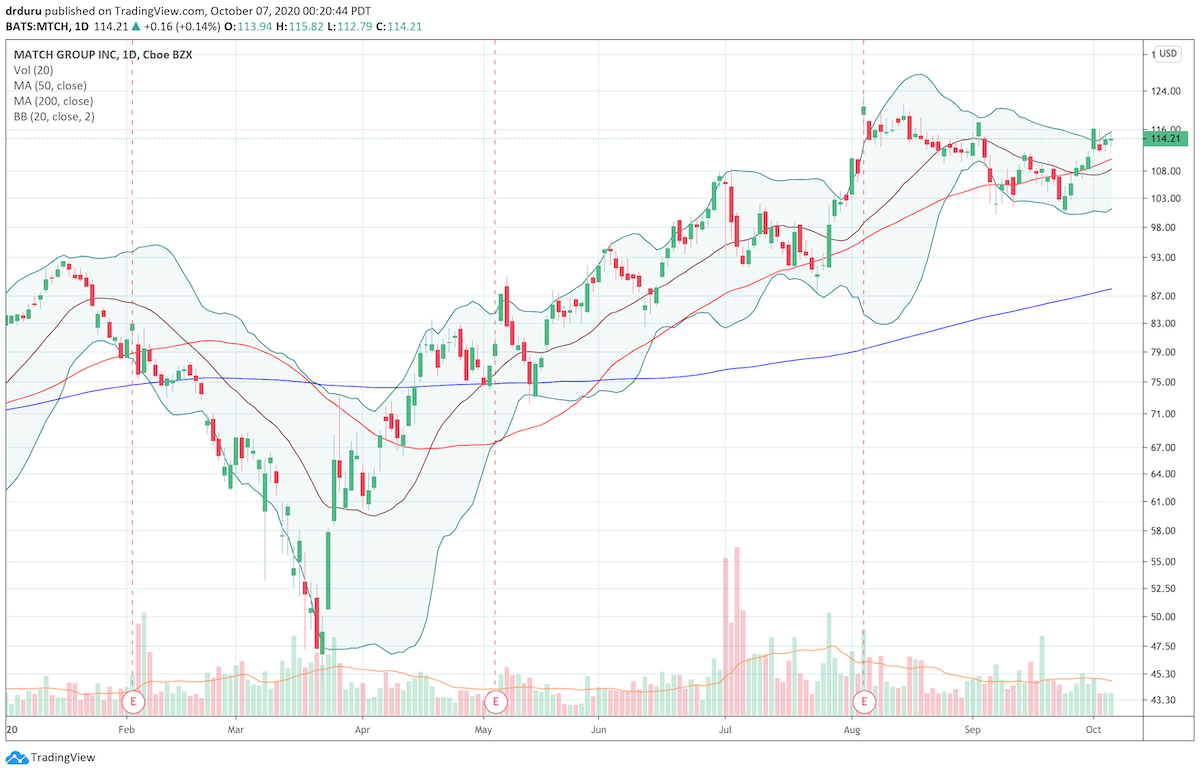 Be careful out there!
Full disclosure: no positions