The Stock
Alphabet (GOOG), formerly Google, has stalled out in an important gap created in February. At that time, the stock lost 4.3% on a day when the entire stock market gapped down and ushered in he beginnings of the March stock market collapse. The stock rallied into the gap on June 10th. Two weeks later, the stock is back to the same spot after a shallow pullback.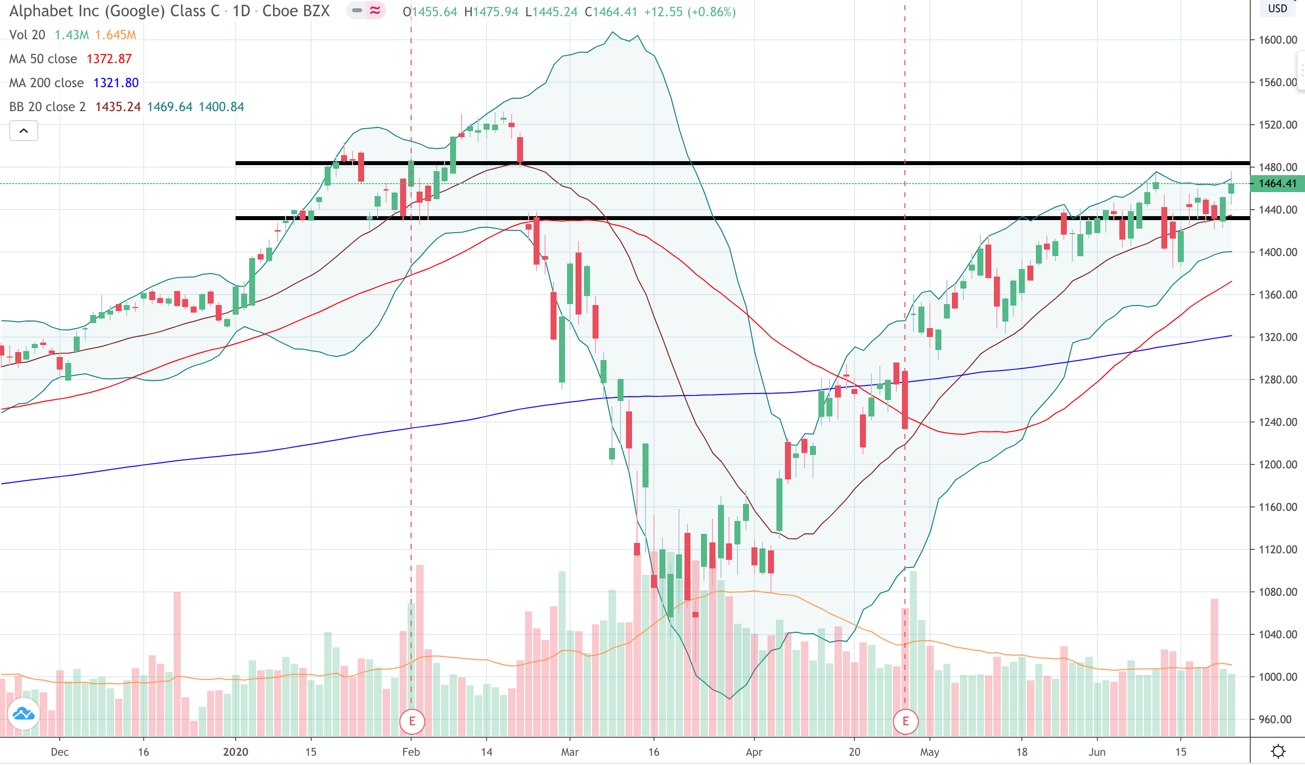 With the stock apparently stalling out in the big gap down in February, I figured this time would be good to reflect back on the messages from Google's earnings report. Google provided a rough guide for what was to come and may yet to come.
The Reflection
Alphabet reported earnings almost two months ago on April 28th. The following quote from the earnings call (transcript from Seeking Alpha) provides a blueprint not just for Google's business but also for how to invest in the new world ahead (emphasis mine):
"It's now clear that once the emergency is past, the world will not look the same. Some social norms will change and many businesses are speaking to us, looking to reinvent their operations. We have seen that the most pressing concern of small and large businesses right now is business continuity, solving for issues like employee safety, dramatic falls or surges in demand, supply chains and managing a remote workforce.

Ultimately, we'll see a long-term acceleration of movement from businesses to digital services, including increased online work, education, medicine, shopping and entertainment. These changes will be significant and lasting."
Almost as dramatic as these projections was the description of the impact of the large shift toward online learning. Alphabet was a prime beneficiary:
"100 million students and educators are using Google Classroom, double the number from the beginning of March. We have seen a massive increase in demand for Chromebooks. Analysts have reported 400% increase during the week of March 21 year-over-year. And schools and businesses in particular are using our secure video conferencing platform, Meet."
Alphabet went on to report it was adding about 3 million new users a day on Google Meet, including a 30x surge in usage from January levels. Alphabet also reported more than 100M daily Google Meet participants.
Looking back, there were two key comments that Alphabet made that hinted at a bottom in the economy and the business. First, Alphabet talked about stabilization in the rate of decline in Search revenues. Secondly, and important for the stock, the company announced it was sticking by its buyback plan announced in January. This reassurance came at a time when so many other challenged companies were suspending and even cancelling repurchase programs.
A big question at the time was Google's staffing plans. The company began the year with aggressive hiring plans. The pandemic forced a "deceleration" in the growth of the labor force especially for the third and fourth quarters. Sales and marketing will get hit particularly because most physical events were cancelled for the year out of an abundance of caution. The good news of course is that Alphabet still plans to hire and did not announce layoffs.
The Prospects
GOOG steadily ground higher from April earnings. Yet, the stock is greatly under-performing the NASDAQ and QQQ. Since the stock gained 8.7% the day after reporting earnings, half of which was a recovery from the previous day's 3.3% loss, GOOG is up 9.1%. That gain is healthy but it notably lags the 13.6% run-ups in the NASDAQ and QQQ since then.
There is a technical case that says GOOG is a potential "catch-up" trade. Money that does not want to chase all-time highs in tech indices and big cap tech stocks might look favorably on GOOG as being relatively "cheap."
There is a more fundamental case that says GOOG is a bit more risky given its reliance on search queries that have suddenly become less commercial and more informational. Indeed, a recent article in AdExchanger titled "Google Loses Share Of Ad Market As Travel Brands Pull Back On Search" makes an astounding claim: Google is headed for its FIRST decline in ad revenue coming amid a shrinkage in market share.
"The ad giant's net US digital ad revenue will decline by 5.3% this year to $39.6 billion, according to eMarketer, even as it projects the digital ad market as a whole to grow 1.7% to $134.7 billion. As a result, Google's market share will shrink to 29.4%, down from 31.6% last year.

This is the first time Google's ad revenues have declined since eMarketer began forecasting on the platform…"
eMarketer attributed Google's woes to a significant pullback in travel-related ad spend and Google's over-reliance on that spend. In the meantime, both Facebook (FB) and Amazon.com (AMZN) are expected to continue to grow. Consumers looking for products, especially household goods, are going to directly to Amazon.com. This loss in market share helps explain the lag in GOOG as both FB and AMZN print all-time highs.
Google also guided analysts to gauge prospects for advertising revenue based on macro-economic factors given the strong relationship with advertising spend. Accordingly, given the poor economic conditions, Google warned: "As of today, we anticipate that the second quarter will be a difficult one for our advertising business." Direct response was the one bright spot of growth for Alphabet in the second quarter: "substantial year-on-year growth throughout the entire quarter."
On-balance I am content to watch how things unfold from the sidelines. I still anticipate a (buyable) pullback in the general stock market, so I am in no rush to buy, especially to buy a relative under-performer like GOOG.
Be careful out there!
Full disclosure: no positions