It is hard to imagine now, but the U.S. consumer economy will rebound. When it does, these current days will look like a time of incredible bargains. One of the many challenges of buying in the middle of panic and an economic calamity is finding companies that are durable and worth the risk of an investment. After making a Friday morning breakfast run to IHOP for pancakes, hash browns, bacon and ham, I took another look at Dine Brands Global Inc (DIN). Dine Brands owns IHOP and Applebee's Restaurants.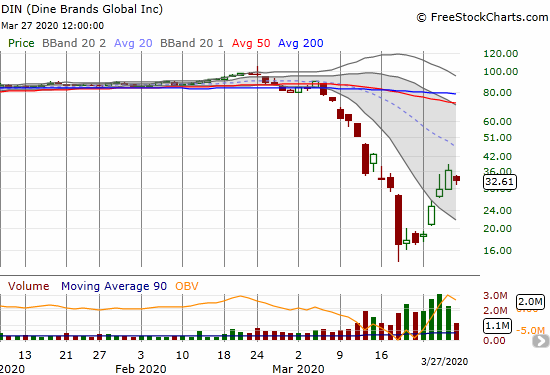 The chart above shows that DIN is already up 100% from the 11-year low it set a week and a half ago. That was a day when the current culture of collapse was on full display. The previous selling cycle has the look of forced and even panicked selling. The rebound from that low starts the healing process but does not necessarily define the ultimate bottom.
The Experience
Still, DINE is now on my shopping list. My breakfast run showed how one cook and a single hostess could operate a business that remains popular in an area under "shelter in place" orders in response to the coronavirus pandemic. Over six feet in front of me (recommended social distancing) was a guy completing a $70 order of breakfast provisions. I asked the hostess about business because I almost gave up on coming into the restaurant. The online menu was missing my favorite chocolate chip pancakes. The phone was busy for 10 minutes before I finally got an answer. I was promptly put on hold for 7 minutes after which I hung up. I tried again. After 5 minutes of more busy signals, I finally got a ring. The phone rang and rang and rang and just as I was about to give up, the hostess answered. Finally, she was ready to take my order. (Imagine how much MORE business IHOP could be doing with just one more person answering phones!)
Driving the empty streets was as surreal as ever. A busted traffic light added to the sense of being out-of-place. The near-empty IHOP restaurant, devoid of seated and chatty patrons, was even more surreal. Yet, through it all, people are dedicated to their breakfast. Sheltering at home, an IHOP breakfast is a taste of comfort, an attempt to reconnect with the life we used to live. That breakfast is a reminder of days of normalcy.
Anyway, back to the hostess, I complained to her about the busy phone lines. She said business has been incredibly busy. I looked over to the kitchen and saw a single cook that seemed to belie her claims. Yet in front of him was a battery of food tickets and the counter was lined with orders. IHOP's 20% off special for online and call-in orders (I found out as a member of MYHOP) must be propping up demand. Door Dash is also partnered with IHOP for free deliveries that offer a contact-less option. The company is doing what it can to keep customers connecting to an old favorite in trying times.
Valuation
So what about valuation? Can Dime Brands survive another economic calamity as it did during the financial crisis 11 and 12 years ago? According to Yahoo Finance, Dine Brands now trades at 7.3 times trailing earnings and 0.8 price/sales (cut that in half a little over a week ago!). However, the company only has $116M in cash versus $1.9B in debt and a negative 14.6 book value. DIN bears are all over the stock with 16.5% of the float sold short. In other words, the stock is cheap but still a bit risky after the current rebound. I will be more comfortable buying on a retest of the recent lows if the market ever offers up the discount again.
Dine Brands should be financially stable for now. On March 19th, the company drew down $223M of a $225M credit line as a buffer against contingencies from the COVID-19 crisis: "Although Dine Brands does not have an immediate need for additional liquidity, precautionary steps were taken to increase the company's financial flexibility in light of unprecedented conditions due to the COVID-19 outbreak." While DIN also withdrew the financial guidance it provided in its February earnings report, the cash buffer no doubt helped reassure investors and contributed to a bottoming in the stock.
For perspective on the current collapse, see the monthly chart below. At last week's lows, DIN traded at a price last seen during the financial crisis and in the immediate wake of what was then a gut-wrenching 18-year low. Talk about writing off a company for dead! It was a mistake then, and it would be a mistake now.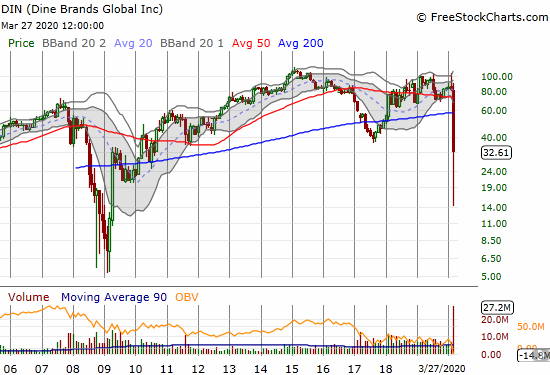 Be careful out there!
Full disclosure: no positions