The Pressure
The optimism continues to build in financial markets over the prospect for finalizing the "Partial" or "Phase One" deal on the U.S. vs China Trade War. That optimism translates into slightly higher growth expectations which in turns translates into higher interest rates. Even the Fed Fund Futures stay below 50% odds for another rate cut until December, 2020. The market is probably one more pushout away from essentially indicating an end to the Fed's rate-cutting cycle. That pressure shows up in the decline of the iShares Barclays 20+ Year Treasury Bond Fund (TLT) to a 3-month low. TLT is close to wiping out its entire breakout from August.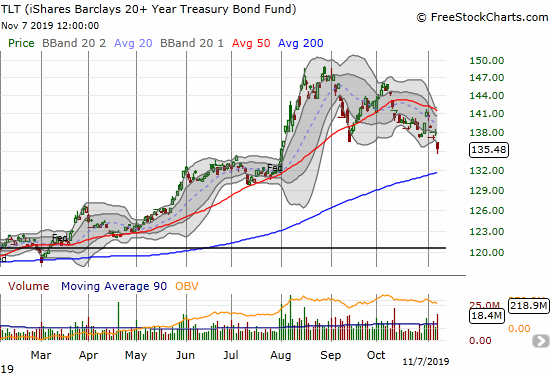 The upward creep in interest rates is putting pressure on parts of the stock market. The iShares Dow Jones Home Construction ETF (ITB) is feeling the pressure ever since it failed to push past its climactic high from January, 2018. September's pullback in TLT had no impact on ITB's rally. At that time, the outlook for rates pointed lower with sporadic headlines still coming from major financial institutions about the prospects for zero and negative short-term rates from the Federal Reserve. The context for the current pullback in TLT is much different: expectations for the Fed and for rates are much more constrained. As a result, ITB is losing momentum as it diverges from the S&P 500 (SPY). For example, today, the S&P 500 gained 0.3% to close at a fresh all-time high while ITB lost a full 2.0%.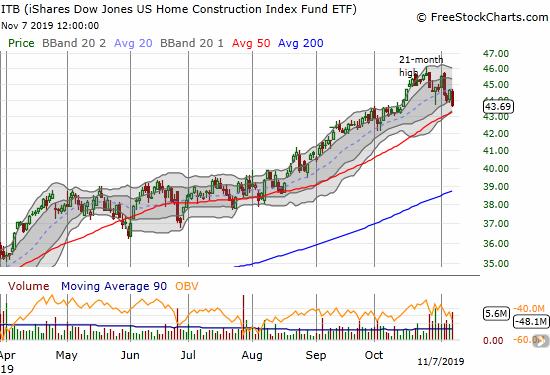 The moment of truth for ITB looms larger and larger.
The Trades
I am already long call options in TLT as a hedge against the stock market. I am now assuming the December expiration will come and go without a payoff. Still, I am looking for a new entry point as TLT looks like one of the better ways to hedge against the next wave of turbulence for the stock market.
My more immediate concern is of course with my positions in home builders. I already locked in profits on my position in Taylor Morrison Home Corporation (TMHC) (just in time too!). Now the pressure is on to lock in profits in my January $40/44 ITB call spread. I set $44 as my threshold. ITB closed at $43.69, but I decided to keep up the pressure by waiting to see what happens with the presumed test of 50DMA support currently around $43.22.
At the same time, I am eyeing my ITB spread, I am nibbling on other home builder stocks as they suffer bouts of under-performance relative to ITB or hit key points of support. So far, I have bought some M.D.C Holdings (MDC) and Toll Brothers (TOL). This is the seasonally strong period for home builders, so I have a bias to buy. However, the price run-up going into this period creates a lot of pressure on picking entry points. I am reviewing more earnings reports from home builders to stay on top of any hints or signs of a true change in fundamentals. My monthly Housing Market Review will likely get even more critical. For now, the pressure looks like it is in the stocks and NOT in the housing market. A more significant increase in rates (an accelerated decline in TLT) could quickly spread the pressure.
Addendum for November 8, 2019. Dan Nathan from CNBC's Options Action had the exact same idea I had. I like his proposed trade: a March $135/$150 call spread.
Be careful out there!
Full disclosure: long TLT calls, long ITB call spread, long MDC shares and calls, long TOL shares and calls