The sudden surge in oil prices two weeks ago seemed like such a big deal at the time. Yet, there was enough chatter at the time that made me doubt the sustainability of the run-up. I decided to make a hedged play of puts and calls on the United States Oil Fund (USO):
"I am not quite sure what to make of the market's response. In a previous era, I think oil prices would have surged a LOT more. So one side of me thinks oil has a lot higher to go as risks increase of a major escalation of war. Another side of me thinks the market's reluctance to send oil even higher suggests this whole episode will be over relatively quickly. I want to participate in an extreme move that could either get completely reversed or get even more extreme, so I decided to go the hedged route by buying December call options and October put options on USO."
I wish I had done more than hedge and gone all out betting against the downside. On Monday, my puts hit their price target at more than double the purchase price. USO lost 2.7% and finished a complete reversal of the earlier 12.1% gap up. The timing of the reversal coincided with news that the Saudis finished recovering from the damage to its oil facilities.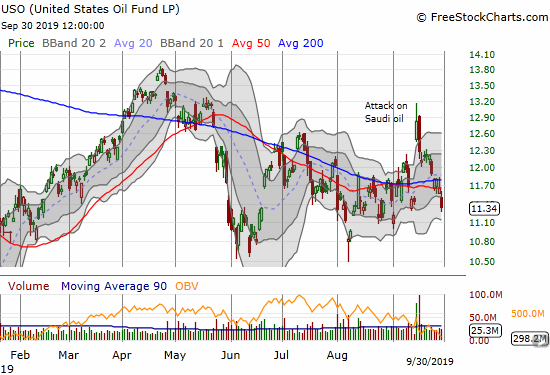 With the recovery complete in Saudi Arabia, oil is back to feeling the full weight of a market awash in oil and fearing the impact of slowing global growth. At the same time, I will ride the December call options the rest of the way even though the profits from the puts cover a little less than half the cost of the calls. In the next 2 1/2 months the next big move still seems more likely to go upward than downward from here.
Be careful out there!
Full disclosure: long USO calls