Three months ago, I wrote about the "organized chaos" in the British pound (FXB). I described an organized process of GBP/USD bouncing off and pivoting around key moving averages with the occasional sharp interruption of Brexit-related trades. Ironically, the sharp Brexit-related rally that sparked that post looks now like the British pound's last gasp for the year.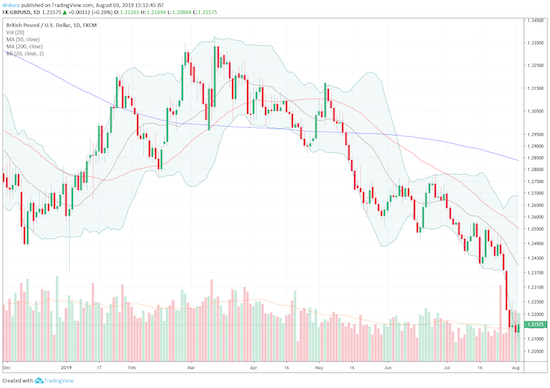 Orderly Selling
Instead of organized chaos, the British pound is now simply experiencing orderly selling. The path of least resistance is down and and should remain down until a fundamental change occurs in the on-going narrative of a potential (likely?) hard (no deal) Brexit. In that early May post on the pound, I wrote the following:
"I cannot get too excited about fading the pound because of my baseline short GBP/JPY. I hold onto this position because I ultimately expect either a fresh surge in the Japanese yen (FXY) from renewed weakness in financial markets and/or a rapid, Brexit-driven decline in the British pound. I want to have a short GBP/JPY in place ahead of such an event."
BOTH catalysts played out. The yen strengthened from turmoil in financial markets. The pound's weakness accelerated due to Brexit fears. Ironically, while my assessment proved out, my execution came up short.
Over the next two weeks from my post, GBP/JPY broke down nicely. Feeling prescient, I took profits on my short GBP/JPY around 140. GBP/JPY often stalls at multiples of 10, so this juncture looked like a good place for a (temporary) bottom and a launchpad for the next relief rally. True to form, GBP/JPY spent about 4 days pivoting around 140. I prepared for a bounce by slowly accumulating bullish positions on the pound (long GBP/USD and short EUR/GBP). I even thought the resignation of former Prime Minister Theresa May might spark a relief rally.
The bounce in the pound failed to materialize and instead GBP/JPY broke down again. At this point, I should have hit the reset button on my strategy. I should have focused on just shorting the pound, aggressively even. Instead of recognizing the now dominant trend of orderly selling, I stuck to the trading strategy of organized chaos. THIS TIME, I held onto a slowly growing long position while trading in and out of short positions.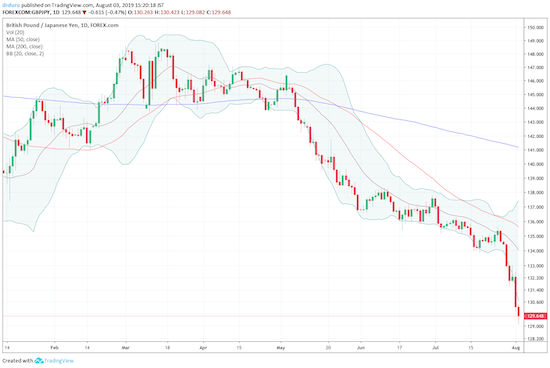 No Relief
I was able to stay more or less flat for almost two months. When Boris Johnson emerged as the clear front-runner to be the UK's next Prime Minister, I assumed that the persistent slide in the pound was in anticipation of his selection. I expected a Boris candidacy to create such weakness. Thus, Boris's official selection would create the next catalyst for a relief rally (buy the news).
THAT relief rally failed to materialize. Instead, currency markets reeled when Boris soon reaffirmed his willingness to send the United Kingdom into a hard Brexit if the EU (European Union) failed to create an acceptable deal. I thought Boris's position was well understood; I saw no reason to believe the becoming PM would change Boris's approach. Clearly, currency markets thought otherwise!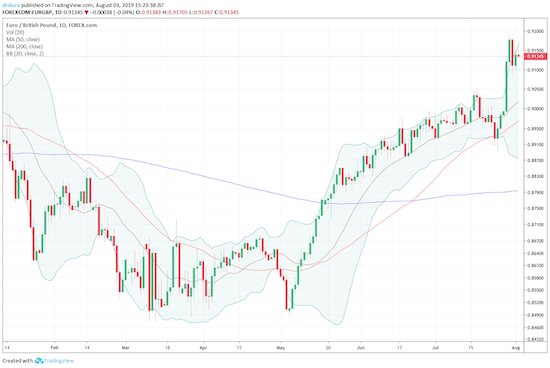 The sell-off in the pound is now reaching post-Brexit extremes. GBP/USD is reaching for the post-recession lows of 2016 and 2017 driven by the June, 2016 referendum that launched Brexit. GBP/JPY is heading for its October, 2016 low. EUR/GBP is heading for its post-Brexit double-top set between October, 2016 and August, 2017. It is late in the game to go all in with a short pound position, so now I just wait to see what happens when these key post-Brexit levels get tested.
On the Ground
I happened to be in London during the drama of the transition in power from former Prime Minister Theresa May to Boris Johnson. I was on a "hop on, hop off" bus tour when I learned that Queen Elizabeth was meeting May and Johnson for the traditional transition lunch. I even caught a glimpse of the Mirror's anti-Boris ad campaign on the side of a double-decker bus.
The Europeans have proven good at kicking cans down the road, but Boris looks ready to stop the cans in their tracks. The revised Brexit deadline of October 31, 2019 looks very real now. I think it is about time the UK finalize its exit and gets on with whatever pains are coming.
Being on the ground in London meant my geo-sensitive YouTube feed was stuffed with UK-related material. One particularly good find was an interview from The Sun with the newly minted Prime Minister where he explained his Brexit approach. Boris insisted he does not prefer a hard Brexit and claimed he did not think that is the final destination. However, Boris is preparing for a hard Brexit if the EU is not willing to properly deal with the backstop that has proven to be THE intractable component of the Brexit dealings. Boris is determined to demonstrate the UK's willingness to walk away – something Theresa May could never do.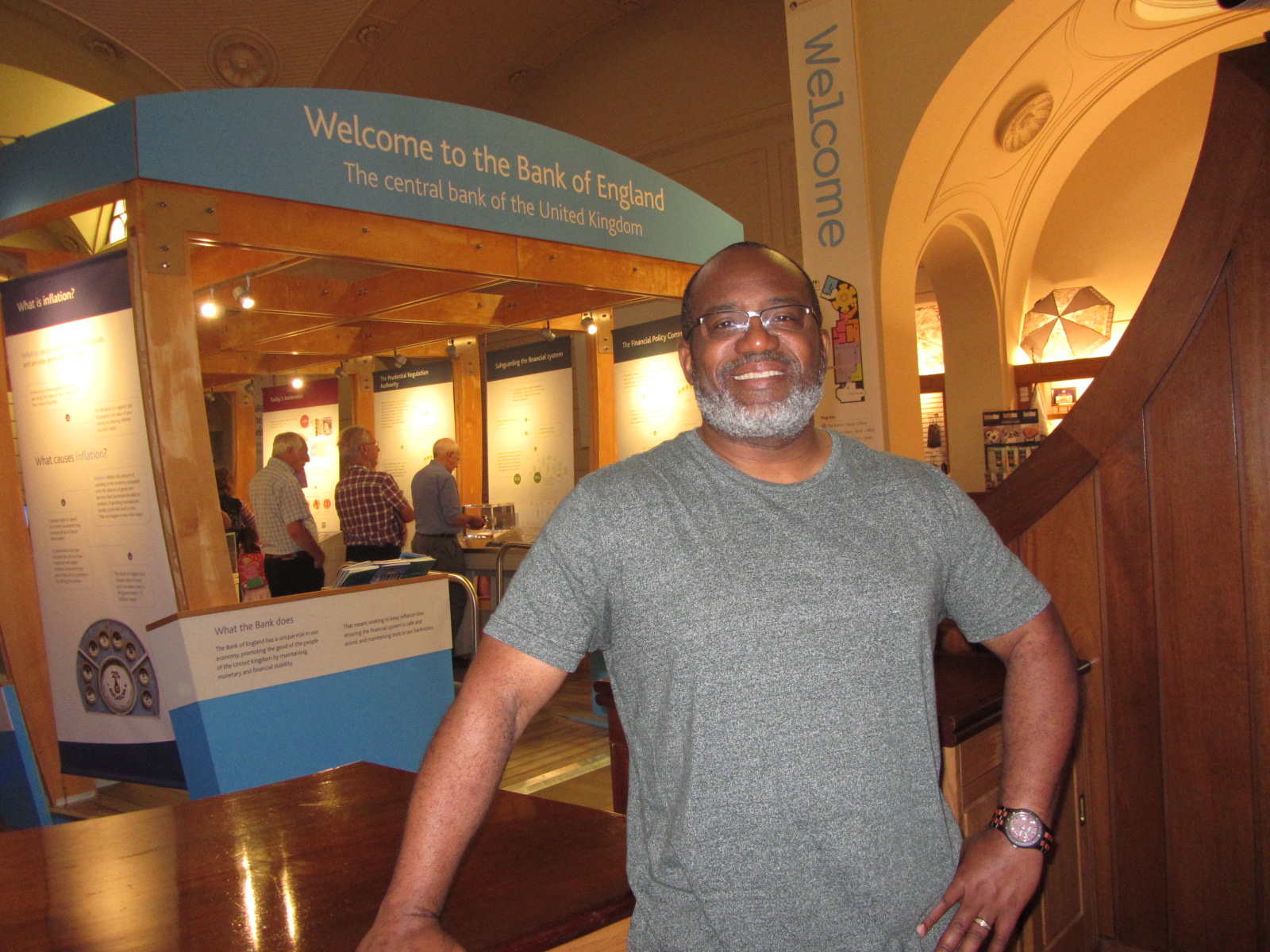 Be careful out there!
Full disclosure: long GBP/USD, short EUR/GBP, short GBP/JPY, short GBP/CAD