Despite the seasonal trends working against PulteGroup (PHM), the company last week announced a major reload on its buyback program. PulteGroup increased its authorization from $262M to $762M. The quote in the press release emphasized how this action, along with other investments, expresses the company's solid confidence in the business and the housing market:
"Driven by the ongoing strength of our homebuilding operations, we ended the first quarter of 2019 in an outstanding financial position with $1.1 billion of cash and $1.8 billion of total available liquidity…Reflecting our constructive view of the housing market, we expect to invest approximately $2.9 billion, inclusive of our recently closed transaction with American West, in land acquisition and development in 2019, which is an increase of approximately 10% over 2018. Strategically investing in our business, repurchasing shares and paying down debt are all consistent with our stated capital-allocation priorities and with our goal of delivering high returns over the housing cycle."
If the previous quarter is any indication, I do not expect PHM to back up the truck and load up on its stock – at least not at current price levels. In Q1, PHM only spent $25M repurchasing 900K shares at an average price of $27.16. At $32.48, PHM is now worth 1.8x book value. Home builders are typically considered fairly valued or even expensive around 2.0x book. So buybacks at this level do not look like a good deal unless the company is about to experience a tremendous growth spurt in the second half of the year. Such growth would be very surprising given Pulte's guidance for no year-over-year community count growth, Q2 closings down slightly year-over-year, and fewer high margin sales quarter-over-quarter. Pulte is even waiting to see the results of the Spring selling season before giving full-year guidance. (Info all from the Seeking Alpha transcript of the Q1 2019 conference call).
On the other hand, PHM has a 9 forward and trailing P/E and a 0.9x price/sales ratio which I am sure all keeps the stock attractive to value-type investors.
The challenge ahead for PHM is also technical. The stock trades just under a notable peak from last June. The stock took three weeks after a positive reaction to the Q1 earnings report to get over the resistance from last July's price peak. This next obstacle should take even longer assuming the lack of a fresh catalyst. Of course aggressive repurchasing activity would easily push PHM over the hump.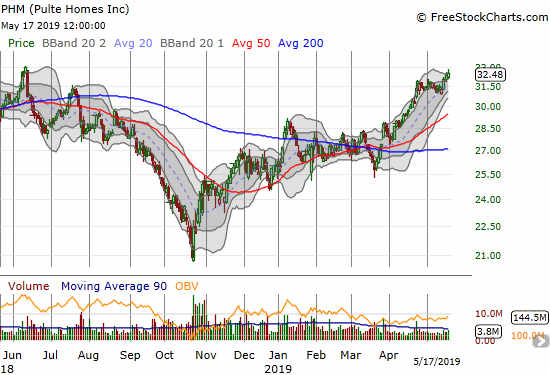 Given the on-going resilience in home builders stocks, I will need to use my next Housing Market Review to re-examine carefully the case for a seasonal top in the housing sector for 2019.
Be careful out there!
Full disclosure: no positions