The British pound (FXB) is not the only currency trading in well-defined chaos. The Turkish lira stumbled into the week in the wake of the political uncertainty and forex chaos caused by the cancellation of the results of Istanbul's recent municipal elections. USD/TRY soared at one point about 3%.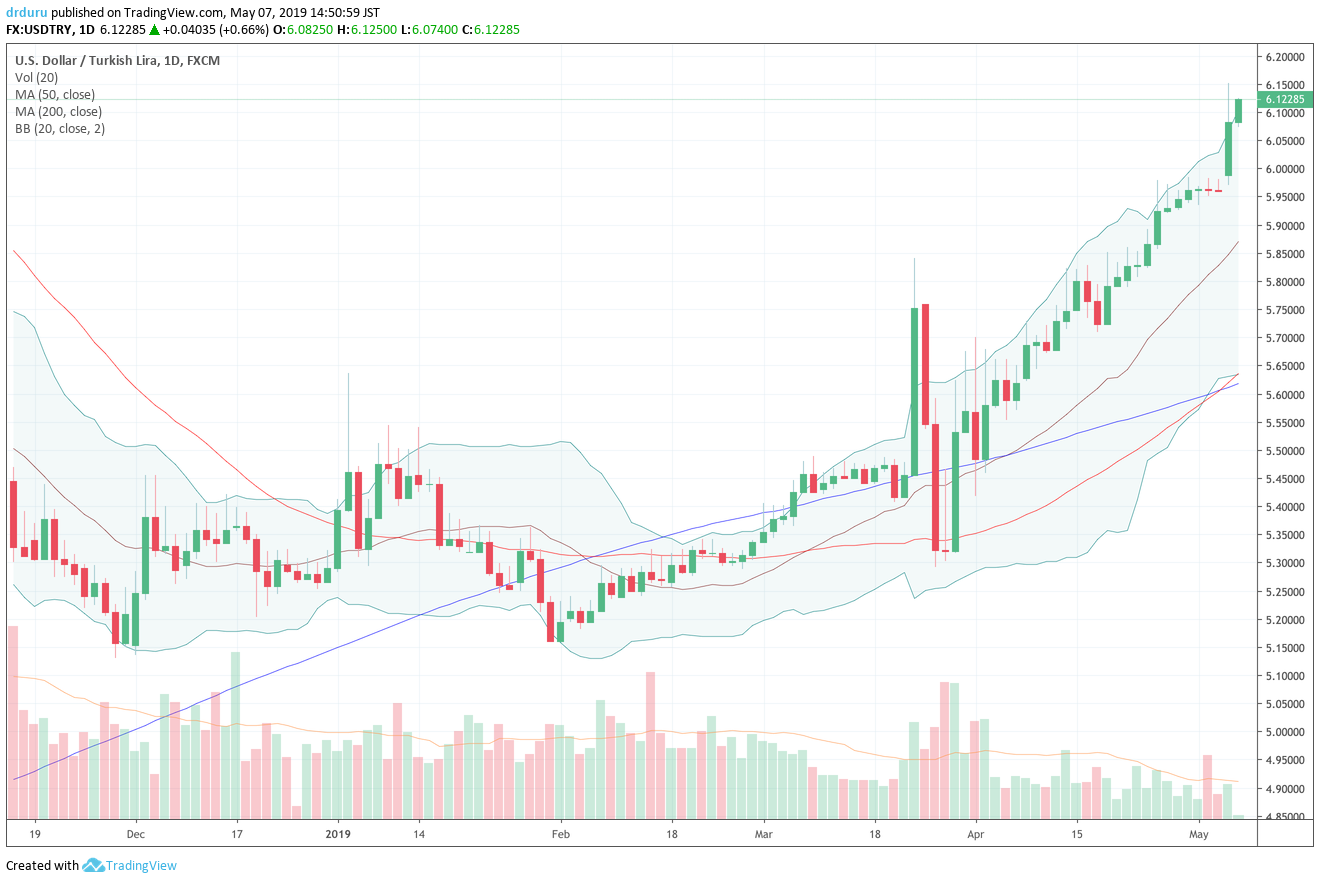 The renewed political uncertainty reportedly comes from an attempt by President Recep Tayyip Erdogan to protect his political base of power after losing the capital city of Ankara.
While this political turmoil should continue to roil Turkey's fragile financial markets until (and through?) the next election, likely 2 months from now, I decided to take profits on my long USD/TRY. I discussed my trading strategy in the wake of late March's aggressive actions by the Central Bank of the Republic of Turkey (CBRT) to battle a sharp bout of weakness. I closed out my position partially in expectation of more interventions. I also want to get more flexible and nimble with future long USD/TRY positions as the persistent and well-defined uptrend has lasted unusually long. The march higher happened in a distinctly organized way even as chaos could erupt intraday at any time.
I am left with my small hedge short EUR/TRY. I want to hold this as long as possible for the carry it can deliver. I incurred significant costs holding my long USD/TRY, especially during the wild swings in March marked by little to no liquidity after the close of U.S. trading. I also believe the CBRT directly restricted the ability to trade (really to short) the lira during this time in its attempts to defend the currency. I found out the following day that the market makers ramped up their fees by an order of magnitude during that episode. So, I am leery of such distortions occurring again at any time, but I will hopefully offset at least some of those costs with carry from EUR/TRY.
Be careful out there!
Full disclosure: short EUR/TRY