It is time to abandon my bullish expectations for the Australian dollar (FXA).
On March 6th Philip Lowe, the chair of the Reserve Bank of Australia (RBA), reminded financial markets that the near future holds the same likelihood for a rate cut as it does a rate hike: "There are plausible scenarios under which the next move in interest rates is up. There are also plausible scenarios under which it is down. At the moment, the probabilities appear reasonably evenly balanced." Lowe balanced the strong employment look with weakness in other parts of the economy:
"Employment growth has been strong, the vacancy rate is very high and firms' hiring intentions remain positive. The latest reading of the wage price index also confirmed a welcome, but gradual, pick-up in wage growth, especially in the private sector…Other indicators of the economy, though, paint a softer picture…

Growth in the economy was subdued, reflecting soft household spending and a decline in dwelling investment. The approvals for dwelling construction indicate that the decline in dwelling investment will continue."
Soon after that speech the Australian Bureau of Statistics (ABS) released its GDP report for the fourth quarter of 2018 and confirmed economic softness. The 1-2 punch sent the Australian dollar downward. The weakness lasted into Friday before a rebound shaved the worst of the week's loss.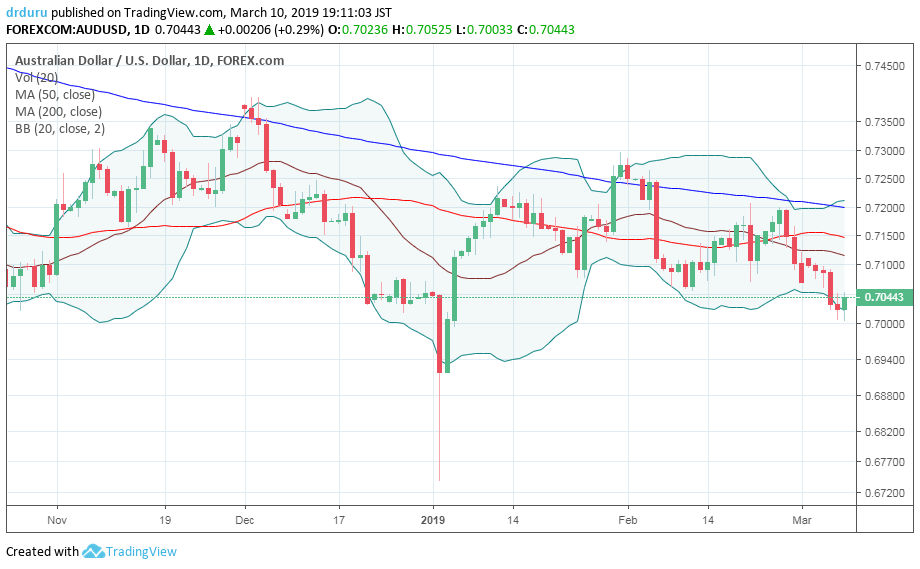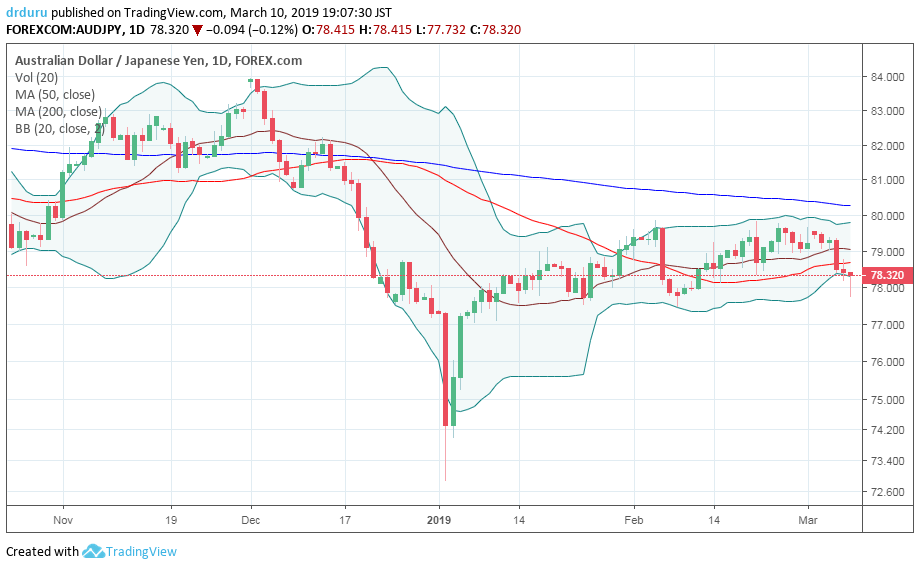 The fourth quarter GDP data were pretty weak. The Australian economy grew 0.2%, seasonally adjusted, for a 2.3% GDP growth rate for 2018. However, apparently the fourth quarter growth rate was a bit illusory: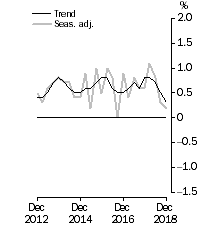 The weak economic data have Australians twirling around the term "recession", especially a GDP per capita recession:
Under these circumstances, I cannot imagine a significant rebound in the Australian dollar anytime soon absent an upside surprise from the US-China trade churn. Still, I took profits on my short AUD/USD position after failing to do so during the last dip. I decided to continue holding my AUD/JPY position as a hedge on other currency and equity positions (especially now that I am bearish on the stock market). I also kept a small short EUR/AUD position as I am shorting the euro for carry trades and as a source of on-going weakness.
Be careful out there!
Full disclosure: long AUD/JPY, short EUR/AUD