It was the soundbite on the U.S. housing market heard from near and far:
Despite a healthy economy, we are seeing a moderation in demand. Fourth quarter contracts declined 15% in dollars and 13% in units compared to a difficult comp from 1 year ago. Fourth quarter demand flowed to a per community pace more consistent with fiscal year 2016's fourth quarter, which was still strong.

In November, we saw the market further soften, which we attribute to the cumulative impact of rising interest rates, rising home prices and the
effect on buyer sentiment of well-publicized data of a housing slowdown. We saw similar consumer behavior in late 2013 when a rapid rise in
interest rates temporarily tempered buyer demand before the market regained momentum.

Toll Brothers Q4 2018 Transcript (December 4, 2018)
The second paragraph, the portion seemingly most referenced, from the Toll Brothers (TOL) Q4 earnings call sounded like the housing slowdown is itself he cause of the slowdown. That is, if not for bad sentiment getting reinforced by bad press, the housing market might be a lot better. After all, the fundamentals of the economy remain strong:
Household formations are increasing. The economy is growing. The nation is experiencing the lowest unemployment rate in many decades, and consumer confidence is near an all-time high. In the past few years, many of our customers have enjoyed wealth creation through the stock market, home price appreciation and salary increases…


30-year mortgage rates remained quite low compared to historical norms and have come down a little bit in the past few weeks. And the 30-year
jumbo rate is currently about 0.375% below the conforming rate. The credit policies of mortgage lenders are much more disciplined than in the last cycle.

The logic makes sense except investors have ignored this same logic almost all year as home builders like TOL have suffered tremendous selling pressures. The immediate reaction to TOL's earnings swiveled all over the place: from a 10% gap down to a 2.4% gain at the intraday high to a 1.6% loss to end the day. Since then, TOL tried and failed two more times to break through the resistance from the post-earning intraday high. Sellers have taken over the last two days, closing TOL below its downtrending 50-day moving average (DMA).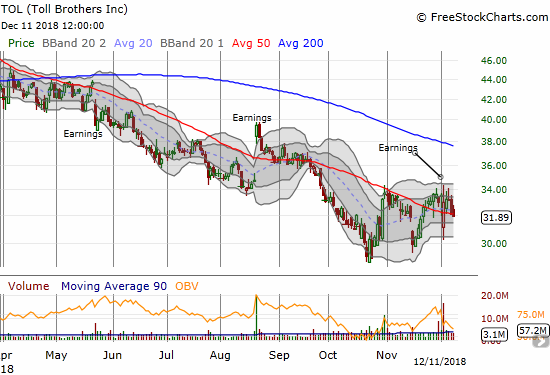 The good news from a technical standpoint is that a breakout above recent resistance should be VERY bullish for the stock. Still, the hesitancy is understandable. Despite delivering one more confirmation of the housing slowdown, TOL did not express alarm on the conference call. Indeed, management even insisted that nothing has changed operationally because the slowdown should be short-lived:
…it's business as usual here…I'm not here to predict how long these current market conditions will continue, except to say that it just
doesn't feel like a slowdown that will have a long duration because of the fundamentals are strong both with the macro U.S. economy and with
the housing business…we are continuing business as normal…
November represented a first bump in the road for TOL. The prior two months showed a good trend:
…the trend throughout the fourth quarter was that September was better than August and October was better than September. But I wouldn't read too much into that since that trend that I just mentioned has not and did not continue into November.
Turning to the earnings release, here are some key highlights of TOL's strong performance for the year compared to fiscal year 2017:
Net income +40% 
Earnings per share +53%
Revenues +23%
Home building deliveries +16%
Gross margin @ 20.6% versus 21.3% for FY2017
Adjusted Gross Margin @ 23.7% versus 24.8% for FY2017
Guidance for FY2019 was OK but carried a wide girth to account for a range of potential scenarios:
This guidance clearly holds out hope that the housing slowdown ends in very short order but maintains the reality of a potential continuation of the housing slowdown.
The end result is a company with a record low book/value ratio according to TOL. TOL's 1.0 book/value ratio nearly prices the company for a recession. The company's P/E of 6.6, forward P/E of 6.6, and 0.7 price/sales ratio are all bargain basement levels.
Here are some other key points I found interesting from the conference call:
Internet traffic at all-time highs (like Pulte Home (PHM), TOL claimed this traffic is a strong sign of demand)
California's slowdown is particularly pronounced driven by price appreciation, reduced foreign demand (especially from China for Orange County), and higher interest rates. The rate explanation is particularly interesting since builders like TOL long claimed that the historically relatively low level of rates meant that buyers would not mind the increases, especially TOL's more affluent customer base.
TOL spent about $503.2M buying 12.1M of its shares at an average price of $41.56/share. Only 15% of this money was spent in the 4th quarter.
Softening housing demand will relieve pressures on the supply of labor in the industry.
The share of cash buyers increased from 21.8% in 2017 to 25.0% in 2018; 50% of "active adult" buyers are cash buyers.
Lower lumber costs will benefit margins starting in late Q2 2019.
Tariffs are creating uncertainty for the business: "We have seen the threat of tariffs would be greater than the actual impact of tariffs to-date, but we don't know how long that may continue."


TOL was very careful to avoid giving full year guidance. TOL, and other home builders, will enter 2019 with more uncertainty and less confidence than they have had in many years. I know this swoon is creating a great buying opportunity, but I am acting with restraint given the bearish pressures weighing on the overall stock market and despite the seasonally strong period for home builders being well underway.
Be careful out there!
Full disclosure: long PHM