In mid-April I wrote expecting EUR/CHF to finally return to the old 1.20 currency floor set by the Swiss National Bank (SNB) years ago. Two days later, EUR/CHF did indeed hit 1.20….for all of a few hot minutes. For almost the past three weeks, EUR/CHF has plunged all over again as political turmoil in Italy has weighed on risk appetites in the Eurozone. The latest drama: the populist 5-Star movement is calling for the impeachment of the Italian President after he rejected the selection of a eurosceptic for economic minister. Apparently, a full-blown constitutional crisis is now underway.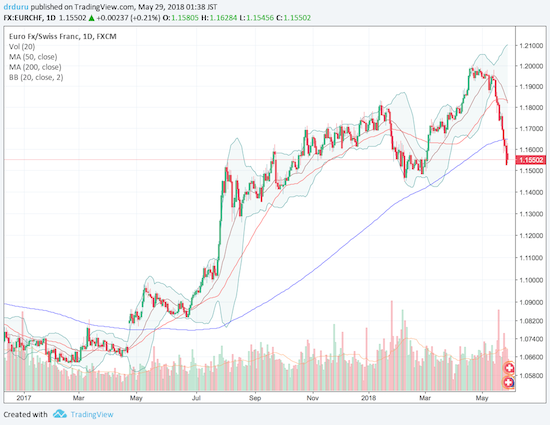 Source: TradingView.com
I stayed away from EUR/CHF to play weakness in the Swiss franc because the euro (FXE) itself looked wobbly relative to other currencies, especially the U.S. dollar (FXF). I chose to go long USD/CHF which itself was racing to its own magic number: 1.0. I also wanted to benefit from a carry trade that now has a sizable interest rate differential with the SNB stubbornly sitting still on negative rates. That trade turned out pretty well as the momentum sustained itself nearly unabated to 1.0. Yet, this magic number also failed to hold sway for long. I am now on a fresh trade betting that the current dip is temporary and USD/CHF will get back to 1.0 and higher.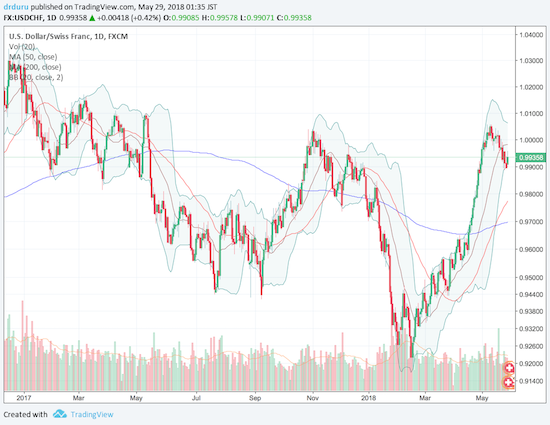 Source: TradingView.com
This dip in USD/CHF has occurred as the volatility index, the VIX, has stabilized over the last two weeks. A loose relationship between USD/CHF and the VIX may still exist, so I am warily eyeing the resolution of this "stalemate." I think the short-term bias favors an increase in the VIX in coming days or weeks.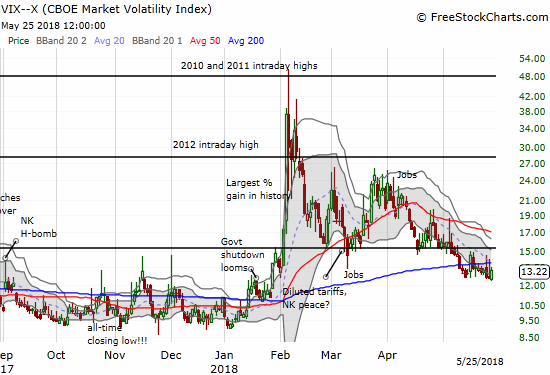 Source: FreeStockCharts.com
Other traders have caught on to the short franc trade. While commercial speculators have stayed mostly negative on the franc since early 2014, in recent weeks they increased their negative bets to levels unseen since 2007. This extreme positioning is one more reason to keep my USD/CHF position small and to stay wary. Per plan, I will accumulate more USD/CHF if the currency pair weakens further. On the next rally, I am targeting taking profits at 1.01 or higher…such a move could take all summer. I have also been fading the euro given its persistent trend of weakness for the past month.
Be careful out there!
Full disclosure: long USD/CHF