A little over two weeks ago, I was just starting to concede that the likelihood of four Fed rate hikes in 2018 was trending in favor of the hawks. Last week, the rate on the 10-year U.S. Treasury fell back sharply and ended the week below the magic tripwire of 3.0% (starting Thursday). In parallel, the odds of a fourth 2018 rate hike by December plummeted. On May 18th, the odds of at least 3 more rate hikes by December – assuming a 25bps increase with each hike – sat at 51.5%. Odds over 50% indicate "more likely than not." At the time of writing, those odds have dropped all the way down to 32.5%.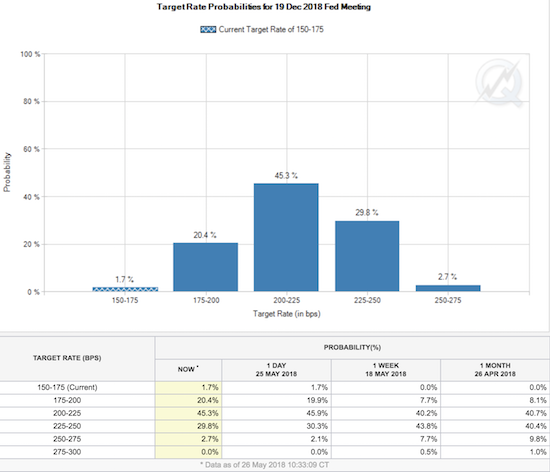 Source: CME FedWatch
For anyone betting on a strong economy for the remainder of 2018, this sudden change in investor sentiment is a red flag. All eyes should be on Friday's jobs report for May for signs of weakness that confirm the downward push in rates and odds of Fed rate hikes. A strong report should cause more dramatic shifts in financial markets. In the meantime, I am surprised the U.S. dollar held its ground. Lower rates and lower odds for Fed rate hikes should have made the U.S. dollar incrementally less attractive. Instead, the U.S. dollar index (DXY) sits locked in an arm wrestle with its high from December, 2017.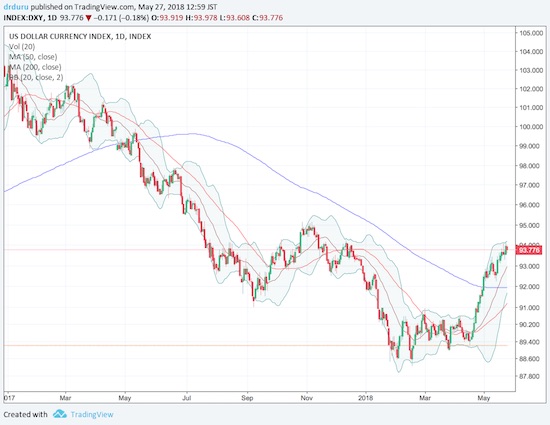 Source: TradingView.com
The next thing to ponder is the potential impact on the stock market. The low in the U.S. dollar index coincided with the sell-off in the stock market. The big rally in 2017 and into January of this year coincided with a dramatic and persistent decline in the U.S. dollar despite the prospects for higher interest rates. So how much higher does the U.S. dollar need to rise before stock market participants sit up, notice, and sell?
Be careful out there!
Full disclosure: long and short the U.S. dollar across various currency pairs