The deconstruction continues in material stocks. The culprit this time around was a poor reading and interpretation of construction spending. Per AP News:
"U.S. construction spending dropped 1.7 percent in March, the biggest setback in 11 months, with weakness in a number of sectors including the biggest plunge in home building in nine years.

The March decline was the first monthly drop since last July and the biggest contraction since a 1.8 percent fall in April 2017, the Commerce Department reported Tuesday. Spending on residential construction was down 3.5 percent, the worst showing since a 4.2 percent decline in April 2009."
While these numbers seem dire, they lose a lot of significance for me when taken in context. For example, here is the chart of total construction spending since 2000; it makes March's drop look like a pebble dropping in a lake. (I put all the spending charts on log scale given the wide range in spending from trough to peaks).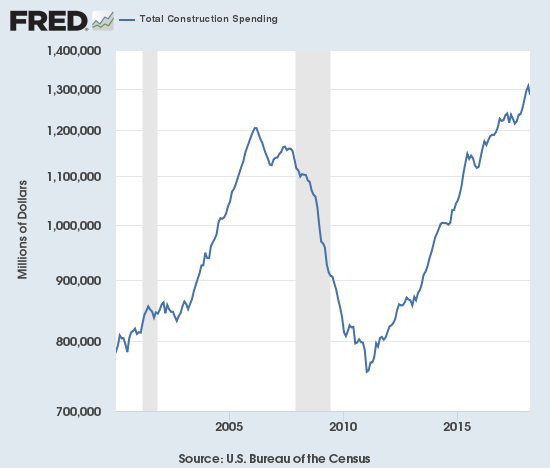 Source: U.S. Bureau of the Census, Total Construction Spending [TTLCONS], retrieved from FRED, Federal Reserve Bank of St. Louis; May 1, 2018.
Breaking down the picture is a little more informative. Private non-residential construction spending peaked September, 2016 but March's number was significantly higher than February.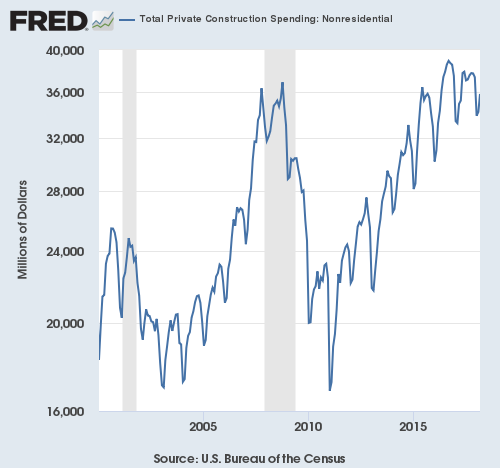 Source: U.S. Bureau of the Census, Total Private Construction Spending: Nonresidential [PNRESCON], retrieved from FRED, Federal Reserve Bank of St. Louis; May 1, 2018.
Private residential construction spending took a nasty tumble in March relative to the peak. Still, relative to the on-going trend, it looks like a blip that is simply taking the numbers down from what looks like a swift pick-up in the trend over the last several months.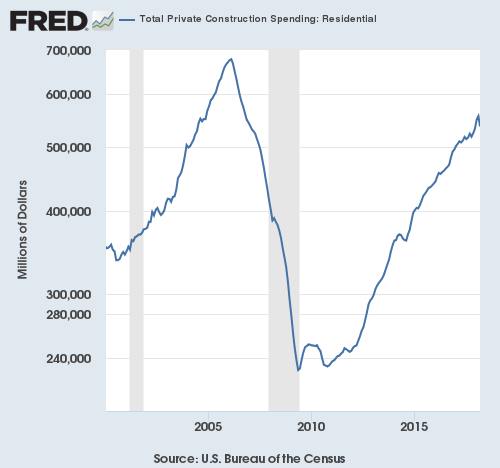 Source: U.S. Bureau of the Census, Total Private Construction Spending: Residential [PRRESCONS], retrieved from FRED, Federal Reserve Bank of St. Louis; May 1, 2018.
The overall numbers did not matter for material stocks though as the Materials Select Sector SPDR Fund (XLB) gapped down and sold down to levels last seen a month ago. Fortunately, buyers stepped into enough of the components to almost close XLB flat on the day.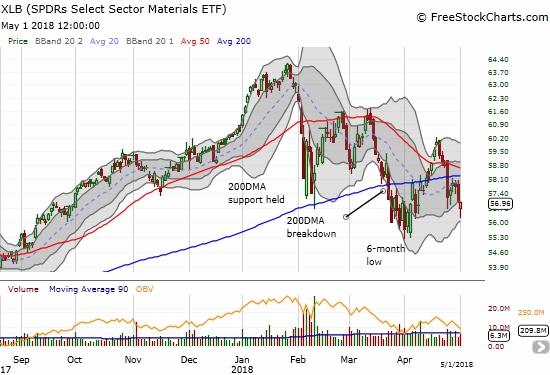 Source: FreeStockCharts.com
A few individual material stocks REALLY got slammed. For example, one of my favorites, U.S. Concrete (USCR) was down as much as 8.8% and a new 18-month low before buyers stepped in. The losses were too great to get back to even though – USCR closed with a 2.7% loss. Today's response to the construction numbers was the mirror image of the distorted post-earnings move yesterday which took USCR up as much as 9.4% and a test of downtrending 50-day moving average (DMA) resistance before sellers faded the stock all the way to flat. These are some extreme moves for a concrete company that is still reporting strong numbers! I will probably buy my second tranche of USCR and just wish I was on top of the action when it was down even 6%!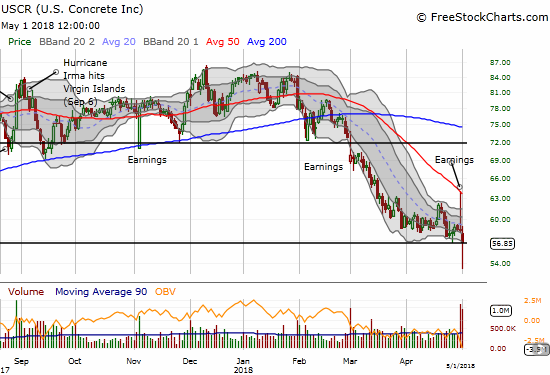 Source: FreeStockCharts.com
Acuity Brands, Inc. (AYI) also lost big on the day. AYI gapped down and lost 4.9%. AYI provides lighting solutions for non-residential building and has struggled for almost two years after hitting an all-time peak. AYI has been reporting challenges in the private non-residential construction market and its peak coincides with the peak in spending in the sector. Still, I am wondering whether selling is finally reaching a crescendo. (Note AYI also announced an acquisition this day that the company said would not impact 2018 results).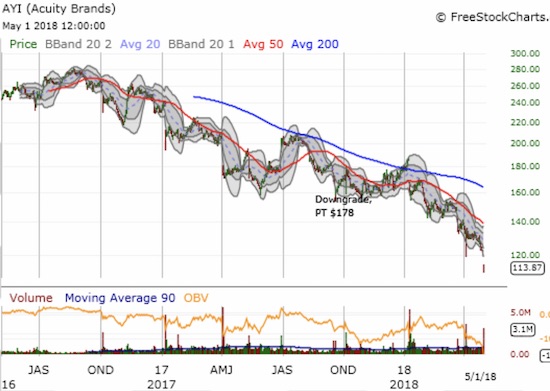 Source: FreeStockCharts.com
Any way you slice it, investors and traders are on a cliff's edge with materials stocks. Bad news greases the skids and good news is examined with skeptical scrutiny. It is a tough environment for investing. Still, at least for USCR, as long as I am interpreting the reports as strong, I see opportunity.
Full disclosure: long USCR