On Friday, The iPath Bloomberg Cocoa SubTR ETN (NIB) soared 3.0% to a 14-month high. It was a breakout the validated months and months of patience betting that in a market with strong demand, extremely low cocoa prices would create the conditions for higher prices in the future.
While NIB has persistently rallied since the late December low which nearly retested the all-time low, the most immediate catalyst was apparently revelations that the Ivory Coast may have overestimated its production for the 2017-2018 season by about 170,000 tonnes. From Reuters:
"The officials, who asked not to be named, said the [Ivory Coast's Coffee and Cocoa Council] CCC auctioned over 1.53 million tonnes worth of export permits for the October-to-March harvest. But it now forecasts output of 1.36 million to 1.38 million tonnes, a decline caused by poor weather and rampant smuggling."
In Nigeria, the National Cashew Association of Nigeria (NCAN) President, Tola Faseru, described the commodity cycle of over-supply and under-supply perfectly. He bemoaned that the collapse in the price of cocoa forced farmers out of cocoa production. With prices rising again, they are "poised" to return. In the meantime, of course, prices may continue upward as a scramble to meet export commitments in the Ivory Coast ensues.
In Ghana, I am keeping a wary eye on small scale gold mining (called galamsey in Ghana) illegally conducted mainly by Chinese nationals which reportedly threatens land used for cocoa farming. The illegal miners buy agricultural land on the cheap for their gold prospecting. Open dredges left behind from the mining activity also pose health threats to local communities. GhanaWeb did not provide specific numbers on impacted land or production, but it reported on a study from the Institute for Democratic Governance (IDEG) which rang the alarm bell on the entire $2B in Ghana's income from cocoa.
I wanted to include a summary of the latest market report from The International Cocoa Organization (ICCO), but at the time of writing the organization's web site was down due to a suspended account.
The chart below shows the nearly breathless rally. At some point it soon it should take a pause just from overbought technicals. If NIB dips to natural support, like its uptrending 20-day moving average, I want to be a buyer.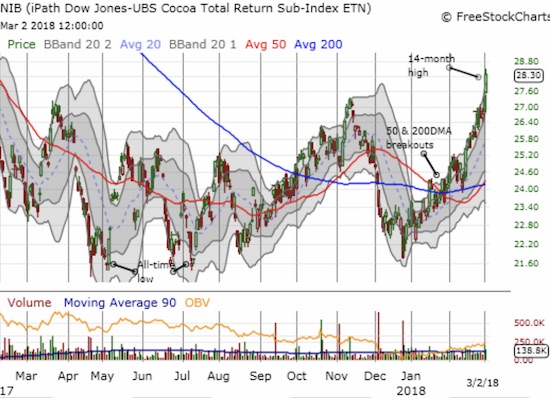 Source: FreeStockCharts.com
Be careful out there!
Full disclosure: long NIB