For the first time since at least 2008, speculators flipped bearish on silver.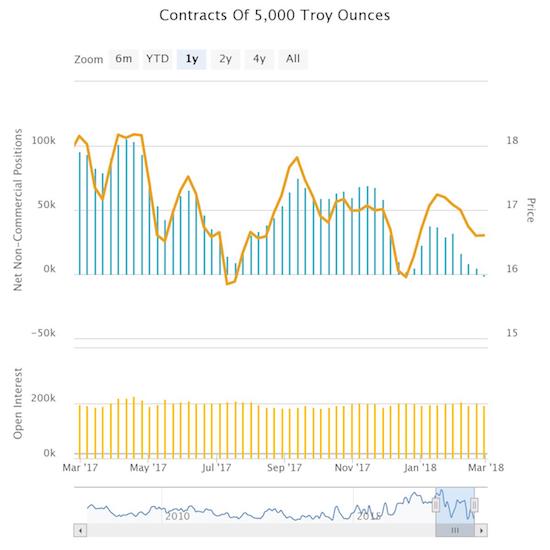 Source: Oanda's CFTC's Commitments of Traders
Speculative net contracts have trended downward for about a year and approached zero in December around the time the Federal Reserve last hiked rates. Yet, I did not think it was "possible" for positioning to go net short since it has not happened since at least 2008. So now I am wondering whether this extreme represents "maximum" bearishness on silver or is the negative sentiment just getting started? This bearish positioning comes at a time with U.S. interest rates on the march higher and the iShares Silver Trust (SLV) languishing in a near 2-year trading range.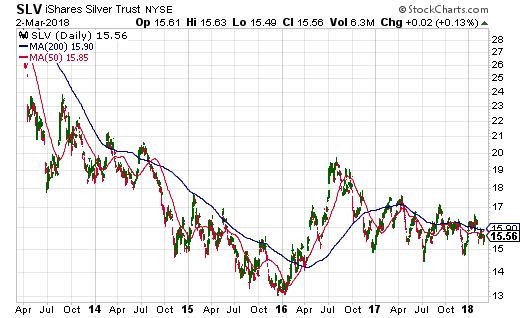 Source: Stockcharts.com
What makes the change of sentiment on silver particularly stark is that speculators are still quite bullish on gold.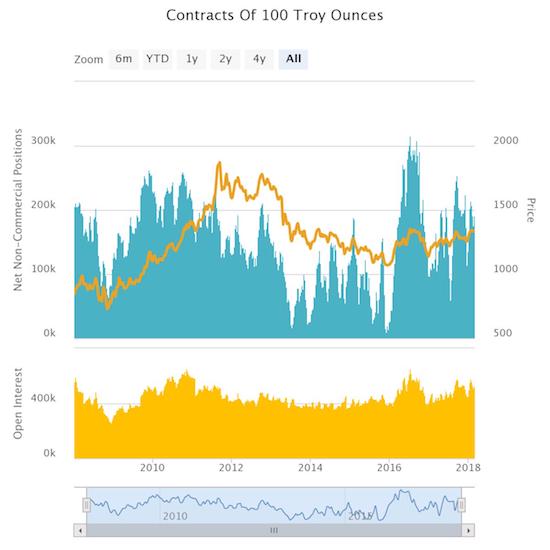 Source: Oanda's CFTC's Commitments of Traders
The SPDR Gold Shares (GLD) is also faring better than SLV. GLD bottomed in late 2015 and is trading just a bit off its recent highs.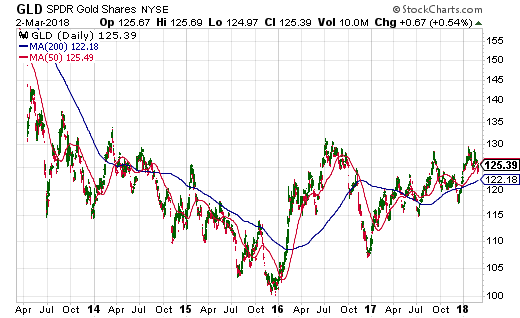 Source: Stockcharts.com
The result is a GLD/SLV ratio that is reaching a 2-year high.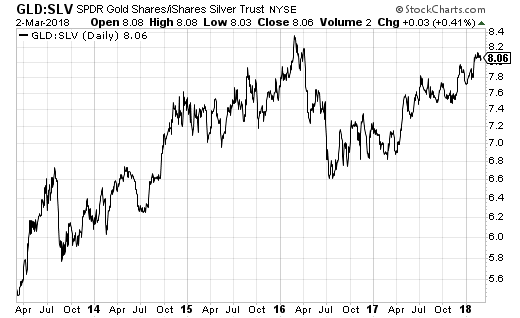 Source: Stockcharts.com
At this point, I think a pairs trade is in order going long SLV and short GLD to layer on top of my core positions in both ETFs. While I am loathe to short gold in any form, I think a pairs trade makes sense given the abiding uncertainty around how traders and speculators will position precious metals versus all the macro catalysts in the market: trade wars, rising rates, stronger inflation, stronger global growth, tightening monetary policies, and elevated volatility in financial markets. If the big move is to the upside for precious metals, I think SLV will play serious catch-up and offer outsized upside potential.
Be careful out there!
Full disclosure: long GLD and SLV shares