"I will be watching for signs of the durability of this latest Bitcoin bottom. If search interest wanes quickly, I will expect the recovery phase to fizzle relatively quickly like last time. If search interest remains robust, I will accordingly expect the recovery period to last longer."
This is what I wrote on January 18, 2018 when I last reviewed the correlations between Google search activity and Bitcoin price moves. Search interest did continue to wane from that point. Bitcoin's price followed suit as the cryptocurrency failed to secure a bottom. At the time of writing, BTC is struggling to hold onto the $6000 price level.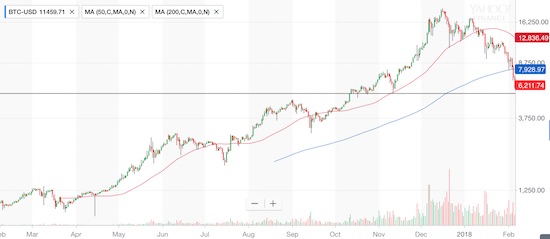 Source: Yahoo Finance
As the chart below shows, the Google Search index quickly dropped all the way from 72 on January 18th to the low 30s before it bottomed out.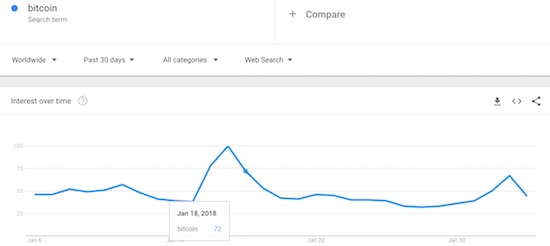 Source: Google Trends
The next question is whether the latest bout of selling is attracting fresh interest? The answer is a qualified "yes."
Zooming into the last 7 days, Google Trends shows data through midnight on February 5th. The search activity has been on the rise for a day and a half. The second peak in the above chart occurred on February 2nd. The chart below shows activity in the past 36 hours or so has likely soared past that level of interest.

Source: Google Trends
The data are insufficient to compare to the peak from January 17; that data will come in another day or so. If the search interest surpasses that level, I believe that will be enough to call search interest at an extreme. Per the budding theory, that extreme would signal a change in price direction for Bitcoin if the price is still plunging at the same time…thus helping to generate a (short-term?) bottom that has as yet proven so elusive.
I also went back to the regional and city-level interest to see whether the selling redistributed interest. Just like the last review, cities in the San Francisco Bay Area of California dominated the list for searches over the last 7 days: Mountain View 100, Sunnyvale 92, Fremont 76, and San Francisco 66. Surat, India took once again took fifth place with an index of 63. A quick search confirmed that Surat is a hotbed for Bitcoin trading and mining. It must be relatively unique because India still ranks far down the list among regions searching on "Bitcoin"; India dropped from 33 to 34. Topping the regional list: South Africa 100, Slovenia 89, Netherlands 87, Singapore 86, and Australia 82. The U.S. ranks tenth with an index of 59, the same rank as last time.
The rising related search queries are exactly what I would expect during a time of selling: why is bitcoin dropping +950%, how low will bitcoin go +850%, why bitcoin is falling +700%, and bitcoin crashing +650%. The fifth fastest rising search query is "xiv", a short volatility equity product traded in the U.S. This query rose +550%. Since Bitcoin is now plunging alongside financial stock markets, I am guessing searchers are trying to connect the dots across markets. For more on the market sell-off and the chaos in volatility, see my latest "Above the 40 Post."
Bitcoin's price skyrocketed as a lot of new interest and money came into the market. It is highly possible that everyone who speculated in this time period have committed just about as much capital as they want to risk at this juncture. So to keep rising, or at least bottom out, Bitcoin needs new money, new buyers, new interest. Rising search queries can be a proxy for that new interest. When combined with falling prices, it seems searching comes mainly from buyers. When prices are soaring, an extreme in search interest signals the rush of the last people to get excited about the momentum. These are dynamics I continue to re-examine and re-validate.
Next confronting Bitcoin, and all other cryptocurrencies, is a hearing at the U.S. Senate Banking Committee where the Commodity Futures Trading Commission (CFTC) and the Securities Exchange Commission (SEC) are likely to ask for regulatory oversight of cryptocurrency markets. If that happens, the market for trading cryptocurrencies could tighten further and put fresh pressure on prices. In a sign of hardy optimism, Brian "cryptocurrency" Kelly on CNBC's Fast Money last week discussed the positive side of this event risk: regulations could provide certainty to the market and encourage institutional investors to come in. While that new money may very well be needed to provide a fresh prop to the market, traders should also take seriously the potential downside of this meeting even in a Congress that is now more apt to remove and refuse regulations than to create new ones.
One key event that crypto traders are watching next week from CNBC.
Note that $7900 was supposed to be a key technical level representing the latest buying opportunity ahead of the Senate event risk.
Be careful out there!
Full disclosure: no positions