In its Q3 2015 earnings report, TRI Pointe Group, Inc. (TPH) reported $97.0M in cash and cash equivalents. Thanks to real estate inventories, total assets come to $3.1B.


Source: TRI Pointe Group, Inc.

On January 27, 2016, TPH decided to put that balance sheet on the line by authorizing a buyback of $100M that is larger than current cash holdings:
"Under the program, the company may repurchase common stock with an aggregate value of up to $100 million through January 25, 2017. The share repurchase program does not obligate the company to repurchase any particular amount of common stock, and it could be modified, suspended or discontinued at any time. The timing and amount of repurchases are determined by the company's management at its discretion based on a variety of factors…"
Presumably, with purchases spread over a year, TPH can manage the hit to the balance sheet. However, the market is clearly skeptical – it did not even respond to the news.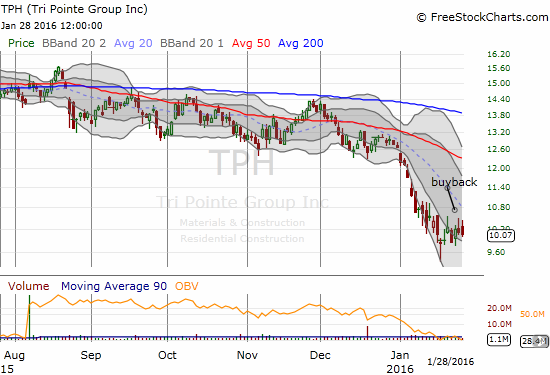 Source: FreeStockCharts.com

I think this could be one of those situations where all the other noise in the market and the general carnage in housing stocks easily drowned out this sliver of good news for the stock. I am interpreting the buyback as good news even though it seems like a real stretch that TPH will actually execute the full authorization. Moreover, this is a great time to buy with the stock trading at book value and a mere 0.8 sales (according to Yahoo Finance). I am ready to add more shares to my long-standing holdings of TPH, but I will wait per my approach to bottom-fishing. Once the buyers finally show up, I will assume that a buyable bottom is much more likely.
Be careful out there!
Full disclosure: long TPH