The market is once gain gearing up for a December rate hike from the U.S. Federal Reserve.
Today's nudge came from Janet Yellen her first public commentary since last week's decision on monetary policy. At that time, a simple and clever change in language convinced the market to pull in the month for a first rate hike from March/April to January/March. The momentum toward a December rate hike has continued, so I am sure Yellen as eager to firm up the trend. Yellen used an appearance at the House of Representatives's Committee on Financial Services to testify on "Supervision and Regulation to encourage markets to believe in an imminent rate hike. I believe during Q&A, she made the comments that caught the headlines and further firmed up expectations for a December rate hike. From Reuters (includes video):
"'What the committee has been expecting is that the economy will continue to grow at a pace that is sufficient to generate further improvements in the labor market and to return inflation to our 2 percent target over the medium term,' Yellen said at a House Financial Services Committee hearing.

'If the incoming information supports that expectation then our statement indicates that December would be a live possibility.'"
The words worked their magic on expectations. The odds for a December rate hike went from 52.3% to 56.2%. The renewed momentum toward a December hike represents a dramatic change of affairs from just a month ago when a first rate hike was essentially priced out into neverland.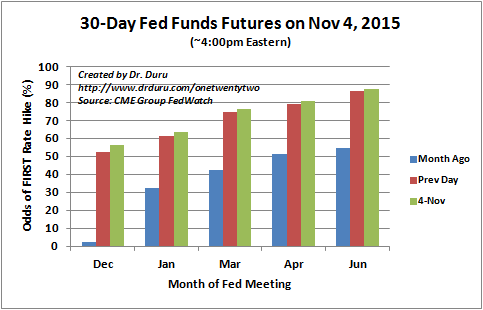 Source: CME Group FedWatch
The heightened alert for an imminent rate hike is nudging the U.S. dollar index closer to a confirmed breakout.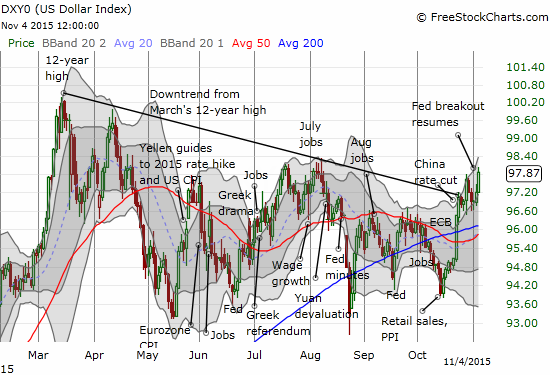 Source: FreeStockCharts.com
This Friday's U.S. jobs report could of course derail most if not all of Yellen's hard work convincing the market to price in an imminent rate hike. However, at THIS point, I am guessing that only an extremely poor report would convince the market to reverse (yet again) the timing of the first rate hike. The swings in expectations have been more extreme than the Fed's own official positioning. Traders should get more focused on getting properly positioned ahead of the December meeting and less interested in chasing the latest noisy data point.
Assuming this approach means a stronger dollar, I am targeting over the next month or so a continued rally at least back to the 12-year high set back in March. I plan to maintain a standing position against commodity and emerging market currencies, the Australian dollar (FXA) and the Turkish lira (USD/TRY) in particular, and trade in and out of other currencies against the U.S. dollar to take advantage of the inevitable dips on the way to higher levels.
Be careful out there!
Full disclosure: net long the U.S. dollar