Coal is a dying source of energy. It has left a trail of tears in the stock market. Communities reliant on coal have been long-suffering.
So I was quite surprised to read that George Soros bought back into coal stocks from April to June, 2015. This is the same man who once called coal a "lethal bullet," and is a strong supporter of renewable energy. Regardless, Soros Fund Management purchased over 1M shares in Peabidy Energy (BTU) for $2.25M and 500K shares in Arch Coal (ACI) for $188K. These amounts are of course pennies to Soros, so it is hard to read too much into these investments except to say that Soros is likely taking a huge flier on a potential quick double or triple.
This is NOT the kind of trade to chase. However, the time lag in the news actually worked in favor of those who like to try to ride the coattails of big funds. The charts show that Soros is currently deeply in the red on both positions and has a ways to go get the double or triple.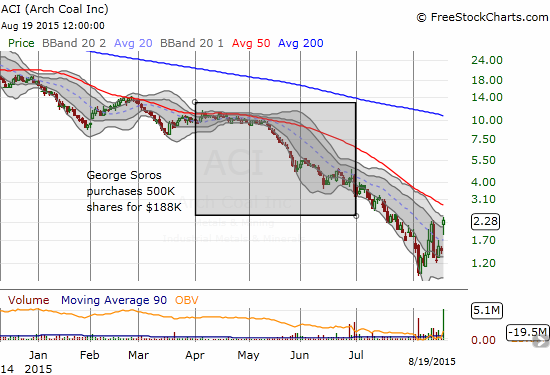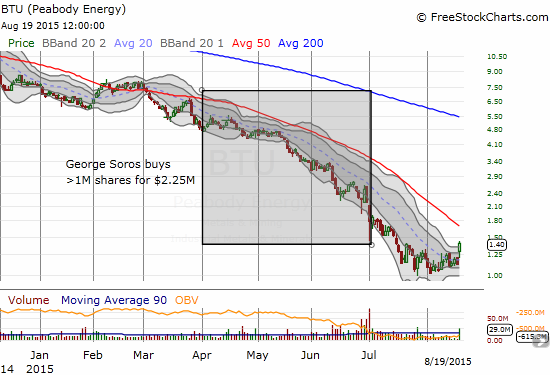 Source: FreeStockCharts.com

The Soros news sent ACI higher by a whopping 55% and BTU up by 25% on the day. Notably, both ACI and BTU found their latest support right at the $1 mark. I doubt this bounce is a coincidence as $1 tends to be a magic number for speculators and a limit for those who are forced to finally bail on such hapless positions.
More importantly, both stocks are demonstrating tell-tale signs of a sustainable bottom, or at least a bottoming pattern that looks a lot better than recent attempts. ACI made a quick double in 5 days after hitting $1. The very next day it quickly lost about 35%. The Soros news pushed the stock back to a new high on this move on extremely high volume. ACI is one breakout above its 50-day moving average (DMA) to starting a fresh leg up.
BTU has not moved as sharply as ACI and is thus the better play on a bottom right now. The Soros news also pushed it to a new high on this bounce off the bottom, but the chop going into this breakout looks more like constructive consolidation. BTU also has a tighter stop loss point below the low of the day ($1.20) which would drop the stock back into the consolidation area.
Again, these are highly speculative trades, not investments. Also note that these trades are not covered under my "Commodities Crash Playbook" given I see no positive catalyst over the horizon for coal stocks. In fact, I have recently taken to fading coal and natural gas company Consol Energy (CNX) on every rally; this is a stock that Soros plunged $234.4M into before bailing after a few months of pain.
If ACI and/or BTU get away from me, I will still keep an eye on them to see what it is Soros sees that no one else has apparently seen these days…just in case this is actually more than gambling.
Be careful out there!
Full disclosure: no positions