I thought I was done blogging about Zulily (ZU). The acquisition of ZU by Liberty Interactive (QVCA) on August 17, 2015 brought back the pain that was ZU right back into full view for me.
My mistake with ZU started a little over a year ago as a play on a relatively consistent stock market pattern: since 2009, consumer discretionary stocks have outperformed in the second half of the year. Instead of just investing in Consumer Discretionary Select Sector SPDR ETF (XLY) or even the SPDR S&P Retail ETF (XRT), I bought ZU with the expectation that I could pick an outperformer among outperformers. The chart was promising at the time…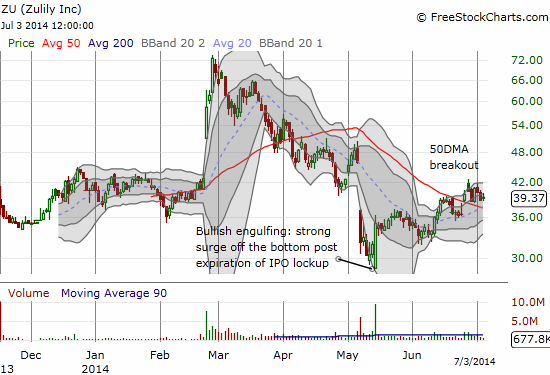 …but this was the LAST time ZU looked promising. While I was focused on upside potential, I failed to recognize that since ZU's IPO it had experienced very little additional upside. Effectively, ZU experienced all of THREE heady days as a part of the massive gap up in February, 2014.
Lesson #1: Look for BOTH the positive and contrary interpretations in a stock chart.
Fast forward to today. QVCA sent ZU hurtling upward by 49% and caused serious pain to the greedy shorts who were still sitting in the stock to the tune of 26% of ZU's float.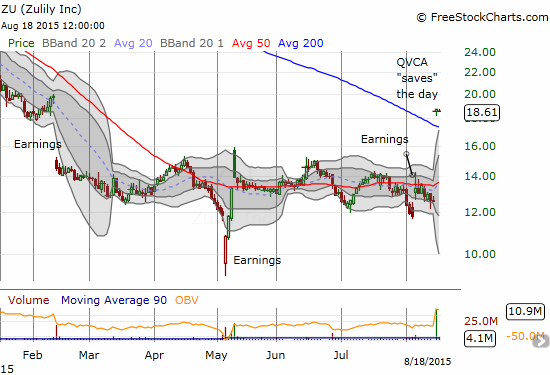 Source for charts: FreeStockCharts.com
Interestingly, if I had still been paying attention to ZU, I would have been tempted to call a bottom at May's rapid rise off post-earnings, all-time lows. First of all, the stock was well over-extended below its lower-Bollinger Band (BB) – as regular readers know, one of my favorite short-term trades is to fade such over-extensions. Most importantly, the ability to quickly fill the gap down and then some on heavy buying volume was a telling sign.
Lesson #2: Do not overstay your welcome in a short position. The incremental gain from trying to ride a stock to zero is not worth the risk given the potentially increasing odds that a "value shopper" will find a great bargain in the hapless stock. (Fortunately, this is a lesson I have not had to learn the hard way).
I took GREAT interest in hearing QVCA executives explain the rationale behind this deal.
Liberty Interactive CEO and President Greg Maffei came on CNBC in the morning to talk shop. One of the CNBC hosts asked Maffei "What happened to Zulily?" Maffei's response will stick with me forever when it comes to IPOs (emphasis mine):
"Zulily went public to a lot of fanfare. Sometimes public company valuations are not necessarily the long-term value."
Traders and investors tend to know and recognize the risks and dangers of investing in IPOs. Sometimes the excitement of getting in "early" on the next big thing is all so tempting. Unfortunately, too many companies are trotted out into the public markets just ahead of the end of their spectacular stories (a fad, rapid growth, or just good storytelling that fits into a hot investing narrative) as insiders rush to cash out and early investors hurry to liquidate at valuations that will not last. These IPOs are what I affectionately call the "scam IPOs." Retail investors will often see these offerings served up by their brokers because the smart money is diligently avoiding the trap. There is nothing illegal about them; it is the buyer's responsibility to beware.
In ZU's case, the company simply could not sustain the hype over the hyper-growth it experienced going into the IPO. Even QVC CEO and President Mike George admitted in a later interview that even as ZU is still growing at "an attractive rate," no company can sustain the kind of hyper-growth ZU saw in its early days.
Lesson #3: Do not give IPOs the benefit of the doubt. Pay careful attention to the risk factors that could bring the hype to a quick end. If possible, just stay away until the company proves itself for a year or more on BOTH the financials and (especially) the technicals. There is NO rush…really! Otherwise, treat trades in recent IPOs as "hot potatoes": fast to profit and even faster to end losses. My longtime friend and mentor has developed a special stock screen called "Hot IPO pullback" for those who want to try their hand at trading recent IPOs with lower risk.
Here are some additional bullets from Gaffei's interview:
Zulily is the QVC of the internet, for a younger generation.
Liberty trying to be the multi-platform for women of any age – experiential shopping, entertainment provided.
Zulily is one of fastest to grow to $1B in retail sales.
Many traditional retailers are having trouble growing in the current environment.
QVC is affordable luxury. Incremental consumer will spend incremental dollar on QVC or ZU.
Experiential. Differentiated.
There is an overlap in how they do things. Opens up new avenues of experimentation.
And here are bullets from CNBC's interview with Mike George, President & CEO, of QVC (emphasis mine):
Zulily will be used as part of a new model for QVC's approach to the web – eye-catching, engagement, customers come back to see what's new.
Create joy of discovery, inspiration, new ideas, add value to lives.
Less worried about the stock market and more concerned about building a distinct internet business.
In response to CNBC host's concerns about long delivery times and no return policy: customers are willing to tolerate these because they know they are getting a unique experience and product. Zulily trying to do something unique: thousands of new items every day from small boutique vendors.
Current valuation still high on earnings basis. (So there should be no surprise from Bloomberg's article on the deal that disappointed the market with claims that no higher bidders are likely).
QVC can accelerate the growth rates of both companies with this deal.
Zulily has $10B in revenue, $5B in ecommerce. About half on mobile. One of the largest retailers in both categories.
Be careful out there!
Full disclosure: no positions