(T2108 measures the percentage of stocks trading above their respective 40-day moving averages [DMAs]. It helps to identify extremes in market sentiment that are likely to reverse. To learn more about it, see my T2108 Resource Page. You can follow real-time T2108 commentary on twitter using the #T2108 hashtag. T2108-related trades and other trades are sometimes posted on twitter using the #120trade hashtag. T2107 measures the percentage of stocks trading above their respective 200DMAs)
T2108 Status: 50.0% (closed right at the 50DMA)
T2107 Status: 47.6%
VIX Status: 16.5 (resting right on its 50DMA)
General (Short-term) Trading Call: "Full bull" mode: buy dips, expect rips, and minimize shorts
Active T2108 periods: Day #44 over 20%, Day #3 above 30%, Day #2 over 40% (ended 4 days under 40%), Day #8 under 50%, Day #12 under 60%, Day #114 under 70%
Reference Charts (click for view of last 6 months from Stockcharts.com):
S&P 500 or SPY
SDS (ProShares UltraShort S&P500)
U.S. Dollar Index (volatility index)
EEM (iShares MSCI Emerging Markets)
VIX (volatility index)
VXX (iPath S&P 500 VIX Short-Term Futures ETN)
EWG (iShares MSCI Germany Index Fund)
CAT (Caterpillar).
Commentary
Bulls could not ask for a better end to trading last week. T2108 closed at 50% after trading as low as 26%. The S&P 500 (SPY) made a sharp reversal from a (false) 50DMA breakdown. This move was so strong that at one point, the index was flirting with a fresh all-time high!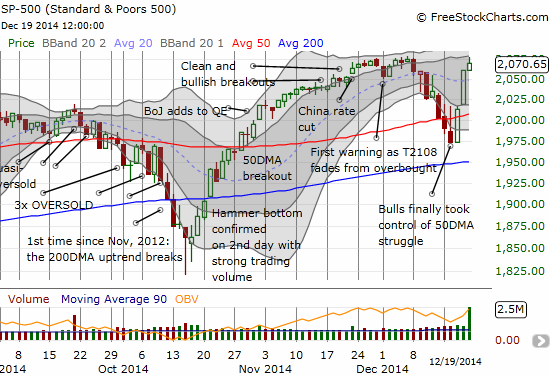 The rally on Thursday was so strong that I actually managed to flip a double on ProShares Ultra S&P500 (SSO) call options on the same day. Following the strategy I outlined in the last T2108 Update, I assumed that Thursday's strong open validated Wednesday's 50DMA breakout. I immediately loaded up on call options and also set a limit order for more in case the market delivered a pullback. Instead, the market never looked back and left me of course wishing I had been bold enough to buy my entire Christmas wishlist right from the beginning!
The S&P 500 gained a whopping 2.4% on the day. According to Reuters, this was the S&P 500's second best one-day performance since 2011. Notice an important implication: despite a stock market that consistently makes new highs, the rally is not unfolding in huge daily run-ups and leaps. This is a market that is slow-dripping its way higher. Amazingly, bulls have been granted plenty of opportunities to buy dips at a "comfortable" pace…and bears have been tricked into plenty of opportunities for getting faked out. In other words, the trend remains the friend of bulls while bears have had to do quick "two-steps" in front of the steamroller…
Interestingly, the volatility index did NOT plunge further. I suspect this has something to do with the quadruple witching day on Friday with options and futures expiring. If so, Monday and into Christmas should feature a continuation of volatility's latest plunge.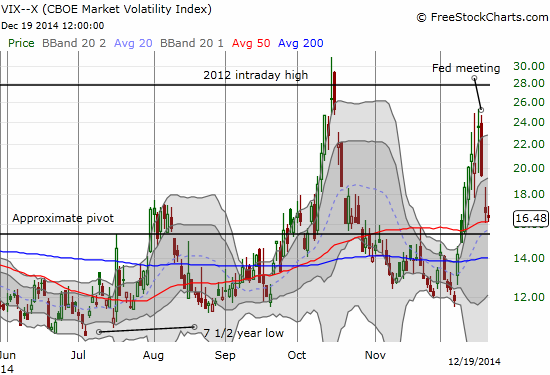 As I have done in the past, I sold my shares in ProShares Short VIX Short-Term Futures (SVXY) soon after Thursday's open when it looked like initial momentum had waned. I am of course glad I held through Wednesday's big post-Fed volatility implosion. As T2108 continues to rise from here, I will be shifting my focus to SSO call options instead of volatility plays. To me, the biggest bang for the buck on fading volatility was just ahead of the Federal Reserve meeting.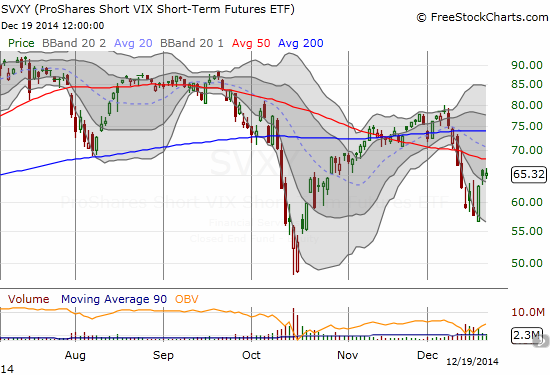 In the currency market, a bounce in the Australian dollar (FXA) against the Japanese yen (FXY) has confirmed the bounce in the stock market. Even more impressive was the picture-perfect bounce off 50DMA support for the U.S. dollar versus the Japanese yen.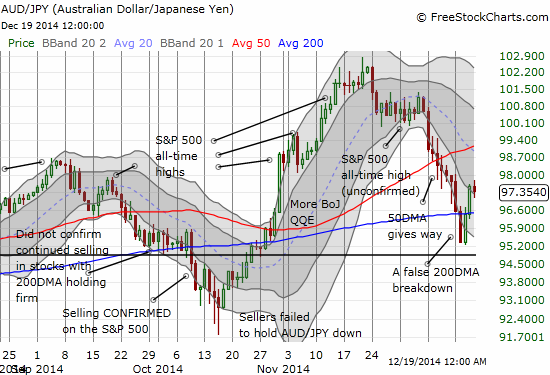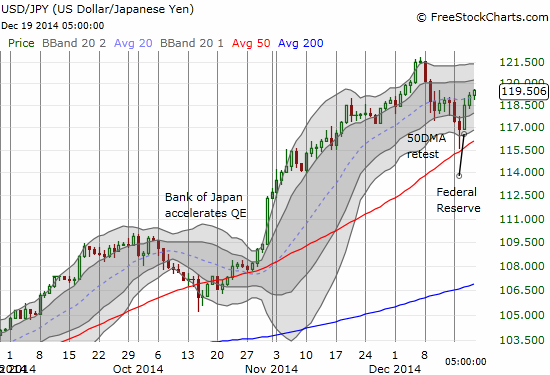 Finally, one stock chart to review: Alibaba Group Holding Limited (BABA). Could the "Ali Rah Rah" pop be resuscitated in time for a year-end flourish? I sure hope so. I bought the breakout from the downtrend. Friday's surge from the lows of the day is also very encouraging. BABA is now above its 20DMA again and looks ready to rip with that trendline turning upward again.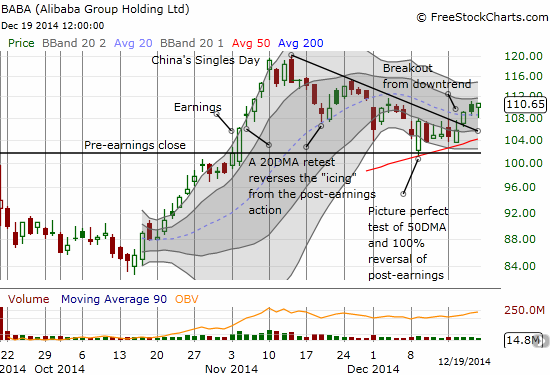 So it looks like "everybody" is gettin' sump'n for Christmas after all (except maybe the bears). Read "The Numbers And Setup Behind This Year's Potential Santa Claus Rally" for my run of the numbers supporting the tendency for the S&P 500 to rally in the second half of December.
Daily T2108 vs the S&P 500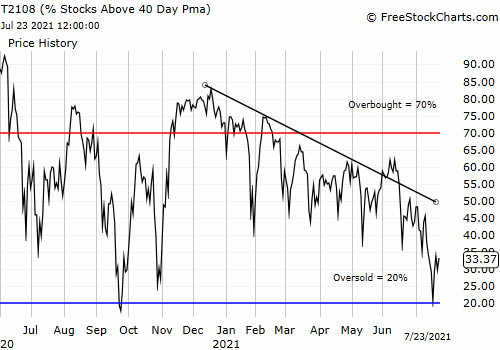 Black line: T2108 (measured on the right); Green line: S&P 500 (for comparative purposes)
Red line: T2108 Overbought (70%); Blue line: T2108 Oversold (20%)
Weekly T2108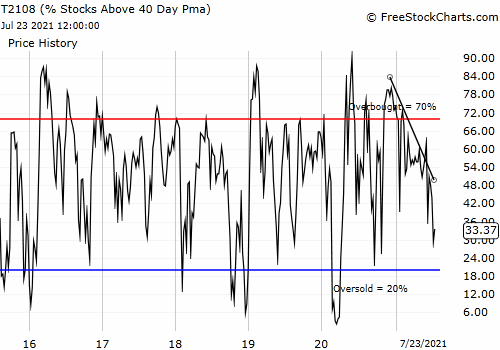 *All charts created using freestockcharts.com unless otherwise stated
Related links:
The T2108 Resource Page
Expanded daily chart of T2108 versus the S&P 500
Expanded weekly chart of T2108
Be careful out there!
Full disclosure: long BABA, short AUD/JPY (mainly as a short-term hedge – I remain VERY bearish on the Japanese yen!)