Amazon.com (AMZN)
The day after Amazon.com (AMZN) reported earnings, it soared in typical fashion after faking out traders with a lower print. I was able to once again execute the post-earnings AMZN trade successfully. It has been all downhill for AMZN since then. On Tuesday (August 13) the stock finally closed below the intraday low on the day after earnings. As the chart below shows, the stock resisted such a close for a week of churn. The AMZN post-earnings trade triggers a short on this scenario, but I find it tough to justify the trade with the 50-day moving average directly below acting as support. Indeed, AMZN may have just successfully retested that support.
I think a short on AMZN makes more sense upon a break and close below the 50DMA. On the flip side, if AMZN closes higher from here, it will confirm a successful retest. Aggressive traders can definitely consider going LONG AMZN at that point.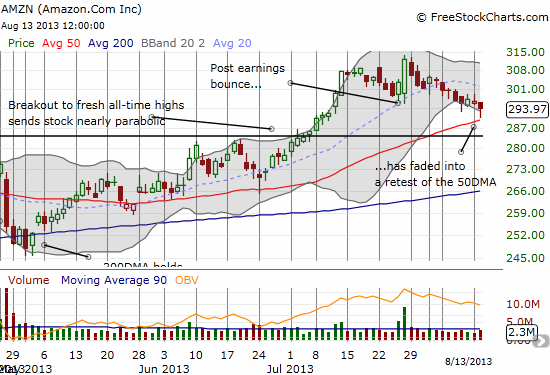 Freeport-McMoRan Copper & Gold Inc. (FCX)
Freeport has been trending down ever since a late 2010/early 2011 failed retest of all-time highs. The stock has provided tremendous trading opportunities along the way down. The stock failed to break through its QE2 reference price, the price where it closed before the Fed telegraphed QE2 in August, 2010. Notice in the chart how the QE2 price delivered a picture-perfect resistance point. The quickly declining 200DMA looming overhead will likely further cap any future rallies in the short-term. (I sold my last bottom-fishing expedition in FCX prematurely at the nice 50DMA breakout last month).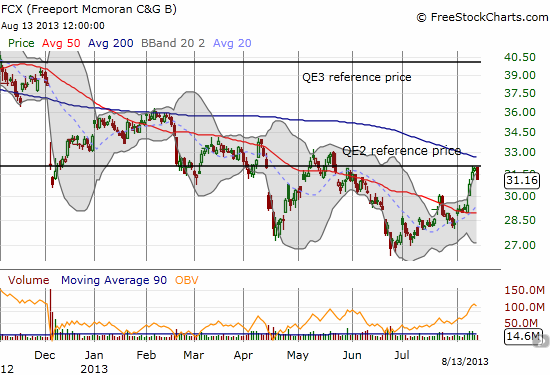 Cliffs Natural Resources Inc. (CLF)
I failed to double down on this contrarian iron ore play when it reached levels last seen in March, 2009. So I had mixed feelings last week as CLF accelerated its rally off those lows. I felt grateful to have a nice profit on my CLF call options, but also felt a tinge of regret over not aggressively following up with my conviction on CLF. After all, I consciously sat on my profits in early May specifically because I was so confident in this play. I even tweeted then that I felt I had plenty of time (calls expired in January, 2014).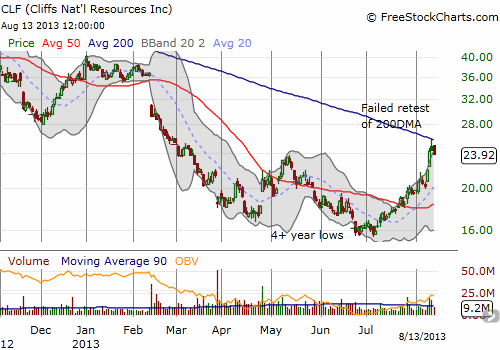 Source for charts: FreeStockCharts.com
Now the stock has neatly failed at its declining 200DMA and will likely catch the renewed attention of shorts. These bears have remained undeterred by the rally in CLF. They have steadily accumulated bearish positions for over year with barely any time to breathe. Shorts are now a whopping 41% of the float!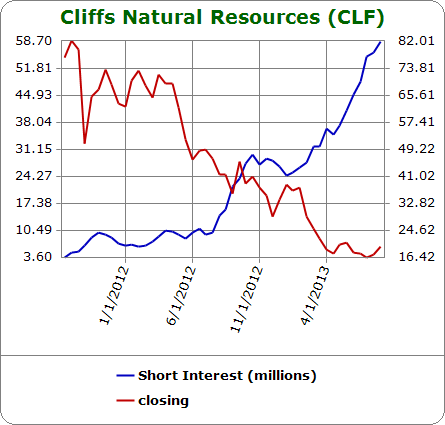 Source: Schaeffer's Investment Research
Be careful out there!
Full disclosure: long FCX