Earnings season is creating its usual spectacle of fascinating charts. Here is a sample of the ones catching my eye right now:
Breakdowns
Cisco Systems (CSCO)
On August 16th, CSCO jumped 9.6% in response to a positive earnings report. CSCO has yet to make any progress since then. On Wednesday, the stock confirmed its breakdown from support when it fell 3.5% in sympathy with Juniper Network's (JNPR) poor earnings results. This is one I meant to catch on the downside as soon as the 50-day moving average gave way. Now, CSCO has filled its post-earnings gap up and is seemingly in danger of quickly returning to levels from July's earning warning.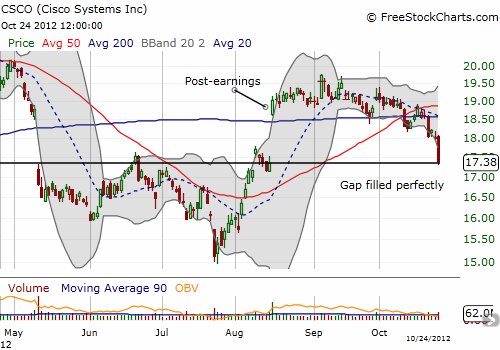 Starbucks (SBUX)
SBUX was the subject of a piece I wrote examining earnings and the post-earnigns reaction. At the time, I staked a claim to bearishness but prepared for a sharp relief rally. That rally quickly unfolded but today SBUX has broken down again. It has reversed all its post-earnings recovery, and is working on retesting 52-week lows.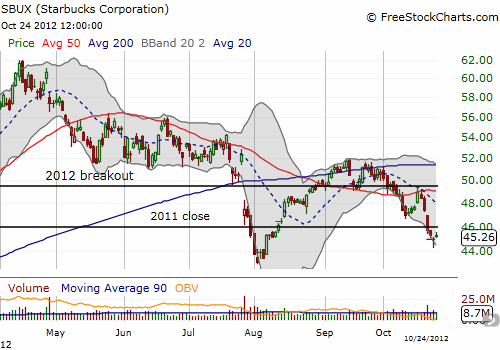 Monster Beverage Corporation (MNST)
On June 28th, Monster Beverage Corporation joined the S&P 500. The stock has not been the same since. After a small bounce, it broke down again below its 50DMA and stayed on a steady downtrend. During the decline, bounces have failed at natural resistance levels, 20DMA, 200DMA, and the last failure was the 50DMA. This week, MNST got hit with a lawsuit involving the death of a girl who apparently drank a Monster Energy drink. Volume on the Nov 45 puts and selling in the stock going into the release of the news indicates that some intrepid traders got the drop on the imminent news release. I thought that they would dump into the news but the decline lasted one more day. On Wednesday, the stock rebounded viciously with a 16.8% spike as MNST defended itself in a press release, promising to buy back more stock. The trade on those Nov 45 puts is likely over now.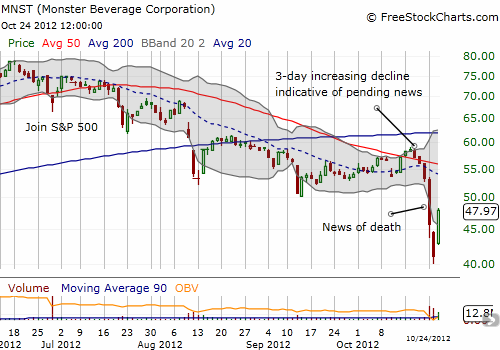 priceline.com (PCLN)
I was earlier impressed that PCLN was not only able to rally from its post-earnings losses but also that it broke resistance above $600 at its 50 and 200DMAs. Unfortunately, the downtrend from all-time highs held, sending PCLN to a quick return to its post-earnings low. This low corresponds to major support from PCLN's last major breakout. If this support fails, PCLN may drop to $500 relatively quickly.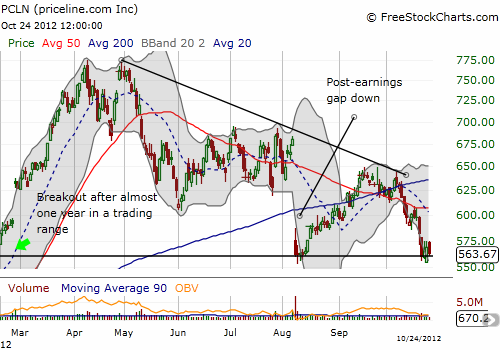 Netflix (NFLX)
A poor reaction to NFLX's earnings completed a bearish abandoned baby pattern. The stock bounced off its lows but stopped short of its 50DMA.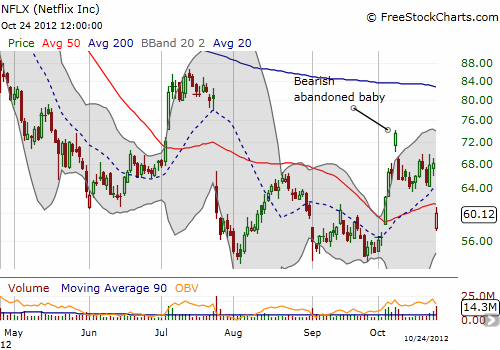 Bed, Bath, and Beyond (BBBY)
BBBY is slowly but surely breaking down. After two poor earnings reports in a row featuring gap downs, the stock finally made a fresh 52-week low. The momentum is definitely broken on BBBY, and it can go much lower from here. Note how the bounce from the first gap down almost filled the gap. After the second gap down, BBBY made a feeble attempt at a rally before restarting its slide.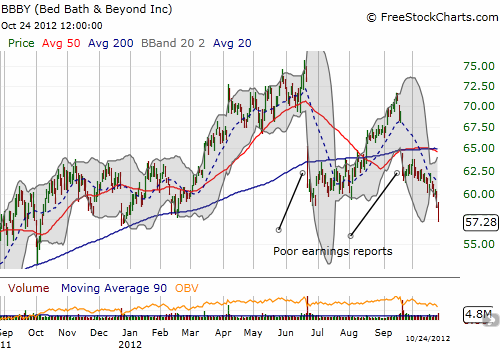 Source for charts: FreeStocCharts.com
Be careful out there!
Full disclosure: short MNST puts, short NFLX call spreads